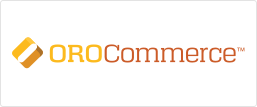 OroCommerce should be considered by both mid and large sized B2B companies that sell or want to sell online. It is one of the emerging platforms on the market that is founded and lead by former members of Magento core team. Their vast experience in eCommerce can be read in every line of the code. However, unlike Magento, this platform is tailored specifically for B2B merchants.
With lots of top-level B2B built-in functionalities, OroCommerce is a flexible and robust platform that can take your business to the next level, ease your B2B workflow and reduce total cost of ownership.
Key Features
Corporate Account Management
OroCommerce offers a management of complex, hierarchical corporate account structures where administrators can set multiple roles and departments. Buyers can also configure their own corporate account management structure, add their own users, create purchase rules regardless of whether your account structure has multiple businesses, teams, departments, offices, or branches.
Access Controls, Roles, & Permissions
Providing the correct user the right access to the right information is a crucial capability. Roles and privileges are manageable by both sellers and authorized buyers. Regulating access levels to information for user groups or individual user is one of the essentials for B2B. For example, choose to who you want to display specific price lists and product catalogs and who has the benefits to edit them.
Personalized Catalog Management
Versatile B2B catalog management capabilities allow sellers to customize product catalogs to specific corporations, divisions, business units, and even individual buyers or customers. Each group has access to its own catalog where purchasing managers are able to view its content and purchase products.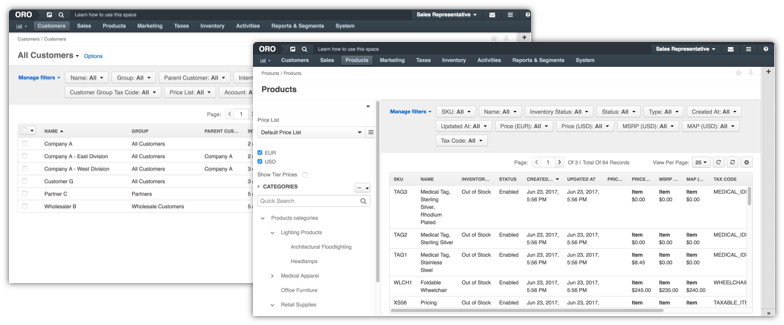 Segmentation & Custom Reports
To gain actionable insight to data, sellers have access to the robust dashboard and reporting engine along with advanced segmentation capabilities. Track key business KPIs, understand customer purchasing patterns, and send timely, targeted marketing campaigns.
Facilitate a Negotiation Process
OroCommerce improves buyer-seller interactions by providing buyers with an easy way to create and submit order forms, purchase orders, RFQs, and more. Sellers are then able to easily respond to orders and quote requests on the same platform, thus facilitating an efficient and quicker negotiation process between the buyer and the seller.
Enterprise Edition
OroCommerce offers Enterprise Edition that comes with extensive set of out-of-the-box B2B features, flexibility and scalability that reduces the complexity for custom eCommerce projects. Multiple warehouse management is one of their key features.
Multiple Organizations, Websites & Stores
Many businesses manage multinational brands that operate across various countries, currencies, and tax regulations. In OroCommerce Enterprise Edition, adjustable and robust multi-website management capabilities allow organizations to easily control multiple businesses from one central admin console.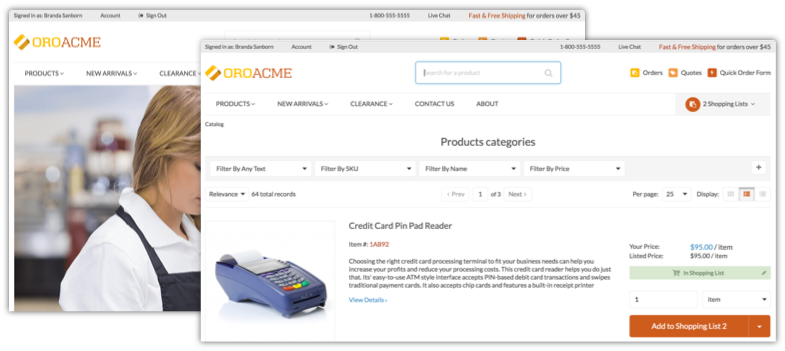 Are OroCommerce and Inchoo the right match for me?
Are you interested in how it looks and feels? Try it yourself! Sign up to access the demo that allows you a self-guided tour of OroCommerce.
Let us know what you think of it! We will analyse your business from top to bottom, and whether if it's an existing store or a new one, we'll plan the whole creative process with you. Even if OroCommerce is not a best match for your needs, with joint brainstorming we are sure we can find a solution that is.

Design, integrations, testing and deployment, we are with you through the whole way. And we are not stopping there! Our mission is to keep your store healthy, stable and always in the loop with the new marketing trends that will increase your online visibility and revenue.