Profile
Taw9eel.com (Tawseel) is the largest online retailer in Kuwait, selling wide variety of goods; from groceries, jewelry, perfumes and pharmaceuticals, all the way to video games, smartphones, tv's and kitchen appliances. With their free delivery within 4 hours, they sure beat the clock with the fastest buy-to-delivery time in the world. No surprise that "tawseel" is the word for delivery in Arabic language!
Challenge
Taw9eel company approached us back in 2012, asking for a revamp of Sheeel website, owned by Taw9eel. It turned out to be a complete success which resulted in expanding the cooperation and completing three more success stories with this partner: Digumz, Berwaz, and Thouqi.
In the meantime, we jumped into the maintenance of taw9eel.com, their flagship eCommerce website. After a while, we noticed that there was significant room for improvements, both code and design wise.
We proposed a makeover, in which we set the following goals:
Set up mobile strategy to meet the expectations of 75% of visitors coming from their mobile devices
Design a better user experience to streamline and simplify the ordering process
Code makeover to meet Magento coding standards
Ensure seamless integration with new ERP
Provide a stable and fast system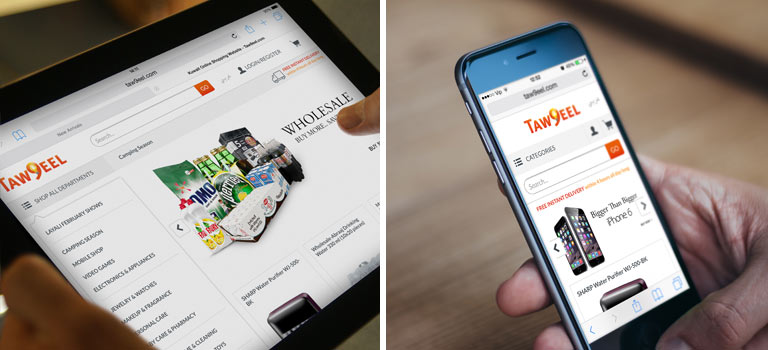 Solution
We introduced the new identity to the website, changing the appearance and UX for the sake of a simplified buying process.
With user experience tailored from the bottom up, we created "mobile first" responsive theme and made it "platform agnostic". This resulted in a fast and beautiful site, working seamlessly across all devices and screen sizes.
Magento code makeover and newly coded modules were done following Magento coding best practices, making sure that taw9eel.com is stable, fast, scalable and secure.
Results
Having a high traffic website with a high revenue means that every bit counts. One percent up or down can result in millions of dollars in annual revenue. With the launch of the new site, our numbers climbed up strongly.
19%

eCommerce conversion rate

49%

Revenue

65%

Desktop conversion rate

48%

Site speed