Go on a Safari this summer

Yes I know the title is totally misleading since it's not about safari, but I got your attention didn't I 🙂
This post is about the Safari 5 and (in my humble opinion) it's 3 most relevant features worth reading about.
In medias res:
1. Speed
Ok, If you're a Magento store owner and like having a life outside the Magento administration panel you'll be doing the "Wow" every time the page loads as if it was some ordinary page with no Javascript and Flash. We've tested the (what I now call) "The experience" both on Windows and Mac and Safari 5 is not only blazing fast thanks to improved Javascript performance it's an advantage you can actually experience and not just read about it from the charts or benchmarks.
2. Reader
You get to the page to read an article like this one and (not here of course) you get all of the distractions like flash banners, rotating ninjas etc. What now? Click on the reader button

and read it like a normal human being.
Like this: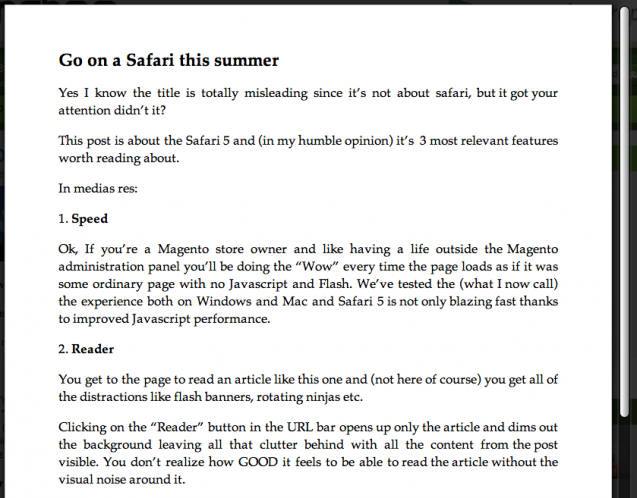 Clicking on the "Reader" button

in the URL bar opens up only the article and dims out the background leaving all that clutter behind with all the content from the post visible. You don't realize how GOOD it feels to be able to read the article without the visual noise around it.
This feature had many incarnations via bookmarklets and various extensions on many other browsers but this one comes built in and works like a charm. It can even be adapted and improved with the use of extensions.
Extensions? Yes, please. Number three on the list.
3. Extensions – About time!
Indeed, majority of Safari users didn't have the chance to use extensions since, well, Safari didn't sport them, 'till now.
Even if you didn't think of using extensions in anyway visiting the Safari extensions tumblr blog and reading through all of the extensions already made with pure HTML, CSS and JS makes you wanna use at least 3-4 instantly.
My favorite is:
Shut up! – Comment hiding.
Very useful or in my case essential for surfing since I always end up reading comments on You Tube and yes, I admit, get hyped up about some troll's comment or meaningless comment threads.With this extension you can enjoy reading the post (if you're not using the "Reader") without the comments. If you're willing to read them just click on the icon at the top and there they are.
You can find the extensions here: http://safariextensions.tumblr.com/ compiled by Jonas Wisser.
Extension management itself is done very well and it has it's own place in the menu where you can update them and enable/disable as you wish or just delete them how you please.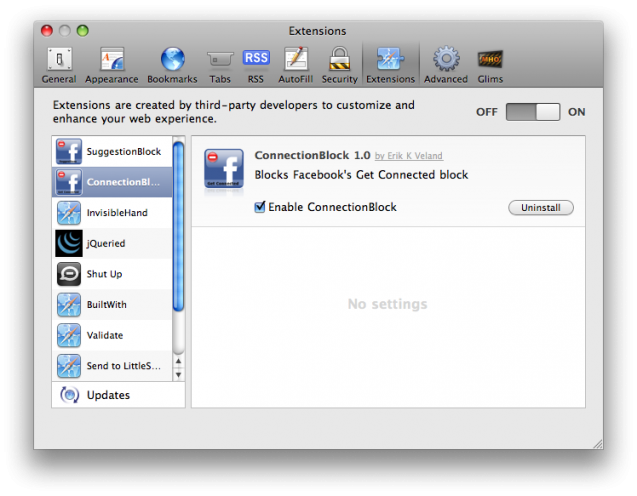 Since the extensions are built with HTML, CSS and Javascript they are not a burden to the browser and do not cause any sluggishness while opening, closing or using Safari 5.
That's it. All you should do now is to download it and see for yourself.
Oh, I forgot they've upgraded the Web Inspector too, but that we'll be discussed in another post 🙂