Do you work in a larger team? When a new project comes, it can be quite hard to determine what human resources are available. It is very hard to know what each one of 30 team members has on its queue list. This simple CO-OP online tool makes availability communication issues much easier and faster. We started using it couple of days ago and it was extremely helpful. Some might have a feeling like they are in online Big Brother, but it is an useful tool.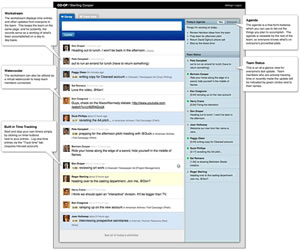 Co-op is a free web app that allows co-workers to stay connected. It's like Twitter meets Basecamp. It shows what you are working on, what is our daily agenda, and what we worked on yesterday. In addition to the status updates, and daily agendas, Co-op also offers time tracking. Co-op is a great idea for the workplace so that anyone can view everyone's status without disrupting anyone or having to leave your desk.
Case Study:
Mauro needs a designer for an hour to complete a small task, but he checks the resourcing spreadsheet and everyone looks booked. Instead of running over to the creative suite and asking around to see who's currently working on what, Mauro could login to Co-op and glance at the designer's status messages. In Co-op he can see that Rafael is already focused on a project with an end-of-day delivery, while Renato is working on an internal project and appears to have more availability.