MATHO – iPhone game from Surgeworks workshop

Surgeworks recently developed a new MATHO 2 for the iPhone/iPod Touch. It is a BINGO style math game for students grades K-12 developed for Education 4 Free, LLC. The goal of MATHO is to get five correct answers in a row as quickly as possible, either horizontally, vertically or diagonally. The problem is placed at the top of the screen and the player must select the correct answer on the gameboard. Each incorrect answer results in a penalty of five seconds. The score at the end of the game is the total time to complete MATHO, so the best scores are the lowest.

The player can choose game types of Addition, Subtraction, Multiplication or Division. The difficulty can be set to Easy, Medium, Hard and Custom. The Easy difficulty poses problems with values up to 8, Medium up to 12 and Hard up to 20. Custom difficulty allows the player to choose the maximum values for N1 and N2, and the resulting difficulty is the sum of these values. High scores are stored locally and globally. Local scores are the top 8 scores from games played on the player's device. Global scores are submitted from all players around the world.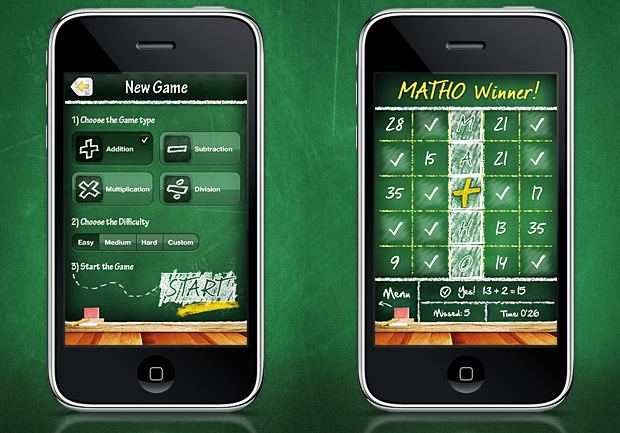 View more images on Surgeworks website.