Reinvigorated Internet Explorer 9

Microsoft released the IE9 beta at the "Design Concourse Center" stating that it wants to blur the difference between a website and a traditional desktop application. They also stated the very much anticipated improvements on web standards support, better performance and ease of use.
IE9 is now a good browser, period. It's performance is great, supports "those" web standards now and it really feels reinvigorated. Here are the main features that made a difference while I was using it:
1. The address bar is also a search input field
Uses Bing by default and of course you can add more search engines via the ieaddons.com.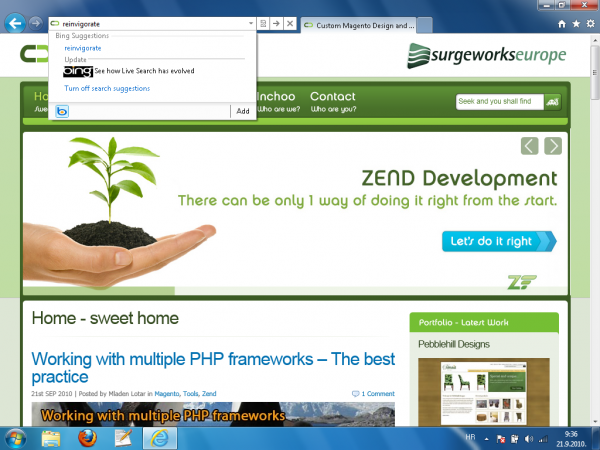 2. Fewer buttons in the toolbar
Anyone using IE8 or IE 7 at the moment will be very glad to see how IE9 has only three buttons in the right corner: a "House" a "Star" and a "Gear Wheel", pun intended since i have some remarks about the UI itself, as well. The branding is gone as well as bookmarks and the command bar. Well they're hidden actually and it's a good thing. By default, the status bar is turned off also and the UI buttons are grayed out until you hover your mouse pointer over. All this to make the browser show more of the page your viewing and less of itself. Thank you, Dean Hachamovitch, for looking up to Safari and Chrome.
3. Making a website turn into a web/desktop application
This feature is suppose to appeal to "regular consumers", as Microsoft calls them with the ability to pin the web page to the taskbar and use it from there. This should blur the difference between a web page and a desktop application which is kind of useful for sites like facebook and twitter where you can send tweets by right-clicking on the icon and so on. I didn't get it how to make those extra features to work but if you do please let me know.
4. Tab management
Tabs can now to be detached from the main window thus creating a new one just like we're used to on every other modern browser.
You can see it in action in this video made by Christina Warren from mashable.com. She had some issues with IE9 but they are all apparently due to the fact that she ran IE9 inside a Virtual machine so it crashed very often.
5. The Web standards support
Since the advent of HTML5 and CSS3 everyone hoped for a standard compliant Internet Explorer since neither IE7 or IE8 did the job at all, holding back the web and costing tons of money for the site owners and developers fighting the plague.
With this 9th version of Internet Explorer there's a great change on the horizon since IE9 scored well on the acid test, ran smoothly and almost hit the 100 mark. I've tested it on my HP laptop which is about 4 years old with 512Gb of RAM and a Single Core CPU on 1.46 GHz.
One thing that caught my attention is that the darn text-shadow should have been rendered but i didn't 🙁 Since it's "only" a beta version let's hope guys at Microsoft dev team are preparing those CSS3 "perks" for the final release.
6. The User Interface
With everything stated above with minimizing unneeded features and eliminating distractions, one thing that I still can't understand is the way how odd it looks, and unfinished. I'm talking about the back and forward buttons, where the back button is cut off at the bottom with something that looks like an attempt to separate the tabs from the viewport of the browser so it adds a persistent white stripe to the top of web page you're viewing. Hope that this is just because it's a beta version and that it will be replaced with something not so intruding, but by the looks of it, it will probably be there in the final release.
The main reason I wrote about Internet Explorer 9 is to add up to the buzz around it 'cause it really is a match to any other browser like Safari, Chrome, Opera and Firefox. It really feels that this time Microsoft did a god job and it should be appreciated.
We now have at our disposal four versions of Internet Explorer so let's hope that if at least IE7 and IE8 users upgrade to IE9 we come down to two versions, ironically, IE6 and IE 9. Why? Because IE9 is Vista and Windows 7 only, so users still using XP and tied to the IE6 will still be using, IE6. Oh no! Oh yes, and the saga continues…
Update: I came across IE Developer Product Management team answering some pretty interesting questions about the beta release of  IE9. It wouldn't be a reddit post if there wasn't an alternative version of that communication made by a reddit user.