Offline2On – eCommerce community offering a lifeline to small businesses worldwide

With the majority of small businesses being forced to shut down their operations globally as a result of COVID-19 pandemic, retail sales across many industries have plummeted.
Offline2On initiative, gathering over 1000 eCommerce professionals from all areas of the ecosystem (software solutions, agencies, developers, marketers, service providers) was started in a matter of days to help struggling small business owners get online fast or improve their existing eCommerce websites.
Learn more about what they are offering, what help you can get as a small business, and how you can offer help if you're able and willing to.
What and why?
Check out the video below to get a sense of how Offline2On initiative was started.
Small businesses need help. This pandemic has crushed small shop owners that don't have websites or those who rely on foot traffic. That's why more than 1,000 eCommerce professionals joined hands to help get small businesses online. People joining the initiative come from all areas of eCommerce and supporting industries.
Magento, Shopify, BigCommerce, Shopware – all in this together!
It is a breath of fresh air to see how all these competing platforms stand behind this unifying initiative. Some are providing direct support with their own employees actively involved. Some, on the other hand, have made special offers to merchants worldwide. And some are coming up with more localized offerings.
All in all, this is a very quick response by the global eCommerce community. It was especially great to see it take shape in a matter of days.
"We couldn't sit idly by and knew that our colleagues in the commerce community were all looking for ways to help."
said ShipperHQ CEO Karen Baker, and The Taproom CEO Kelly Vaughn, two of the founding organizers of Offline2On.
"Businesses can use all the help in the world right now to try and get an online store up and running. We're immensely proud of how the eCommerce community is rallying to help."
What exactly is the offer?
There are three main packages Offline2On is offering, that are completely FREE to merchants.
The Online Now Package
The Store Audit Package
The Marketing Intro Package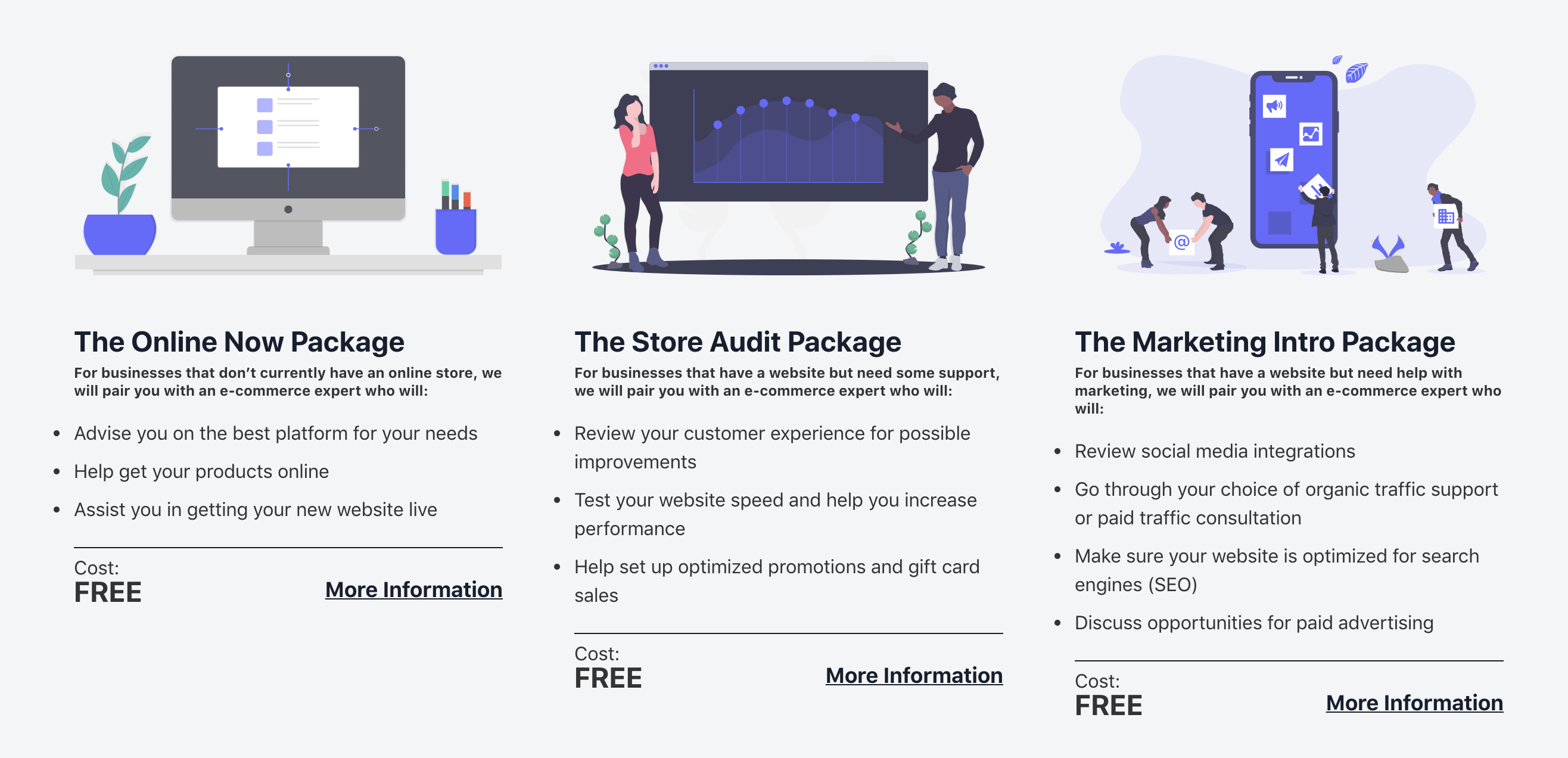 Each of those packages has a different purpose and is aiming at different merchant profiles, but they are all offered FREE of charge to merchants by various agencies and individual experts who joined the initiative.
How to apply?
Offline2On connects merchants with eCommerce platforms, developers, agencies and other service providers they need to:
Create a new website from scratch or
Improve their existing website
On the website, merchants are invited to check out the offering and then fill out the form. Offline2On team will then match them with agencies that offer the type of services that they are looking for. Magic!
The initiative started with the main focus on businesses in USA, Canada, Australia and UK. However, the initiative is growing and European countries and other territories are covered as well.
Other useful resources
You may not need this type of assistance if you're already working with someone on building or improving your eCommerce websites. In that case, you can still take advantage of a great Resources section on Offline2On website. Over there, you can find the details of the various special offer and discounts currently in place.
For example, you can find out that:
And there are many other initiatives and offers by many service providers you can come across. So, keep an eye out on the Offline2On website as they provide more information over there.
Is there anything else I need to know?
Probably, as we can't cover everything in one post. But, there is an exhaustive FAQ section on the website, where a lot more questions are answered.
The most important thing is that this initiative exists. It brought together many people and businesses willing to offer a helping hand, because, now more than ever, we're all in this together!
I want to join and offer my services to the initiative!
The best way to join is by filling out the agencies form. It's ok if you're not an agency, simply use that same form and skip fields that don't apply.
After reviewing the information you shared, the Offline2On team will get back in touch. They will get you started and direct you to the channel/area where your skills and expertise will be most valuable.
Join if you can, and if you're a small business – take advantage of this opportunity!