Is it really all about the money?

Every company has its own way of acquiring and transforming data into meaningful and useful information. This is how we do it.
At Inchoo, as part of business intelligence procedure, we track our team's financial productivity. We do so in order to assure visibility of their billable hours and to show them how they did in digits.
We currently use Active Collab – project coordination and management tool which, among many other things, helps us track billable and non-billable hours.
For most clients we issue invoices on a weekly basis while we also have different ongoing support packages in place that are prepared on monthly basis. Each invoice is issued by project and based on the number of billable hours recorded in Active Collab. Once the invoice is prepared and sent, my job is to allocate these amounts among team members.
Once a week I track how much people in the team contributed to project they're working on through time&expense filter. After detecting billable hours, I enter it in so called "Invoice details" table in "Zoho Reports" – online reporting and business intelligence service. Every team and team member has it's own ID and dashboard inside so it's easy to arrange data by teams.
In team dashboards there are financial productivity charts like the one shown bellow. Team members have been assigned with colors and each column shows productivity of every team member and altogether financial productivity.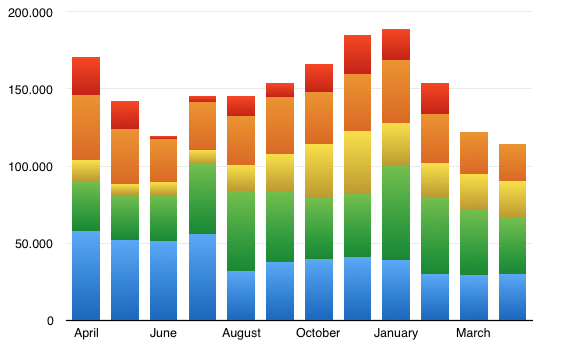 I was wondering what this chart represents to a team leader, so I decided to ask one – Stjepan Udovicic, leader of team "Echo". I've been working at Inchoo for 10 months now and from my experience, financial productivity doesn't equal performance. In order to clear that up I talked with Stjepan about various factors that indicate success of his team members. Let's see what he had to say.
What do you see when you look at your team's chart; what does it say to the team and about the team?
There are few other things that need to be taken into account, besides numbers, when looking at the chart. I have to think of things such as vacation days, holidays, state of the projects we are working on, etc. By weekly analyzing financial productivity chart, it helps me make decisions about hiring new members, acquiring new projects and rewarding team members for their engagement in daily team activities. Of course, this is not the only thing that influences my decisions, but it plays a larger role in it.
How do you see yourself as a team leader and what are your responsibilities then?
I see myself in a team as a person who is responsible for supplying team with everything they need to work – from tools to knowledge and training. I coach them and help them develop in order to maintain healthy group. This very rarely means resolving conflicts, as we are more oriented towards open communication and making decisions as a group.

Besides working with other team members, I am also responsible for maintaining productivity of a team, by tracking assignments of team members and coordinating on a new projects with the sales team.
So, this was about team rhythm. What about communicating with clients? How does relationship with the client affects team's performance?
Straightforward and open communication with client is essential for project to succeed. For each new functionality that is going to be implemented, we need to discuss it with client, in order to get requirements and expectations correct. If client is not willing to do so, this is bad for both of us. Most likely, requirements do not match expectations, and team is struggling to complete given task. This leads to frustration on both ends, and is not good. Therefore, we always emphasize importance of this to our clients, in order to get things right from the beginning.
What is, in your opinion, a good team and what would be the key features of team's success?
Good team is a team where each members can handle communication with client, resolve tasks independently and is willing to assist other team members if needed. If team can efficiently work with each other, as a group they can handle bigger challenges and resolve more complex situations.

In order for a team to keep working optimally, it needs to be focused and on track. Each team member must know it's current assignment very well (not just what needs to be done, but also why and how will it benefit the project), as well as next task that is going to be resolved. If feature/requirement is not well planned, it can have negative impact on team's performance.
After reviewing Stjepan's answers, I came to a conclusion my assumption was right. Financial productivity has to be taken into account when making decisions and it somewhat indicates success but it is not the key to one. Overall performance of a team is a sum of many other, but not less important factors.