State of Magento Solution Specialist Certification – March 2015

Every three months we're coming up with the latest numbers on the Magento Certified Solution Specialist certification.
As we're closing in to a full year since Magento rolled out its only business-oriented certification program, it's good to check out some trends and see if the same countries and solution partners still hold the lead or have the tables turned. We bring you the third State of Magento Solution Specialist Certification report by Inchoo.
The latest figures show that some trends have continued since my last report, with Europe further strengthening its global leadership (UK, Sweden and Netherlands helping the most with their growth ) and certificates popping up everywhere, with the likes of Mauritius being introduced to the list of countries where you can find a Magento Certified Solution Specialist.
Asia grows strongest, USA struggling to keep up
This time we can compare how number of certificates has grown over time – Europe has continued to almost double its total numbers between each of the reports, totaling at 158 and USA showing a bit stronger growth than in the previous period (50% compared to 35.5% from the last report).
Worldwide, however, these certificates are growing at a much higher rate of 87% so USA is in danger of falling behind rather soon if these trends continue.
But all of this fades compared to Asia's huge 350% growth (it jumped from 4 MCSS in November 2014 to 18 in March 2015).
At the moment of drafting this report there have been 267 certified solution specialists out there (well, those that have been publicly listed to be more accurate) coming from the total of 39 countries.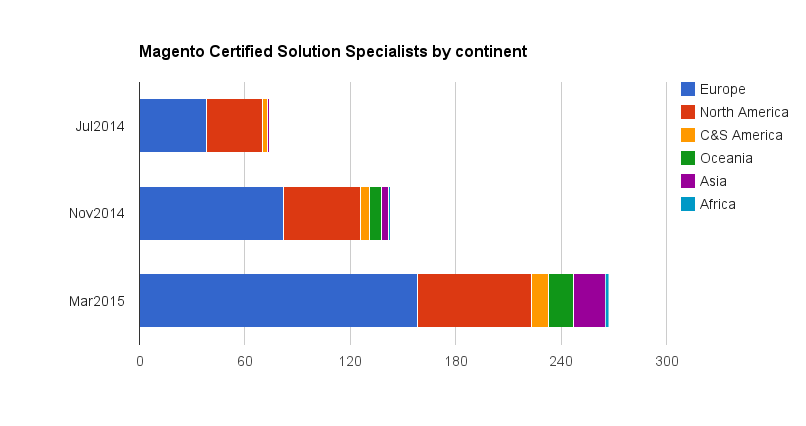 Bragging rights for countries, cities and solution partners
Top countries list hasn't changed much, USA is still in a comfortable lead in front of a number of EU countries, however its global share has dropped further, to 23% (63 of 267) – as a quick reminder, in my first report in July 2014 USA held 43% of all the certificates worldwode (31 out of 74).
COUNTRIES
USA – 63
Germany – 29
UK – 23
Sweden – 21
Netherlands – 16
Croatia – 15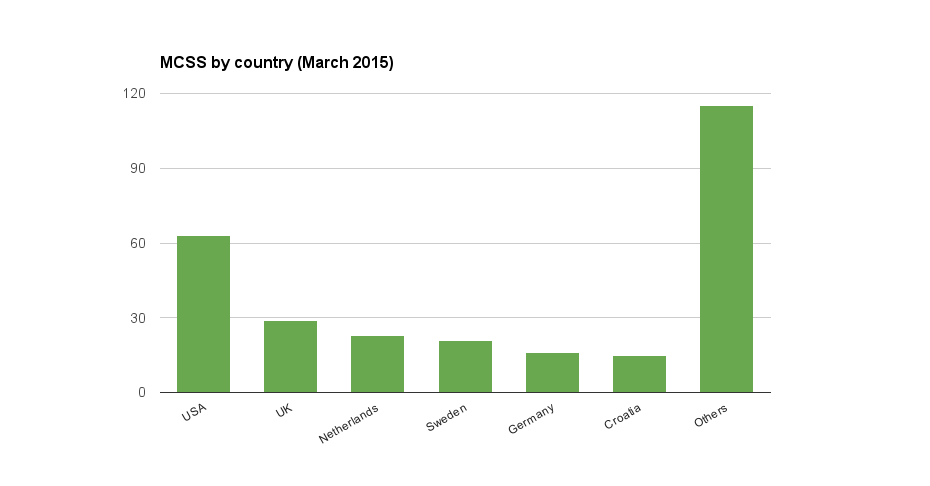 As for the cities across the globe where you can find a fellow MCSS, our hometown of Osijek still tops the charts with 15 total certificates – but it's getting crowded at the top as Stockholm is quickly closing in on us. Looks like those Vaimo guys really started taking these certifications seriously (plus they're in slightly larger markets).
TOP CITIES
Among solution partners, Vaimo has taken the charts by storm – they hold a total of 20 MCSS badges in several of their offices and that's by far the most out of all solution partners, so hats off to our Scandinavian friends:
SOLUTION PARTNERS
Vaimo, Sweden – 20
Inchoo, Croatia – 11
Classy Llama, USA – 9
MediaCT, Netherlands – 6
Gorilla, USA – 5
A quick shout-out should also go to Rackspace as they (as Hosting partners of Magento) have 4 of their team members certified as solution specialists – this is a great proof of their commitment to Magento as a platform where most wouldn't expect this extra effort.
Cream of the crop
In my previous reports I made sure to mention all those fellow Magento community members who have made an effort to prove just how versatile they are by collecting all four available Magento certification badges (MCD, MCD+, MCFD and MCSS), and since the last report this list has more than doubled (from 7 to 18 people).
Here they are, listed alphabetically:
Adriano Aguiar (Brazil)
James Anelay (UK)
Jitze Bakker (Netherlands)
Jacques Bodin-Hullin (France)
Kris Brown (USA)
Ashoka de Wit (Netherlands)
Bartosz Gorski (Poland)
Phillip Jackson (USA)
Vladimir Kerkhoff (Netherlands)
Francis Kim (Australia)
Chris Manger (USA)
Derrick Nyomo (USA)
Vladislav Osmianskij (Lithuania)
Rutger Rademaker (Netherlands)
Martijn Riemersma (Netherlands)
Bas Rozema (Netherlands)
Tobias Zander (Germany)
Anthony Van Zandycke (Belgium)
Take a bow, gentlemen – you deserve it!
Some interesting facts & figures
Even though not much detail can be taken from the official certification directory, there are some interesting facts I wanted to share since I already crunched all those numbers, so here goes:
Ladies hold only 8.5% of all MCSS badges
Most popular name (9) for an MCSS is Christian (or its equivalent – Chris, Christoph and similar)
For 174 people (65% of everyone who got certified) this is their only Magento certificate
Waiting for some official data
Ever since we started preparing these reports, we haven't seen any official data from Magento about solution specialist certification, so I'm actually very interested to see what numbers they will present at this year's Imagine conference.
Are you coming?
---
Disclaimer:
The data for this article is taken from the official public Magento certification directory as well as some of the partners listings and the "heavy crunching" required for this article was completed on March 27, 2015 – if you got certified and had your profile published in the meantime, you may want to wait for this post to be updated

There's also a possibility that not all people who got certified made their profiles publicly searchable, so the actual number of certified developers is probably a bit higher.