Using Pinterest to promote your E-commerce website?

Pinterest is becoming one of the best referral traffic sources for many online stores around the world. Every day I see more and more of my clients gain significant amounts of revenue through this simple social image bookmarking network and even similar networks and clone sites. This just in: you can now have Pinterest Business Page!
How to claim a new pinterest business page for your online store?
First of all, what changed?
If you decide to use Pinterest as a business, there is now a separate TOS for you that you can find here.
You can now have a "Follow us" Pinterest button on your website, just like with Twitter and Facebook.
To create a new Pinterest Business account, follow this link.
To convert your old Pinterest user account into a business account follow this link.
Converting an old user account into a new Pinterest Business account for online stores:
When you start the process, you'll be asked to choose a business type. There are several different business types, screenshot bellow: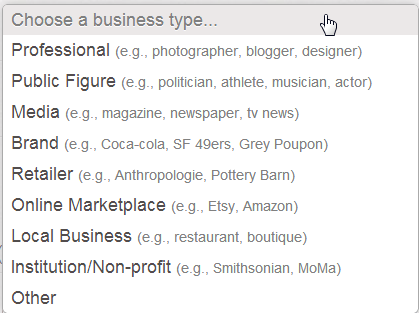 As an e-commerce website, you're probably supposed to choose a Retailer or an Online Marketplace business type. Don't worry too much since you can change your business type later.
After you finish your conversion into a business account, you'll need to verify your website. The verification process is extremely easy, just like with Google Webmaster Tools verification, you'll be given a file that you upload to the root of your website here, confirm verification and you're done!
Your new verified website will show up on your profile and pins with a nice looking trust sign:

Enjoy your new Pinterest Business profile, and if you want you can Follow Inchoo on Pinterest!