Developers Paradise, here we come! A casual interview with 3 Inchooers who are going to Mallorca

Three lucky Inchooers are going to Developers Paradise – Magento Edition, that will take place from September 16th to 19th 2013 at beautiful Palma de Mallorca. If you don't live on Earth, because that's the only justified reason you don't know what Developers Paradise is, their catchphrase sums it well: "Lots of code and fun in the sun". 
Two lecturers and their chaperone, our representative troop is consisted of Hrvoje Jurisic as Frontend Developer and creator of The Inchooers – comic strip about us, Nandino Loncar as Office Manager who is highly involved with our local IT community and Branko Ajzele as our Chief Technology Officer. They can already smell Mallorca from our office, so here is a warm up interview.
It's time for Developers Paradise! Are you guys excited?
Hrvoje: Not yet. But I expect to be. 🙂
Nandino: Cool guys don't get excited. So, I believe we're all pretty excited.
Branko: Yes!
Hrvoje, Nandino, how do you see Developers Paradise? Sea, cocktails, parties, laughter with the crowd or just coding, Magento and some more talk about coding?
Hrvoje: Beach, pool, beer… And a little bit of Magento.
Nandino: Actually, I'm not a developer, so for me it's not coding at all, just sea, cocktails, parties and laughter with the crowd.
Branko, you were on Developers Paradise before, how did you describe it to Nandino and Hrvoje? Be honest. 🙂
Branko: As awesome place with food and drink until your heart desires.
You were there in 2010 as a lecturer with "Clone Yourself: How to Effectively Share Magento Knowledge with New Developers". How was it?
Branko: It was fun. The community was sort of just forming. Met some good people.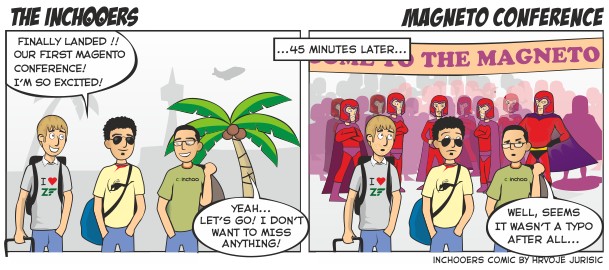 Hrvoje, you are opening Developers Paradise with "Magento Responsive". Why did you pick that theme?
Hrvoje: I am very passionate about Responsive Web Design. I think that all sites should be built responsive by default, and that's why I would like to present the importance, benefits and techniques of RWD to fellow developers.
If you want your audience to remember only one thing from your lecture, what would it be?
Hrvoje: Website content should be available and accessible to all users, regardless of their device, browser, connection speed or physical disabilities. And with that in mind, our job is to provide them the best possible user experience.
Nandino, you picked an unusual theme for Magento conference – "How to engage a startup community and why you should be a part of it". How did that come to your mind?
Nandino: Well, I have some experience in that field, with the Osijek Software City project launched almost 2 years ago by a few local software development companies, aiming to make an impact on the local community. Since then I have been involved in engaging a startup community of Osijek, playing the role of project manager.
Do you think there's a lot of developers in Developers Paradise who are involved with startups?
Nandino: I really can't say, but it doesn't matter, because developers world is quite dynamic and changeable, so even though today they are not involved with startups, tomorrow they may be. Either way, they can and should be a part of some startup community.
Branko, you are going too. Since you're not a lecturer this year, what is your role on this trip? Advisor of how to have a good time or maybe a spy who informs Inchooers what Nandino and Hrvoje are doing?
Branko: A little bit of everything, mostly just good time and connecting with community.
What are you looking forward to the most, from lecture to activities?
Hrvoje: Meeting people. Hanging out with our own kind. 🙂
Nandino: First of all, I want to do a good presentation, because there I present myself, my company, my city and my country. After that, I'm not going to pass on some fun and entertainment.
Branko: Swimming pool and beer, and some high performance Magento topics.
Is there anyone in particular who would you like to meet or maybe see again if you met before?
Hrvoje: I am looking forward to seeing some colleagues I worked with in the past.
Nandino: Nope.
Branko: Could not pick anyone in particular. All the guys and girls I met the last time where great.
Why did the chicken cross the road?
Hrvoje: It couldn't go around it.
Nandino: Because the road was on the way to the Magento Developers Paradise.
Branko: Because it could not send an email.

Have fun guys and learn something too! We expect report blog post when you get back.