How Meet Magento opened my eyes to performing – a tale of 1000 words

Related Inchoo Services
Several times a year Inchooers have the opportunity to go to Meet Magento events. The most represented topics at Meet Magentos are development-related, and I always thought those events were reserved only for developers. Since I'm not one, I was reluctant to apply – until Meet Magento Spain 2017.
What has changed?
Well, after two years of gaining experience in office management, processes regarding human resources, and working on strengthening the bond with the local community, I, side by side with Zrinka, decided to share a story "It takes a village" with the rest of Magento community.
It wasn't an easy decision; we had no experience in presenting, especially in front of an international audience, and in a foreign language – but we dared. We were the first female speaker duo ever to represent the company at an international conference.
How was the whole experience?
We arrived to Madrid a few days prior to the conference so we would have time to experience the city. We were accommodated in Petit Palace Posada del Peine, the oldest hotel in Spain, located in the old town of the capital, and next to Plaza Mayor. Since we were in the city centre, everything was close and we didn't have to use taxis (I even got sore muscles from all the walking uphill).
Even though we started preparing the presentation a month earlier, each day in our hotel room we would rehearse it and put some finishing touches to it.
We were very excited when the day finally came. The conference was held at Teatro Goya, a nice cinema multiplex, where our hosts and good friends from Interactiv4 XOXOed us warmly. There were 3 separate tracks: Dev, Biz & Community, and the one combined but in Spanish. Our presentation was first on the agenda on Biz & Community track and we couldn't wait for it to begin. In the beginning we were in a pickle due to some technical issues, but that didn't stop us from delivering a story to our audience (approximately 40 people).
Really interesting to hear what @inchoo is doing to help improve the IT labor force in Croatia. #mm17es pic.twitter.com/BBHXnzmstj

— Sherrie Rohde (@sherrierohde) November 7, 2017
Although we were well rated and the overall feedback was good, when I think about all the details, there's quite a number of things I would now do differently. Now that our adventure passed, I would like to share some tips that may be of use to those of you who are preparing to undertake a similar action. I am not an expert and yet have a lot to learn but I'm starting to uncover the secrets…
Public speaking is a stress trigger
I know public speaking presents quite a challenge for all of us, and anxiety that it causes can be a real issue. Your mind and body just won't listen and you feel like you don't have any control. Well, to be aware of the fear is the first step to overriding it. Fear will always be present, but you need to learn how to put it aside.
There is no magic formula that tells you how to do it because everyone is different. You need to find it; create your own formula that lets you be you during public speeches.
How to grease the wheels?
What helps me is the structure. Clear and easy-guiding structure that doesn't need to be visible to the audience. In my mind, I built the whole presentation in blocks – content units each made of exact number of parts (3).
The presentation, the slides themselves, should primarily be easy to follow, without large amount of text but planned in a way to guide you and to help you remember the key points (and, preferably, be interesting to the audience:) ) You should start creating it early enough so you would have time to make some changes along the way – I know I do that all the time.
Besides the content, preparation was a very important thing for me. We all think our voice sounds ridiculous and we don't know what to do with our hands or bodies during speeches. I wanted to overcome these insecurities, and this is why I tried to "expose" myself as many times possible. I read out loud my lines and marked all the words I need to emphasize with arrows, all the parts when I need to slow down or pause with vertical lines, etc. It helped me because I feel my mind is usually faster than the tongue and I easily end up speaking too fast and just sound baffling.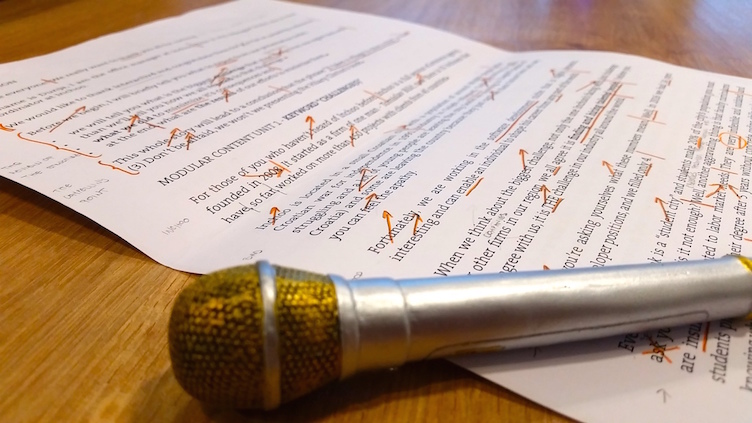 Several times I also came to the office early in the mornings when no one was there so I could stand in front of the large mirror and practice my stance and expressions. It is very different when you sit at the table or lie in bed and practice your speech quietly and when you're looking at yourself in the mirror while doing it out loud. If you have the opportunity, gather your own audience (family or colleagues) and rehearse in front of them too. They might give you some additional advice. So, try to simulate the situation – it would truly help reduce the stress.
After you rehearsed the story, you should not only be focused on it but also on the audience. In the end, they're the reason you're there. Try yo get to know them, involve them if possible, commit to them. They want you to succeed.
In the end, the most important thing is to perceive the presentation as storytelling, as performance.
As professor William Kuskin (Department of English, University of Colorado Boulder) said:
Successful presentations are public stories, they're rehearsed, they're thought through, they're revised. They involve not just our words, but our bodies. They involve our awareness of our audience and our context and our purpose. So when we think of a successful presentation, we need to think of it as more than just reciting a script. We need to think of it as an entire experience.
I think about his words very often…