Is it a bird? Is it a plane? No, it's an interview about RWD and Meet Magento New York

Meet Magento New York is closer day by day. From September 22nd to 23rd, it brings new business connections, links Magento community together, collects interesting presentations, fine food and drinks at nice ambient in New York. Also known as The Big Apple, The Melting Pot, The City That Never Sleeps and Hong Kong on the Hudson.
Do we need to say more? Pack your bags! Get a great deal and redeem your tickets using 20% discount code InchooMM. That's our gift to you so you have more to spend in New York. You are welcome.
At MM14NY, ask Inchooers about RWD and congratulate Interactiv4 for the organisation!
This first MM event on North American market is organised by Interactiv4 – Magento mix between Madrid and New York. In case you don't know, they were also organisers of Meet Magento Spain in March 2014 where our backend dev Damir Korpar was and wrote a recap.
Inchoo, as a Silver Sponsor, is sending troop of two frontend developers to MM14NY. Hrvoje Jurisic as a speaker (RWD theme) and Filip Svetlicic to hold Hrvoje's back and connect with the community.
We wanted to tell you a little bit more about our guys and their plans of visiting New York's attractions, but also to share their thoughts of Responsive Web Design that is the main focus of Hrvoje's presentation and their work at Inchoo. Guys and girls, they didn't read about it in books, they tackle it on our projects from 2012.
But this fun interview wouldn't be whole if we didn't include Ignacio Riesco and Kimberely Thomas (famous Magento girl from the community). They are the leading crew from Interactiv4 that is sweating in organisation of MM14NY. Following – what do they say about the event and Kimberely's advice on how to attract more women in the Magento community.
Hrvoje, Filip, you are big shots at Inchoo. Tell us a bit about yourself!
Hrvoje: Husband and a father of one. Frontend developer and team leader @Inchoo. Consider myself one lucky bastard for being able to do the job I love, travel the world sharing knowledge and meeting extraordinary people… I am big fan of sports, especially football (soccer) and a passionate collector of comic books. Speaking of comics, I am the author of famous Inchooers comic strip.
Filip: I live a quiet life with my wife Kristina and my son Sven. When it comes to work, I'm Frontend developer at Inchoo with over 4 years of active experience dealing with Magento. Most of my free time when not enjoying with my family or when not improving my developer knowledge goes to composing electronic music and playing tennis. I have a home recording studio, so I just love to spend that beautiful Saturday mornings while playing on my synthesizers.
What do you think it takes to become a good frontend developer?
Hrvoje: There are lot of factors. But first and most important – you have to love what you do. And you must want to be a great developer to actually become one.
Filip: Well you need to be talented, you need to have a nice touch and a great eye for details. In the same time you need to possess good programming skills. It's a crossroad between two worlds. But what is most important, like Hrvoje said – you need to have a passion for what you do.
You are heading to New York for first US Meet Magento Event. Excited? What are your expectations from the conference?
Hrvoje: Every time I attend a conference, I return home energised, inspired and even more passionate about my job. Hope that will be the case this time too. Meeting old and making new friends, learning new stuff, being inspired by the work of others… that's what conferences are all about.
Filip: I'm thrilled to be able to meet all that great people from our community. This is my first big event outside of my country so I'm really really happy to attend.
Hrvoje, you are one of the speakers at Magento Imagine New York. What can visitors find out from your presentation that can help them?
Hrvoje: One could notice that I talk a lot about Responsive web design. This time is no different, but focus will be on performance of responsive web pages. Statistics show that less than 10% of Responsive websites "weight" less on small screen compared to big screen. This has earned "bad performance" reputation for RWD, but this should be blamed on poor implementation, not the actual RWD technique.
Filip, why is good responsive site important?
Filip: There are a lot of factors out, but one of the most important ones is that good responsive site must be optimized for performance on various devices out there. That's the most challenging thing to achieve but in the same time most important one if you ask me. If the site is optimized well, conversions are higher and that usually means more success for us and for our client which is the ultimate goal.
Hrvoje, on which area of responsive website creation do you spend most of energy?
Hrvoje: Tough one. Don't know. Probably performance, because you have to keep it mind when dealing with every aspect of RWD.
Filip, what is your strategy when it comes to images in responsive?
Filip: Well this really depends on the situation. In my previous responsive projects, approach was to go with multiple sources technique. In short, serving different images under specific circumstances. For desktop users serving out large ones, for tablet users middle and for mobile users small ones. The challenging part goes if you plan to support high density displays as well (retina). I did. But nowadays the most effective technique is to go with adaptive images (server side).
What is the one thing in responsive you just can't stress out enough?
Hrvoje: Performance again. Developers have to realize that building responsive website doesn't mean just to "fit" the website on the small screen and consider it done. You have to consider end user, person with the small screen and big thumbs, who is connected through 3G or even EDGE, walking down the street, browsing your website and looking for the information on the fly… But you also have to consider a person at the office, looking your website on cinema display, on a broadband connection, using keyboard and a mouse. Cherry on the top: you have to consider all those situations "in-between". User on 17" retina laptop, sitting on the train, connected through 3G, but also a user sitting on his sofa, watching TV and surfing the web in commercial break connected through his broadband wi-fi…
Filip: There is not just one thing, it's very challenging to build responsive sites. But what stresses me the most is how to explain all that abstractions to the client. 🙂
What would be the worst thing a client could ask while you are building him responsive design site?
Hrvoje: To make it work in IE6 😀
Filip: To suddenly change concept in the middle of development when the fundamentals are already planned and set up.
Do you think that responsive design is overhyped?
Hrvoje: Well, it certainly has a lot of exposure. But wouldn't say it's overhyped. In mobile-first world that we become, RWD has a place it deserves.
Filip: No! We just need to push it further with new approaches and techniques.
What is your biggest wish to see, do, experience in New York?
Hrvoje: I love NY. Visited it in 2011, when I went to "Future of Web Design conference", and fell in love with it. There are a lot of places that I missed the last time, so I am really excited about coming back and getting a chance to experience the Big Apple one more time. So this time you could see me wandering around Central Park, touring the Liberty Island or at Yankees stadium…
Filip: I fell in love with New York since I was a kid watching movies. The city is just fantastic. We'll stay for a 5 – 6 days so logically we won't have time to see all what we want. Union Square, Flushing Meadows, Empire State Building are some of the destinations that we'll definitely look around.
Ignacio, you are organising your second Meet Magento event in 7 months. People from the community are starting to perceive you as a superhero. Which one was harder to organise, Madrid or New York?
Ignacio: Please don't say so… the only superhero I know is my beloved SuperLopez, and I will never be at the same level, even by doing three Meet Magento Events in the same year.

Talking seriously, both events have their own unique challenges.

MM14ES (Madrid) was organized only in two months. To get everything done on time was very stressful, but the response from the community, friends, clients, sponsors and colleagues was amazing. I can't be more grateful to all of them. There were people from Spain, Germany, USA, Holland, Ukraine, UK, Italy, Turkey, Romania, France, Belgium, Poland and… Croatia!!!

MM14NY (New York) is the real challenge. This is the BIG APPLE, and all things are BIG. We are working hard to have the same quality event that we showed in MM14ES. We have just opened a new office there and the plan is to share with everyone the same spirit and goals as we did at the Spanish event: networking, sharing experiences, being open for all, learning from the best and having FUN!!

It is a real pleasure to have Sherrie (@sherrierohde), Maite (@maitesfazio) and my partner Kimberely (@magentogirl) working together in the same team to organize the event.
Kim, who has done more work in organisation, you or Ignacio?
Kimberely: Ignacio (@ignacioriesco) and I have both been working into the wee hours organizing the event. We organize things at the top level together and then divide out the tasks. I've been lucky enough to get the fun tasks like picking (and tasting) the menu and networking with the Magento Community to get speakers and sponsors. The hardest part is balancing it with our regular project work.
Ignacio, you are a father of three. Will you bring your kids to New York?
Ignacio: I already did three years ago, and my pocket is still recovering from it. 🙂
Ignacio, if you didn't have your own company and we invite you to work with Inchoo, would you accept?
Ignacio: Yes, no question about it. I've followed Inchoo from the very first beginning. I was at the first Magento Developer's Paradise when I met one Inchooer and I still have his business card on my desk. I admire everything you do, and Tomislav is one of the wisest guys I ever met.
Kim, as a famous "Magento girl" in the community, what do you think we all should do/offer to attract more women developers in the industry?
Kimberely: I have been really lucky in my career to have worked on teams with other women and for managers who are also women. In technology this is not usually the case, and many times women are really in the minority. I think that being a good role model and mentor can help to attract more women developers. Showing people that you are one on one with the guys and able to hold your own. Also that we really enjoy being a developer and that is a fun career!
This interview is melting pot like New York, hope you enjoyed it. For those who are attending MMNY, we wish the best time! The rest of us, that are not going to be there, will jealously scroll through #MM14NY Twitter feed.
We also prepared a small goodie for welcome package – pocket notebook, tailor-made for the event.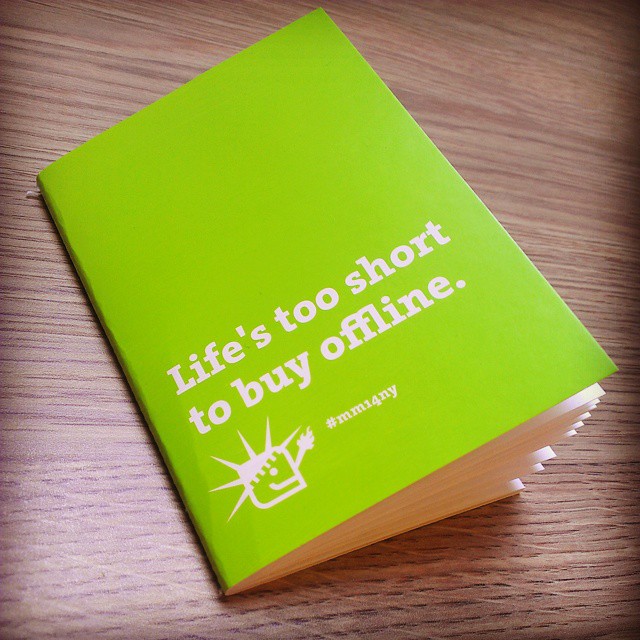 And if you are interested in meeting our team at MMNY, just contact us.