One Magento patch to rule them all

Community strikes again! Patching times are over! We have joined forces with the best of the best to prepare a single patch for all Magento stores across all editions and versions that will sort out all security issues now and in the future!
The patch will be officially released at Developers Paradise conference in late April. Interested? Then read on.
Some of the most frustrating days for many developers are patch release days – yes, we all know how important it is to be on the top of your game and Magento is really paying special attention to keeping their clients safe.
But, when a new patch comes out, you just can't help but feel a tad like this…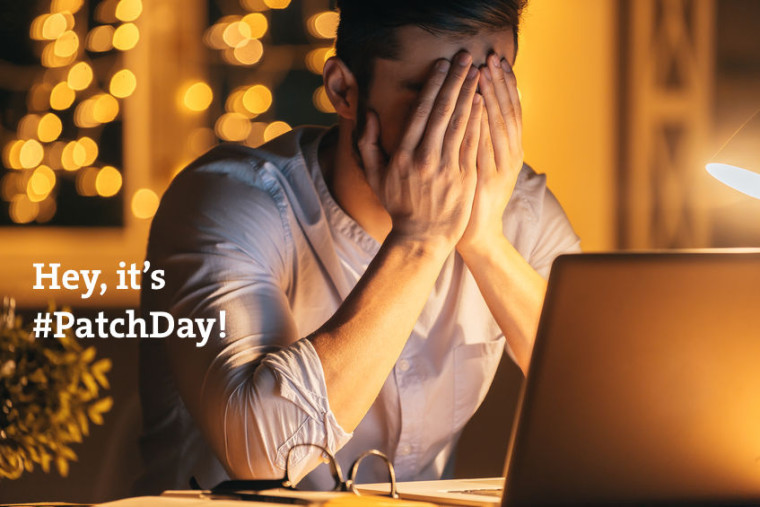 So, we had a dream, a vision, whatever you want to call it – why don't we try and anticipate the exploits and find a way to prevent them from even happening? You know, that Minority Report stuff and all…
The Vision
We set a clear goal – let's create The One Patch! A patch so advanced and awesome that would, once applied to a website (Magento or any other) be there to solve all your security concerns in an increasingly insecure world of eCommerce transactions.
But could we really make it happen?
We consulted various experts in their respective fields to approach this issue with due care and from their angle.
The Team
Some of the profiles of people we hired (we can't disclose any names for security reasons, I'm sure you can understand that):
Magento Certified Developers (Plus)
System Administrators
Cognitive Psychologists
Storytellers
Fortune-tellers
Community Managers
Behavioral Scientists
Growth hackers
Theoretical Physicists
Screenwriters
We have worked behind the scenes, organized a number of patchathons over the last several months where we prepared a solution that is now being polished.
The Result
The entire behind the scenes work resulted in an Ultimate Prediction Model for Ecommerce Exploits (UPM-EE) and covers much more than just Magento websites.
It allows us to predict future loopholes in various eCommerce solutions out there based on many variables. Some that are used to predict future vulnerabilities are:
Average number of fixes per new version release
Total number of official patches published annually
Average number of tweets including hashtags #security #patch and #notagain within one week of each patch release
Total number of unofficial reports of identified vulnerabilities of a platform
Average number of sick days reported by developers during patch days
This UPM-EE model will give us the chance to create single patches for any open source eCommerce platform out there and we are doing just that.
The Showcase – The One Patch for Magento
So, where do we start? With Magento and Magento 2, of course. The One Patch will see the light of day at Developers Paradise where we will formally announce it and share it with the world.
What does it do? It's as simple as this:
Protects Magento stores from all current and any future security leaks and vulnerabilities.
Removes all previously applied patches because – hey, all you need is The One, right?
Works with all 3rd party extensions listed on Magento Connect
Temporarily removes encryption from all encrypted extensions (do you feel lucky?)
Backward compatible to Magento 1 CE 1.6.0.0 and EE 1.11.0.0
Backward compatible to Magento 2 CE 2.0.0 and EE 2.0.0
Forward compatible to Magento 3.0.0
Where and when can I see it in action?
Official release is scheduled for Developers Paradise, Opatija, Croatia – April 25th-28th 2016. Sign up here and don't miss The One Patch release!
What are you waiting for? Keep calm and Patch One!