Snatch your Meet Magento Croatia ticket – while you still can!

We're a bit more than a month away from the amazing Meet Magento Croatia experience in Osijek.
We are thrilled to welcome some of the most prominent Magento 2 community members, as well as various top notch eCommerce experts.
Here is the first real batch of information regarding the upcoming Meet Magento Croatia and why you should snatch up your ticket – if you haven't already. 😉
Who's going to be there?
Developers, merchants and eCommerce enthusiasts. Our delegates range from the skilled Magento sailors to those interested in testing the Magento waters. Some of our guests have been building their shops for years, others just decided to start that adventure off.
No matter the level of experience you have when it comes to dealing with Magento pickles, #MM17HR will be the perfect place for exploring the whereabouts of Magento possibilities and pioneering Magento 2 solutions!
So, who's going to entertain the crowd?
Entertain is an understatement!
With the first batch of speakers looking like it does, it's certain they will bring more than fun things to the table. Get ready to enjoy meeting some of the most amazing #RealMagento faces because they have you covered with everything from Magento 2 Frontend to Magento 2 testing.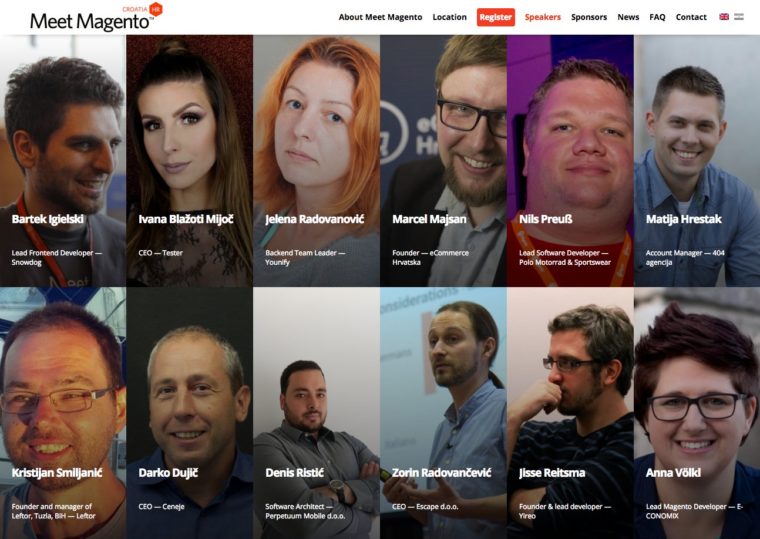 Magento 2? Spot on!
Did we mention this is the perfect place to get your Magento 2 knowledge on point?
If we haven't, it is! You've seen the roster of the amazing speakers who already booked their place on the MM17HR stage – how can you expect anything less than hot Magento 2 topics?
After all, DevParadise set the bar high when it comes to meeting expectations regarding organizing Magento conferences. It's only fair to match that standard this time around too!
So, if you're reading this and thinking: "Man, I'm glad I have my ticket!" – good for you! We're looking forward to seeing you in Osijek.
If, on the other hand, you're one of those people who still need some convincing, we'll let you be convinced by the experiences of people who attended our last event.
Talesh Seeparsan: "Magento events in Croatia always seem to have a buzz of excitement around them. It's one of those places where gathering of brilliant Magento minds seems almost natural. I'm looking forward to attending in 2017!"

Olena Sadoma (Atwix): "Don't go alone. Come with a team. Spend time together, learn new stuff, meet new people. Inspired by speakers, make an action plan. This is the best you can do for your employees and your company."

Dmitrijs Sitovs (Scandiweb): "Croatia is definitely one of the best countries for such events – good weather, beautiful places and great possibility to exchange your experience with other Magento colleagues. What else is needed? :D"
And don't forget to snatch up your ticket, it still goes by the "save-some money" price! 😉