Magento extension for Reinvigorate – Simple, real-time web analytics service

Recently I have been doing several free extensions for various 3rd party web analytic software. Just for the fun of it. In this article I present you a free Inchoo_Reinvigorate Magento extension that adds support for Reinvigorate Simple, real-time web analytics + heatmaps service. Please note that it is not my, or Inchoo as a company to marketing Reinvigorate analytics service. This extension was simply a result of playing & testing various analytics software for which we made extensions separately.
If however you are in the process of evaluating Reinvigorate service for use with your Magento store, keep reading.
In order to get your extension up and running here are the steps you need to take:
1. Create an account at https://www.reinvigorate.net website.
2. Login into Reinvigorate at https://report.reinvigorate.net/login.
3. Under https://report.reinvigorate.net/accounts, go to Account > Add Site, this will take you to a URL like https://report.reinvigorate.net/add_site, as shown below on a screenshot. Here you need to fill in the proper data, like URL that matches your shop url (for example, something like: http://super-cool-shop.com)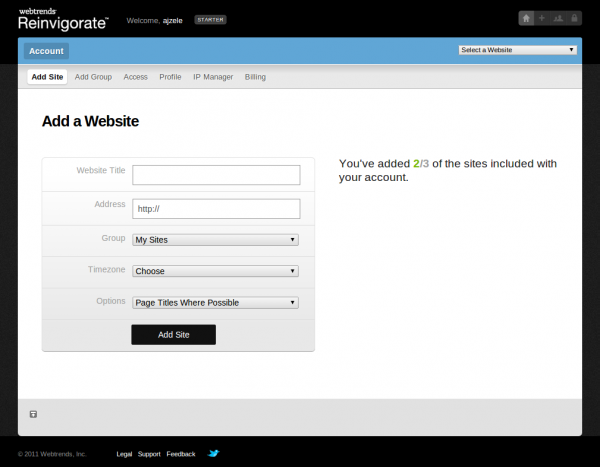 5. If all went OK, you should have landed on a Tracking Code web page like shown below. From there, you can read out your API key (which in our case is a value "7856u-58it07y4p3", minus the quotes).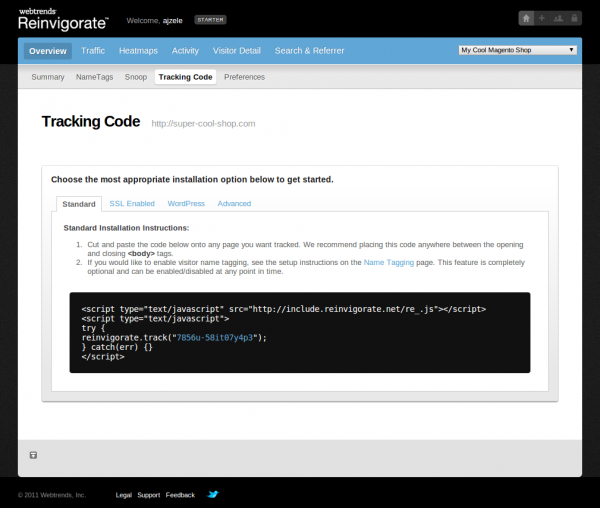 6. Now grab the Inchoo_Reinvigorate extension, from this URL https://github.com/ajzele/Inchoo_Reinvigorate. You can download the ZIP archive. Files and folders within it, match the Magento folder structure so its convenient just to copy paste it into root Magento folder as an installation step.
7. Once you copied/installed Inchoo_Reinvigorate into Magento, login into Magento administration area and go to System > Configuration > Services > Reinvigorate > Reinvigorate Settings. You should see a screen like shown below on screenshot. Now, copy-paste the API key value from previous step to API Key option (in our case this was "7856u-58it07y4p3", minus the quotes). Also, set the Enabled option to Yes and click the Save Config button.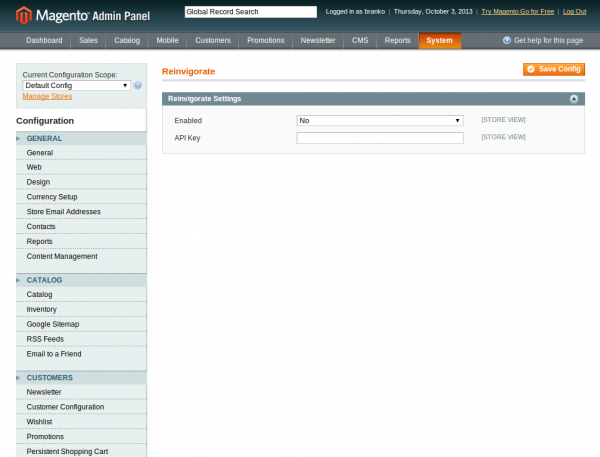 8. Now when you can go to frontend, browse your shop for products, add products to cart, do the checkout, etc. Once you do so, give a Reinvigorate service some time to start picking up on your data, then go back to https://report.reinvigorate.net/accounts, select your website from Select a Website drop-down, and start analyzing your results.
If you are developer, you can try using your built in browser tool, or specialized tools like Charles Web Debugging Proxy to look for the information that tracking code from your web shop sends to reinvigorate service, like shown in the screenshot below.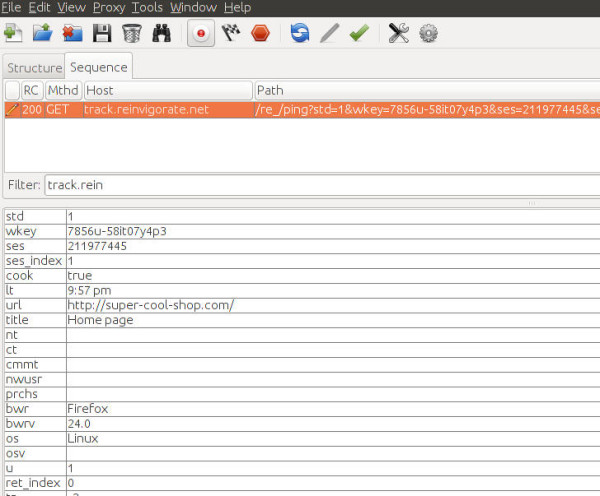 That's it! Remember, extension is free to use and as such it does not come with any support, please use at your own risk.