New Magento Connect Design

Tim Schulz has announced that later today we can expect roll out of the new Magento Connect design. The long anticipated features of a project code named "MagentoConnect 2.0" will not be implemented today. The new design which we'll be able to see today will be a starting point and a new layout that will one day have the MagentoConnect 2.0 features. Magento Connect now has a new logo and a new tagline.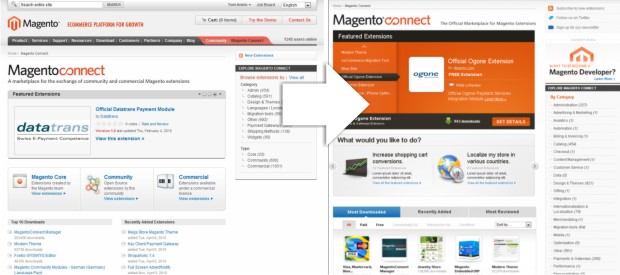 To check all of the major changes, you should read the official post here. I'll give my comment on some of the changes…
New layout and design of Magento Connect will feature extensions in 3 different tabs: Most Downloaded, Recently Added and Most Reviewed.
One of the things I like about WordPress is the "recently updated extensions" section. We could use that one at MagentoConnect. I wouldn't mind if they showed recently updated extensions instead of the Most Reviewed extensions. I'm not sure if Most Reviewed extensions should be featured at all, since extensions that get lots of reviews could have got it due to bad feedback from community so they might not deserve a featured spot.
One of the things that got me interested a lot (as a marketer) is the small display advertising space in the top right. I've already tried advertising at MagentoConnect trough the Google AdWords managed placements but the location of the ads on the Magento Connect was really bad for the CTR and we couldn't get almost any visitors from it.
The new ad space will be placed on a much better location and the ability to serve graphic ads will enable advertisers to optimize the Ad for a much bigger CTR. I expect that price of this Ad space will be extremely high due to a big interest and competition.
One more idea regarding the Magento Connect… When people surf the web they basically scan the sites, and sometimes memorable icons give them a clear picture about the content of the URL they are surfing, one of these icons or banners is this:

It would be great if Magento made an official "Available at Magento Connect" button that developers such as ourselves can use on our websites where we present the Magento extensions we made. It is a great branding opportunity for Magento and a great usability enhancement for us.