Return Management Authorization by Aheadworks (review)

In one of my previous posts I have prepared a short walkthrough on how to use the RMA feature that comes with Magento Enterprise Edition. But what if you are using Magento Community Edition and you need to control return or exchange of items sold to customers? You're not all lost. Over the past few days I have played with RMA extension by aheadWorks. Extension was tested locally on Magento CE (1.8.1.0) installation. Installation process is smooth and very well documented, so please, before you start with installation – read the documentation :-).
After the initial setup and enabling the extension you will have full control over returning or exchange of items previously purchased by your customers.
Now, it's understandable that each client/store have their own policy of accepting and managing returned goods and how their processes work. This extension is very flexible and in most cases it will cover almost all such scenarios.
Feature list
Here is a list of extension highlighted features taken from their website.
With this add-on, you get not only RMA functionality but also a bulk of other powerful features:
Easy RMA tracking
With the print labels and unique tracking codes, you get protection against fraudulent returns and can easily follow not only RMA requests but products returned as well.
Unlimited request types, statuses, and reasons
By default, there are two request types – replacement and refund. But if you need more (repair, credit for another product, or anything else), you can easily create them as well as new statuses and reasons in the backend.
Total control over every aspect of the extension:

return period for products after order completion;
forbidden filename extensions for uploading;
maximum attachment size;
the text for shipping confirmation dialog;
etc.

Flexible email notifications management
This Magento extension allows defining who will receive RMA notifications – the store admin, the customer, or both. You can even create a separate RMA department with specified email and address.
Requests history
Our Magento extension retains an unlimited history of all RMA requests.
Intuitively understandable frontend interface
Having selected the required order and products, customers can choose the request type, specify the package condition, attach a file, and even add a couple of words as comments.
Option to return one product per order
If your customers bought several items per order, they can select which of them they want to return.
Ability to refund/replace separate bundle product components
If your customers bought bundle products, they can select which components they want to return.
Anonymous RMA
You can allow guests to make an RMA request – everything they should specify is the email address and order ID.
Ability to create RMA request from backend
Our Magento module allows store administrators to create return merchandise authorization requests for orders in one click from the backend.
RMA requests grid on the order page
With the RMA extension, you can track and control the return or exchange of items sold to customers exactly on the Order page.
Multistore support
You can specify the store view for each request type and status.
Now, a couple of screenshots: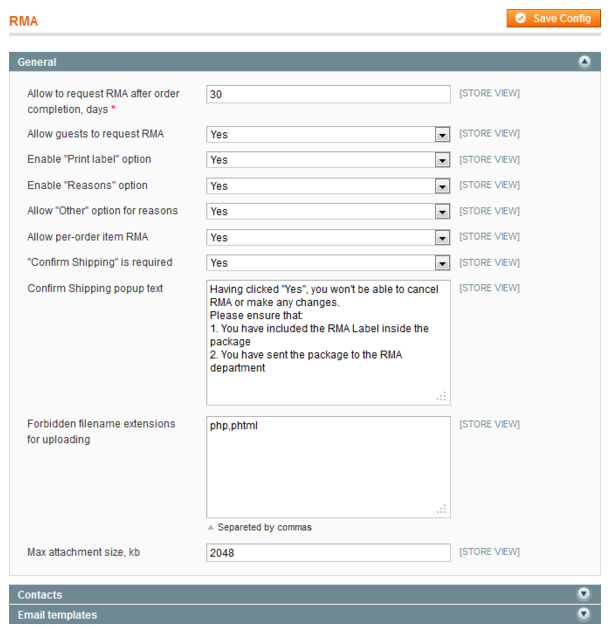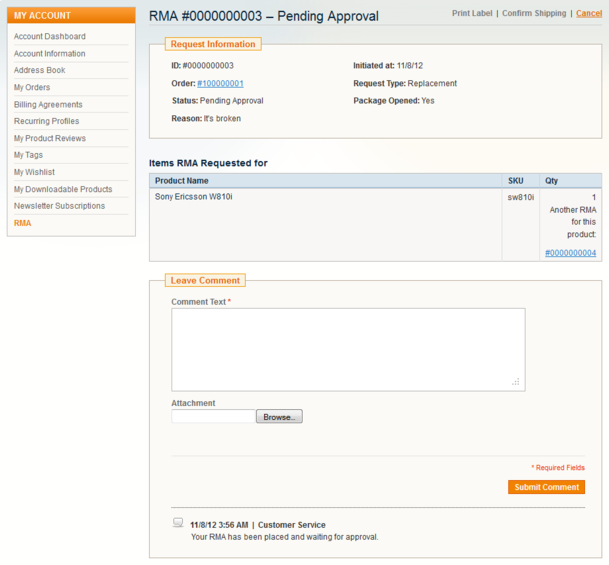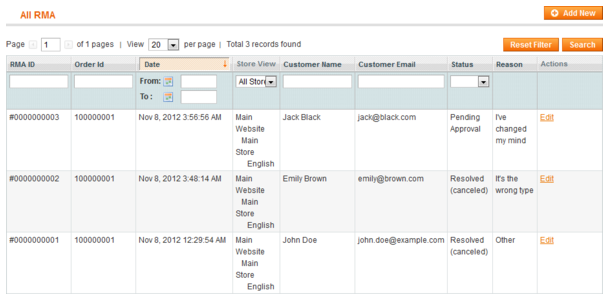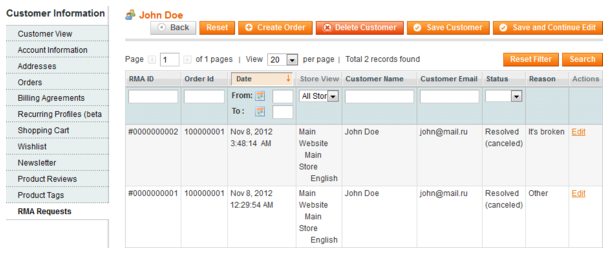 The final verdict
This review is based on my personal opinion. Please consider this as a functional review as we didn't analyse a code.
If you are running your store on Magento CE and need RMA functionality enabled, this extension might just be the right option for you.
And of course, make sure to test it out first in the development environment thoroughly before placing it on your live site.