Vitaminfix.com – Project overview

The #Manausteam here at Inchoo wrapped up 2011 with their latest project: Vitaminfix.com. As you guessed by the name of the site vitaminfix.com sells a wide range of vitamins and health products and provides original articles on their blog. Read all about it.

NOTE (April 1, 2012.): Inchoo was associated with VitaminFix.com until March 31, before the client made a decision to transform the site from online store to comparison website.
Introduction
What first started as a standard "We need a store" and "We want you to build it" scenario, turned out to be a unique project in terms of client's goals, features and content approach on the enterprise level. The store runs on Magento EE which needed a series of customizations to the backend and frontend mainly due to the way the product is sold and how the entire "Customer Experience" is enhanced.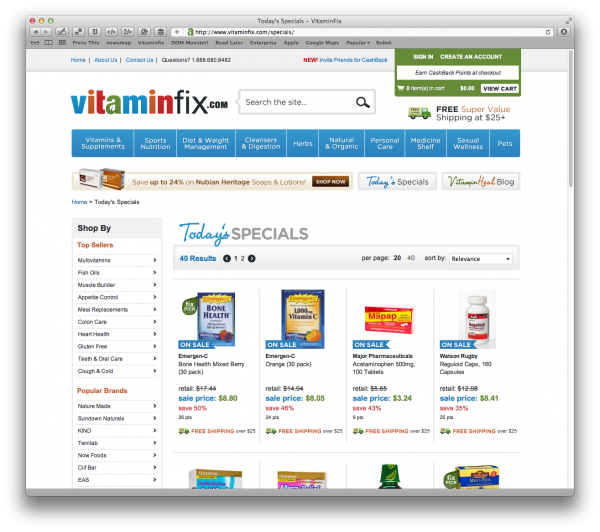 Store features
From both store owner and customer perspective vitaminfix.com has features that enhance the shopping experience. Keep in mind that although some features listed below are a part of Magento EE, they were further customized in order to fit the "User story".
Autoshipment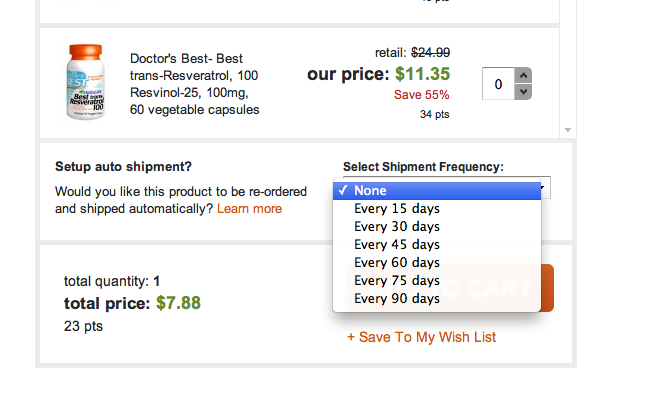 It's a vitaminfix.com term for "Recurring payments". For those unfamiliar with the term it simply means that a customer can order a product to be shipped on a set time interval and charged accordingly. This way you can relax and let the product be delivered to you automatically rather than order it every once in a while. While there is a built in "Reccuring Profile" in Magento the main reason we used "SARP" by Aheadworks and then extended it was that we needed support for other payment methods.
Cashback points

One of the features that has a great impact on buying and customer loyalty is the "Cashback" option for every purchase using Magento "Reward Points". Customers are further encouraged to earn points as they shop and spend at checkout when they're ready to finish shopping.
RMA
Return Merchandise Authorization (RMA) is another way of entrusting and delivering great customer care. It enables the customer to return the merchandise within a specified warranty period. Ensuring customers with a fair policy on returning the products and putting it into practice is indispensable. We used Aheadworks' "RMA" extension for that.
SOLR
My favorite extension, open-source by the way, is the SOLR by Apache Foundation. We used it for number of reasons:
Performance
Facetted search
Scaling.
SOLR support is built into Magento EE ever since version 1.8 and I was waiting since then to see it in action. It proved to be extremely fast and accurate in search results compared to default Magento search with a catalog this size. Besides being great guys, Hyperion team also has outstanding technical staff that set up the SOLR for Magento. I'm hoping for a guest blog post, so if you're interested let us know in the comments.
Quick Checkout
What further distinguishes this project from the rest is the decision to ditch default Magento "Checkout" process and create one from scratch.
There is nothing wrong with Magento default checkout. What we needed was a solution to make checkout as painless as possible.
For that purpose we had in mind the need for data security when handling payment data so a trusted "Third Party" service was the only option. Better safe than SONY. That's why Zappos had their most important data kept in a safe place otherwise they would have a lot to loose.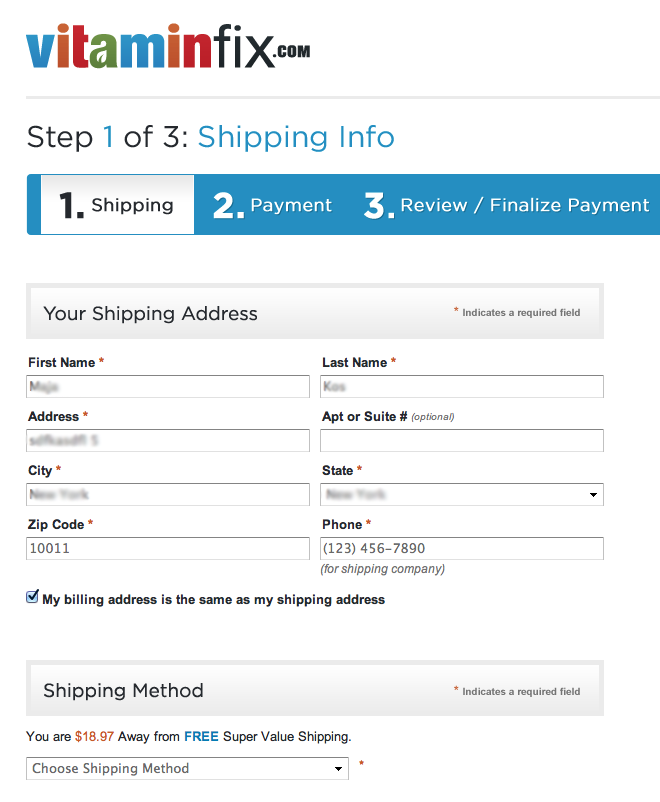 Also users need to enter their payment and shipping info only once and the checkout process is as smooth as it can be.
Yes, customers need to register in order to buy and in this case it's best for both. Users are in good customer care, can use "RMA", "Cashback", "Autoshipment" to their benefit. For this kind of product(s) it really did make sense because we used "Best in This Case Practice".
Ivica Tadic our lead developer was all over this one and did a great job getting the logic work while being as efficient as possible. Another topic he'll be covering in this "vitaminfix" post series, but after his well deserved holidays of course.
Magento Store Performance
This is a huge project by any means, whether it's the catalogue or added features you're looking at. Therefore, all of the efforts put into developing would go to waste if it didn't perform like a champion. Well, we put our heads together including the hosting company and delivered the speed and efficiency worthy of an enterprise level online store.
Of course, we utilized "Full Page Cache" that comes with Magento EE but constant improvements of code efficiency for the backend and frontend coupled with server configurations and environment resulted in impressive speeds and response times. That being said, you can use this site among many other fast and responsive sites as an example to once and for all clear the confusion if Magento is fast enough. It.Is.Fast.
Special thanks goes to our friends at Plus Hosting, from lovely town of Pula, Croatia for the advices for performance boosts.
All through the development of the store we used our own "in-house" server hand-crafted by our team member Drazen Karacic. We used it as a benchmark in order to squeeze every bit of "speed" we could.
This post wouldn't be complete if I didn't mention Sasa Brankovic our senior developer who shared frontend development with me and developed numerous custom backend extensions and customized most of above mentioned ones also. I'll let him share his experience in future blog posts.
Conclusion
The client approached us with an already defined content, layout and design strategy for the store. We had the catalog set up in terms of architecture, initial layout and design were set before the actual development even started. So, by any definition this was a project set on firm ground. It was not all set in stone, there were features added along the way, and selling strategies updated which impacted the development time and resources.
Even with these changes we were sure of the "story" of the site from the start and how it's going to be presented to the customer. We used Magento EE features heavily, added and customized existing above mentioned Commercial extensions from trusted developers and developed even more custom features.
We're continuing with introducing new features since the store is now oficialy out of Beta version. Stay tuned!
[Edit] Here's a visual representation of the development in the last three months using gource.
NOTE (June 1, 2012.): The client made a decision to change the business goals and transform the site to a comparison one. Therefore, Inchoo is no longer associated with VitaminFix.