Not so long ago when e-commerce was younger, so much younger than today – when people were afraid to put their credit card number onto an input field on a website – people would just search for information online and buy stuff offline. Not to mention there was no Magento, online stores ran on wooden PCs and stuff, and there were dinosaurs and stuff running around. Kidding about the dinosaurs, although they did tend to appear on many websites in form of an annoying animated GIF. I remember in these hard times for online merchants there was one awesome online store here in Croatia that every geek knew about and bought from. This store was known for their amazing product descriptions. They were so fun, people would come there just to read them and have a laugh, even if shopping wasn't on their to do list for the day.
One of the most common issues I see with online stores nowadays that is rarely talked about are poor product descriptions. Although you can see it in almost every niche, it is extremely common in certain niches such as electronics online stores.
What online stores tend to do is, they take the default product description provided by the manufacturer and just copy/paste it to their stores, or import lots of products with their default descriptions through some CSV file. There are several reasons why this is bad, some of them more obvious than others:
You will have exactly the same product description as hundreds or even thousands of other websites. Without unique content, how do you think you will outrank the competitors on search engines? What you're doing to your on-site SEO with this is extremely terrible.
The default description provided by the manufacturer is usually not written to be used as a sales copy, it's more of a technical specification. To a user, this is just a boring read that he should be seeing in some sort of table.
How do I know my product description is poor?
Imagine yourself as a visitor on your online store. You are reading a product description. After you read it, can you answer these very important questions:
1. Why would I buy this product?
Is it completely clear to me what this product does? What is this product's purpose? How it looks? What's the size of it? Weight? Condition? Is it something I can eat or is it something that I, like, totally shouldn't eat?
2. Why would I buy this product from this website?
Is there any reason why I'm supposed to buy this product here and not from some other website?
3. BONUS QUESTION: Did I just read something awesome I wanna tell my friends about?
And I know some of you use the word AMAZING lightly, but don't. When I say amazing product description I mean, after you read it you were like opening Skype (or ICQ if you live under the rock or something) and going like "OMG mate you HAVE to see this s**t! lol http…" or "Dude, did you know you can do THAT with this? :O http…".
How to make my poor product descriptions totally awesome?
The benefit of having unique, engaging and awesome product descriptions is pretty obvious: you'll achieve better search engine rankings, you will convert visitors better, and if that's not enough for you, amazing product descriptions will even generate traffic through viral effect. The real question is, how should awesome product descriptions be written? Well, there are no guidelines, it's different for every product type and every target audience, but there are some awesome examples I can show you!
One of such examples is an online store we're very proud we built – KeepShooting.com. Go have a look, read the descriptions of some products that are featured on the homepage, you'll have fun, I did 🙂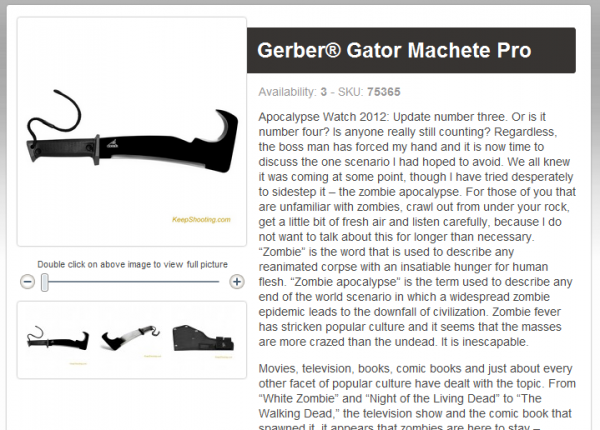 There's an entire series of descriptions about zombie Apocalypse on KeepShooting, you have to read the new products regularly to catch-up, it's like a novel.
Do you have any examples of online stores with awesome product descriptions?