Are you sick of "Social Media Experts"?

If you spend at least a few days on Twitter you will probably come to a conclusion that Twitter's user base is: 50% bots, 10% br1tn3y fuck3d accounts 39% Social Media Experts and 1% users / sales people / marketers.
OK, these numbers might be a bit exaggerated but it's the image of Twitter a normal user sees nowadays.
I'm not trying to say there is no such thing as "Social Media Expert" or that SMM doesn't work. I'm just trying to say there is way too many of them that present themselves as the expert in social media while their accounts, actions and interactions show you the opposite.
Just to list a few titles of blog posts these guys do to give you a clear picture of what I'm talking about… A "Social Media Expert" that probably never ran a single corporate account gives you the article about:
10 essential Twitter tools to run a successful corporate account
Oh come on! How many tools do you need to run a Twitter account? All you need is already on the Twitter.com. You can use some sort of client if you're going to Tweet from your mobile but that's as far as I'd go. Most of the Twitter tools you see out there will not save you any time or make your life any easier at all. I know, trust me, I tested almost every single one of them.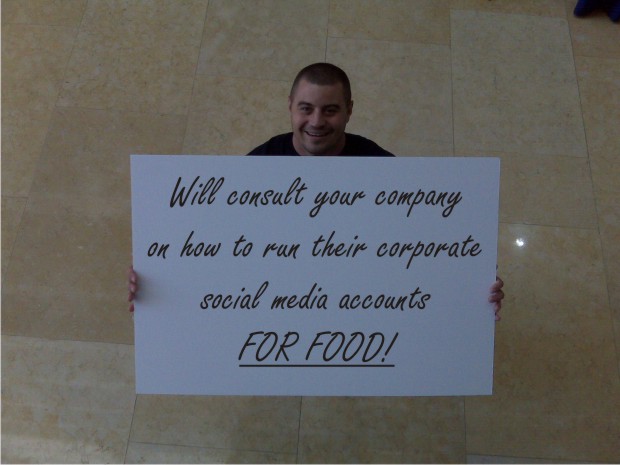 Another kind of blog post titles I love seeing and laughing at:
Get a consultant before your business fails at Twitter
20 reasons to hire a Social Media consultant
This is a harsh truth that no "Social Media Expert" will ever tell you:
All of these social media websites are made for users, not marketing superstars. You already posses all of the knowledge needed to run a stupid Twitter account. It's a dead simple thing: You have a box where you put up to 140 characters and hit the "Update" button… And yet they ("Social Media Experts") have the ability to make hundreds of articles every day about how complex this dead simple thing is.
A typical internet user is more then qualified to run your corporate Twitter account. It might take a few days before this person learns a few tricks and figure out how to gain an audience but reading hundreds of blog posts on that topic will only get this person even more confused. It will give out the impression that if they don't follow some guidelines set by "Social Media Superstars" their business will fail at social networking.
As I said at the beginning of this article, it's not that social media experts are useless, it's just that most of them are not experienced in their field at all. They have great theories, but theories in this case don't pay the bills.
The conclusion:
I'd advise you to hire a social media expert when: you need a dedicated person to run your social media accounts and work with the rest of your marketing team to fulfill your end goals.
I'd advise you not to hire a social media expert when: you think you need someone to teach you how to use Twitter.
If you like what you see, you should follow me on Twitter (and by me I mean our corporate account that I run). Thanks for the CC image left on Flickr by TheArtGuy, I made this cool image in this blog post from it.