How to pass the Google Analytics exam

After two weeks of studying and preparing, yesterday I received a passing grade on the Google Analytics Individual Qualification (GAIQ) exam. If you are interested in taking the exam, here are some useful pointers that will help you in your preparation.
About the exam
You will have 90 minutes to answer 70 questions, and you need to have 80% correct answers to pass the exam. I must warn you, some of the questions can be really tricky since they can have multiple right answers, so pay special attention to those. The good thing is that during the exam, you can have other programs running – your browser, your study notes, etc. Google charges $50 fee for each exam attempt, so do your best to pass it the first time.
How to prepare
Your main source of materials for preparation should be Google Analytics IQ Lessons. While going through these lessons, I would recommend to have Google Analytics interface open all the time, so you can follow along. Also, take time to prepare, I have spent approx. two weeks going through all these materials and taking notes.
During the exam
Since time is a factor, I would recommend to mark all the questions that you dont know the answer right away, you can go back and review them later. Also, have another browser window open all the time with the following tabs: Google Analytics IQ Lessons, an Analytics account and the Google Help Center.
After the exam
If you have successfully passed the exam, you can download your certification in .pdf format, like one in the picture below. Your qualification expires after 18 months from the date that you have passed the test.
Best of luck!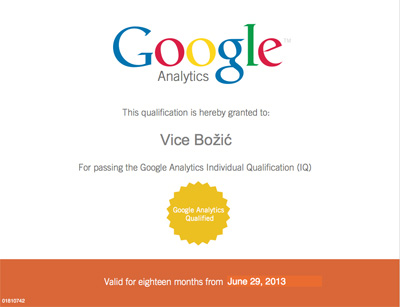 Related Inchoo Services