Linking practice to theory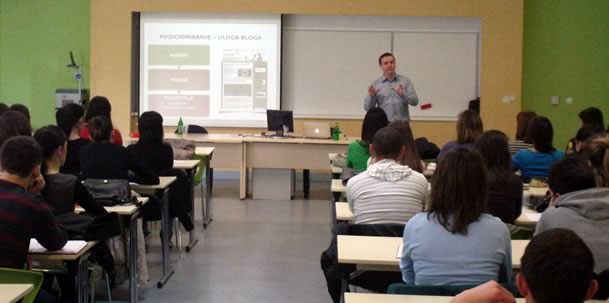 People say that practice without theory is empty, and theory without practice is blind. Yet another example of making links between theory and practice was Tomislav's lecture about developing a successful IT company on a bedrock of blog writing and personal employee branding. It was a real eye-opener to many first-year master's degree students at the Faculty of Economics in Osijek. In the classroom with almost hundred students and no empty seats, Tomislav talked about key factors and decisions that took Inchoo from a one-man show to a fast-growing company with world-recognized expertise in Magento consulting, design and development.

He shed light on challenges that building a company around blog writing brings. Moreover, Tomislav emphasised the importance of focusing on a niche market, building strong relationships with the customers, and having a well-defined set of human resources practices in place. The lecture was thought-provoking and engaging, and got a very good response from the students.
This wasn't the first time Tomislav played the role of a guest lecturer. Many professors at the Faculty of Economics appreciate his expertise, entrepreneurial spirit and willingness to give back to the community. During the past eight years Tomislav was invited on many occasions to be a guest speaker for courses in IT and general management. Besides, there is a growing interest in Magento development among students, so we hope to see Tomislav and his team as the leading lecturers in Magento workshops at the Faculty. Don't worry, we'll keep you posted about this great synergy between practice and theory 🙂