We are the Facebook, you will be assimilated!

Resistance is futile. Ever since I saw the incredible growth of Facebook users in the international market I knew what was coming. It was the dawn of the new age of the Internet, one in which after a decade of Google's domination we will get a new king. Few years ago, when I first argued with several colleagues at forums regarding the Facebook's growth and its future they called me crazy. They said no website can ever become bigger then search giants. Oh boy were they wrong. In your face internet trolls…
The king is not dead, hail the new king
Don't get things confused, Facebook is in no way a "Google killer". It became kind of a normal thing to say in the tech industry that when a new service emerges it has to be a killer of another preexisting product or service. That point of view is completely wrong, and especially in the tech industry where completely new markets tend to be invented and evolve out of the blue. Just think of the Google's AdWords program. It was a completely new market that didn't exist. They invented something new and they didn't kill anyone in the process. One could argue that in the long run it did hurt the traditional advertising, however, it's their problem that they didn't adopt to the new rules of marketing. An example of a giant new market that emerged from the tech industry in the even closer history would be Apple's app store.
Facebook is becoming extremely powerful, almost as powerful as Google. Eventually (very, very soon), it will overpower the search giant. Google knew this. They could see it coming. That's why they made several (in my opinion extremely bad attempts) at entering the world of social media. Lets just mention Orkut, Google Wave (remember this one?) and off course, their latest failure: Google Buzz.
If you can't beat them, join them!
I believe that Facebook's introduction of it's newest set of social widgets a.k.a. Facebook Social Plugins (Like Button, Activity Feed, Recommendations, Like Box, Login with Faces, Facepile, Comments, and Live Stream) is the moment that marked the new age of Internet. Let's name it "The Age of Facebook's Omnipresence" a.k.a. "AFO".
What's the main difference between the pre and post AFO age of the Internet? First of all, search engines are no longer the primary source of traffic, nor they are the primary source of information. In the AFO age, users get information they probably wish to read without even searching for it. The information comes to them through their network of friends and people with similar interests they are connected with.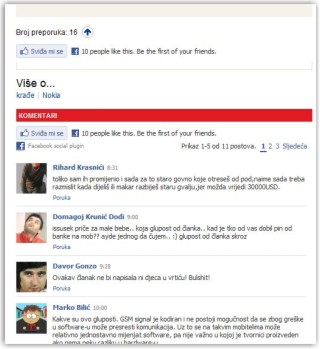 In the pre-AFO age, users were the one requesting information, searching for it. In the AFO age, targeted informations are broadcaster to them while they retain the ability to choose the informations they will consume and control the sources that broadcast to them.
Not everyone will accept this right now. Some giants will continue to fight the war they can not win and try to push the Facebook away from their websites, but eventually, I'm afraid their competitors who do accept Facebook's new gifts will beat them.
A major news portal in Croatia Jutarnji.hr already made its peace with the fact that we entered the AFO. They basically gave up their comments section and implemented the Facebook comments instead. They also push their Facebook Fan page really hard on the visitors and they introduced the Like Button on their news articles. They know they can't beat Facebook, so they decided not to fight the war at all, but join them instead. I believe this was a good call. We'll see how will this strategy reflect their number of visitors but I can bet it will bring them a giant advantage over their competitors.
What if?
At the end, I'd like to leave you with a single thought to think about: What if Facebook decides to attack the search industry and put more resources into their web search? They are already the homepage of many and according to some sources, the most visited website in the USA. Do you think they would be able to take control of a significant share of the search industry away from the search giants? Do you think they could arrange some sort of strategic partnership with Microsoft and team up against Google on the search industry battleground?
If you liked this article, you should totally join our Facebook Fan Page, or "Like it" if you prefer the new term.