Amazon PPC Management
Whether you are launching new products or want to improve your existing campaign performance, you need a well-defined advertising strategy to be successful in today's Amazon market.

Amazon marketplace has become increasingly competitive over the years, with ads taking up an ever-increasing share of search results pages. Without a solid plan and an excellent understanding of how the whole system works, it can quickly become frustrating, and even worse, it can cost you a lot of money on unprofitable ads.

If you want to be ahead of your competitors, knowledgeable PPC management is essential to your business growth on the platform.
Why is PPC Crucial for Your Success on Amazon?
A great SEO strategy alone may be enough on some other platforms but not on Amazon. You need well-executed advertising campaigns that will increase your visibility on the search result pages or other strategic placements, drive relevant clicks and sales, and eventually push your organic rankings up.

In addition to being used to launch and sell products, PPC is the foundation of any long-term strategy for Amazon sellers. That is mostly because of its influence on organic rankings, considering that sales are the most important Amazon ranking factor regardless of the source.
How Can You Improve Your PPC Performance?
Target right keywords
Drive relevant traffic
Use the right campaign structure
Optimize ad spending
Lower your ACoS
Build brand recognition
What do we offer?
Personalized Strategy
We start by learning and understanding your business goals, current campaign setup, targeted audience, and main competitors. By conducting this initial research, we can immediately identify the opportunities for creating a unique approach that will lead to optimized ad spend, lower ACOS, and better CVR.
Optimized Campaign Structure
Based on the conclusions from the initial step, we will define the new campaign structure and the budget allocation. Advertising success on complex and highly competitive platforms like Amazon greatly depends on the right campaign setup. Our goal is to target relevant keywords through different campaign types structured by the search volume, match type, competition, and other factors.
Targeted Advertising
To reach the full potential of our advertising efforts, we also use product-based and contextual targeting besides relevant keywords. This enables targeting competitor's ASINS as well as reaching relevant audiences, retargeting people who already interacted with your products, or expanding the visibility to related categories.
Performance Optimization
The secret ingredient of managing PPC campaigns is to be smart with the optimization tactics. Algorithms are more robust these days than before, but once the campaigns are set up, we avoid frequent and large changes. We regularly monitor the campaigns' performance and make changes based on data-driven decisions.
Consulting
An important part of our work is collaboration with the clients. Our goal is to grow your business on Amazon by successfully running your PPC campaigns. In the process, we often come up with ideas for additional improvements, which will be presented to you. These may refer to Listing or A+ content optimization, images, videos, or other segments.
Monthly Reports
We provide detailed and transparent reporting and analytics on a monthly basis. The goal is to be transparent about our work and also to help you track your campaign's results easily. In reports, we often provide a list of suggested action items to help both sides agree on the next steps.
What is Included in Our Service?
KW Research for PPC Campaigns
Targeting the right keywords is crucial for the success of the PPC campaigns. The first step of the process is analyzing your main competitors' keyword profiles since our goal is also to rank highly for most of these keywords. However, just finding the relevant keywords and adding them to the campaigns without any plan will not bring you the desired results. Our goal is to create the best campaign structure that will cover the most important keywords and optimize them with the right bid strategy.
Sponsored Product Ads
Sponsored products are the most commonly used ad type on Amazon. Whether you are launching a new product or want to increase sales for existing products, this is your best shot. Our campaign structure is mainly based on sponsored product ads and organizing campaigns per different factors like relevancy or match type. This way, we ensure that your products are visible on the top of search result pages or other strategic placements for relevant queries and the lowest possible CPCs.
Sponsored Brand Ads
This campaign type aims to increase the visibility of your products on search result pages or product listings. It is great for building brand awareness by acquiring new customers to your product or storefront pages and encouraging existing customers to come back to you. Ads can include logos, customized headlines, product collections, storefront subpages, and product videos. We will use this ad type once you have established a brand on Amazon, and promoting it is the logical next step.
Sponsored Display Ads
Sponsored Display ads allow you to reach customers across their shopping journey on and off Amazon. You can target predefined audiences or retarget shoppers who have previously interacted with your products. You can also expand your reach to shoppers who viewed other products like yours or to related categories. We will use this ad type only for your best-performing products since we want to ensure that conversion rates are on the targeted level.
Video Ads
Video ads are a powerful way to promote your Amazon products. It helps to creatively express your brand as well to increase its visibility on search results pages or competitor's listings. With video ads, you can interrupt customers' shopping journeys and engage with them by demonstrating your brand or your product's features. We will advise you on the best practices for creating high-converting videos, which we will then target in the campaigns.
Google Ads for Amazon
With the roll-out of Amazon Attribution and the Brand Referral Bonus Program, external traffic has become more important to gain a competitive edge over your competitors. Highly converting external traffic may strongly impact organic rankings for your Amazon products. Our team includes experienced Google PPC experts who will know how to set up Google campaigns that will drive the most relevant traffic to your Amazon product listings.
Success stories
Sloan Express
The implementation of the new campaign structure has resulted in increased revenue and traffic for this family business and the leader in the agricultural industry.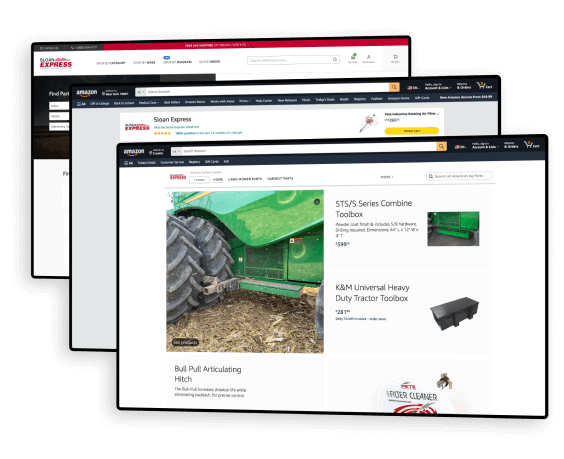 Why choose us?
01

Help with your Amazon Seller Central Account

Amazon can sometimes give you headaches due to frequent changes in their terms of service (TOS), which can have a negative impact on your business results. Our team has experience in handling such situations. We will consult you and point you in the right direction when solving the underlying problem.

02

Data Driven Approach

By combining insights from business reports, competitor's actions, and new trends in the industry, our decisions are always based on real data. This approach helps be on top of the constantly evolving Amazon marketplace.

03

Expert Support

You'll have a dedicated member of our PPC team for one-on-one support. We want to ensure that you know who to talk to about your account when needed. With this approach, we want to build mutual trust and a long-term relationship, which will lead to better performance of your account.
IS IT TIME FOR A AMAZON PPC MANAGEMENT REFRESH?
Get in touch! Reveal new possibilities that your business can achieve in Amazon PPC world.