Custom Magento Development
Building an eCommerce site and running daily operations on it can be rather challenging and overwhelming experience. By being a merchant's best friend, we can make it more manageable – Let us handle the technical aspects while you focus on growing your business.

This way, you can use time for what is truly important to you.
Our goal is to move the discussion from implementation details towards
the improvements and goals we can achieve by working together.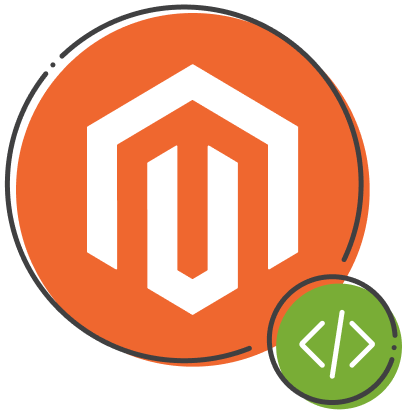 Custom Magento Development
Why should you consider a more reliable partner?
You need someone with experience in your industry who understands its specifics.
You need someone who can take your business goals and targets into account.
Having the ability to talk directly to experts in certain fields is something you would prefer, instead of having someone else to pass the info all the time.
Working by well defined and transparent processes and having proper status updates all the time is something you currently wish for.
You would like to have a partner that requires no more than just your idea to create a full proposal and implementation details.
You feel more comfortable by having dedicated contact you can always reach out to, instead of working through ticketing portals.
Thinking about performance, security, and implementation details is something you believe you partner should take care of, not you.
You want a development partner that takes ownership of technical  solution including responsibility for uptime, monitoring and daily operations, and security upgrades.
What can we offer?
Custom development and Design
While Magento offers an extensive range of built-in functionalities, every webshop is unique and often requires specific customization. Sometimes it is just related to the custom user experience. And sometimes specific features and methods are crafted to your business needs.
By implementing all this in a Magento way, you will benefit from maximum compatibility with other features and the best performance. Your enhancements will never become the bottlenecks during future development and upgrades. We will go the extra mile to ensure that it stays that way.
Having a partner that built stores that allow customers to sell their goods
to merchants, made full-blown wizards for product customization and personalization, or does industry-specific things like part diagrams, year
make model and fitments searches will ensure you get the best value.
Our team takes great pride in extending and adapting Magento to cater to the unique requirements of merchants like you. Our experts take time to carefully research and plan features based on your ideas and requirements. If necessary, we even conduct on-site visits to gain hands-on experience and capture industry-specific insights. Our approach to user experience is data-driven, ensuring meticulous planning and design that reflects your business identity. Combining that together, we strive to make smooth execution and painless delivery.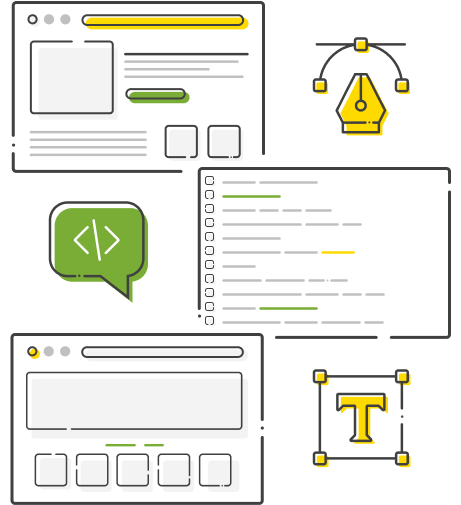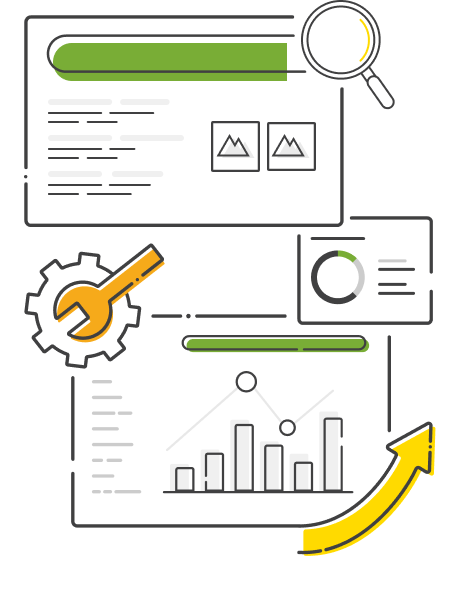 Proactive support
Once your online store is live and operational, you can expect a range of benefits through our ongoing maintenance efforts. We firmly believe that development shouldn't end with the site launch; it should encompass continuous improvements and surpass the business-as-usual state.
By combining multiple metrics and tracking methods combined with our eCommerce expertise, you can benefit from data-driven suggestions specifically tailored to your store needs. This means you can rely on us to consistently offer fresh ideas and strategies to elevate your online business to a new level.
To achieve this, we thoroughly analyze your customers' behavior  using advanced analytics tools like Google Analytics and Hotjar. In addition, we strategically implement tracking events and goals to gain valuable insights. We are constantly keeping an eye on emerging industry trends and features that can enhance customer satisfaction and boost your revenue.
Our ultimate objective is to ensure your store stays ahead of the competition by leveraging our knowledge and expertise, leading to sustained growth and success for your business. With years of experience implementing this approach, we have become highly efficient and have helped numerous customers achieve their goals.
Integrations
When establishing your online store, you will likely need to connect it with various other services utilized in your business operations. This could include integration with a CRM system, a custom-made ERP solution, collaboration with a third-party vendor, or similar.

For seamless functioning and communication of all systems involved, you will need a personalized approach to integration. Although the most straightforward method may initially seem appealing, it may not always be the most suitable in the long run. We ensure that the integration method and implementation are perfectly aligned with your specific business needs.

Through the years, we have encountered a wide range of custom and popular ERP and PIM systems, such as Navision, and Akeneo, among others. We have observed cases where official integrations did not adequately serve the given product catalog or align with the daily processes of merchants, requiring a different approach. In such instances, we implemented custom message queues, APIs, and feeds to enable seamless communication between the systems involved. Regardless of the scenario, you will be delivered a working system that effectively interacts with multiple sources.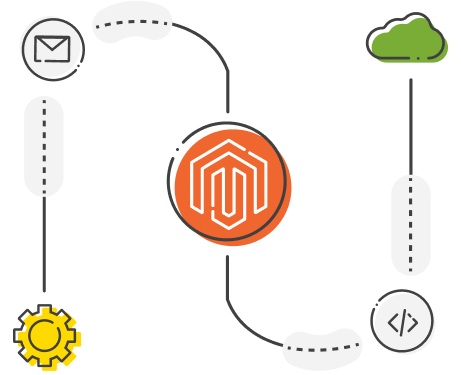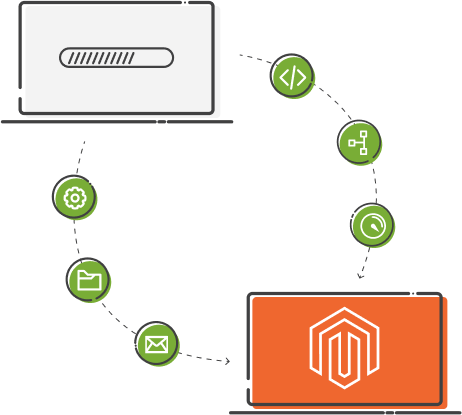 Migration
As your business grows over the years, there may come a time when it will outgrow the current platform or the implementation. In that case, you might consider moving to something more suitable. That could involve simple Magento-to-Magento migration or complete re-platforming if your shop operates on a different system than Magento.

In such situations, ensuring the consistency and integrity of your data becomes crucial. The process goes beyond a simple transfer from one system to another. Without careful planning, adherence to Magento best practices, and consideration for future development, your store's potential could be hindered by limitations or structural constraints inherited from the previous system.

Based on our past experiences, we know which questions are important in this process, and we know how to address them with future goals and targets in mind. By leveraging Magento's official migration scripts along with custom-developed components for data transformation and detailed project plans for your new store, we will ensure that technology does not stand in the way of achieving your future goals.
Automation
To effectively keep up with your goals and stay ahead of rapidly changing trends, it's crucial to be able to make frequent and rapid changes. It is equally important to ensure that these changes do not compromise security and the stability of your shop. The key to achieving this balance lies in the implementation of multiple automation process that keeps your online shop running smoothly.
In addition to using standard application monitoring tools like NewRelic, DataDog, Blackfire, and such, it is essential to have a system in place to monitor and test your site before it goes live. This involves a proper development environment and automated pipeline for continuous integration, which minimizes downtime during deployments and ensures consistency in the delivery process.
That's why we employ our own custom-built development environment manager alongside the industry standard Docker to replicate the production environment during development and to eliminate any surprises. In addition, we are conducting user testing in a dedicated, cloned environment to ensure the product's readiness. Furthermore, we actively monitor the site and the whole pipeline for any irregularities, which allows us to react to potential issues that may occur, before they become a larger problem or even worse – endanger the uptime of the store.
Our approach is specifically tailored to prioritize delivering value and enhancing the user experience while minimizing disruptions caused
by repetitive tasks for both you and our team.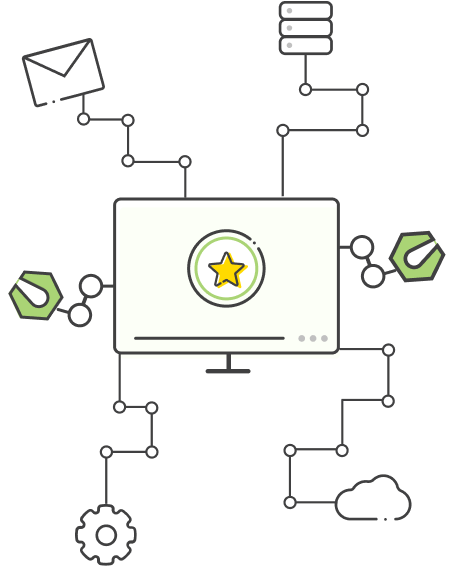 Trusted and recognized by many
We started our eCommerce journey way back in 2008. During that time there were more than 200 clients who put their trust in us to grow their businesses. And we have succeeded. Check out some of the testimonials of clients who are happy with our services.





ARE YOU STRUGGLING WITH DESCRIBED PROBLEMS?
Get in touch! Reveal new possibilities for growth and optimization with our Technical Audit service.