Google Analytics and Google Tag Manager Audit

If you want to ensure your Google Analytics code and tracking are working properly and make data-driven decisions that will improve your Magento store, you came to the right people.
Who performs GA/GTM audit here at Inchoo?
Inchoo's experts are primarily eCommerce specialists with extensive experience and knowledge in Advanced Analytics and Google Tag Manager.
---
How long does it take for us to perform the audit?
It depends on the complexity of your current setup. We can say that, on average, it takes one week (per one Google Analytics/GTM account).
Certified Google Analytics and Data Analytics Experts
Our digital marketing specialists are certified experts in both Google Analytics and Google Data Analytics! We also have experience and knowledge from other platforms and technologies that help us generate fresh ideas for growing your business.
You can be rest assured you'll get a custom set of recommendations based specifically on your business needs that will push your business in the right direction. We know what's important and how to track it in your analytics account.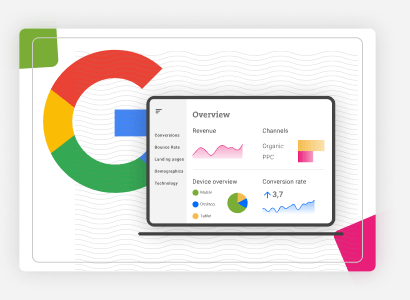 What does our Google Analytics Audit service include?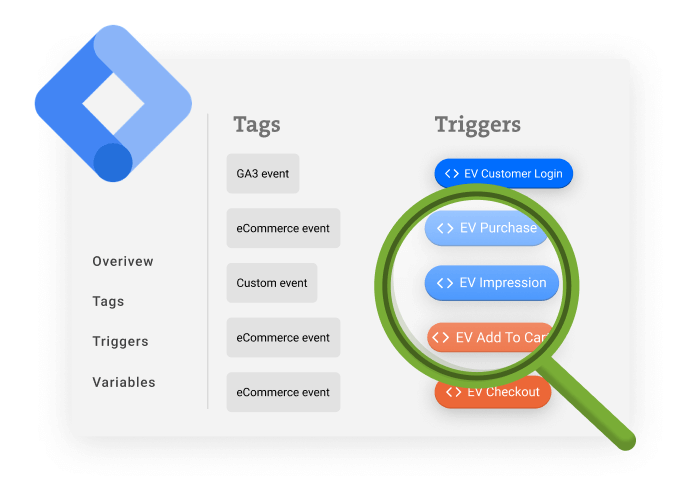 01
GOOGLE TAG MANAGER CHECKUP
Do you know how secure is your GTM container usage? We can find that out for you! First things first, our data analysts will see if your GTM container is installed properly and give you recommendations for optimizing your current setup. Our goal is to recommend you tracking which complements your strategy and marketing goals the best. And GDPR/CCPA compliance with your webshop won't be left out either.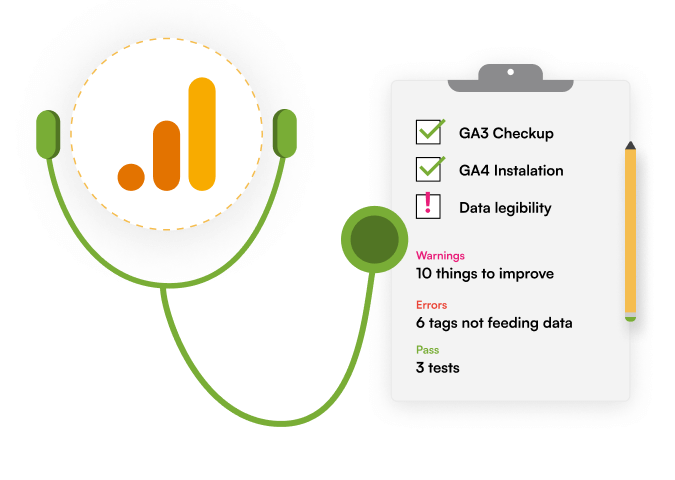 02
GOOGLE ANALYTICS HEALTH CHECK
As a store owner, you probably gaze upon Google Analytics stats every day. But what if you're making your decisions based on completely inaccurate data? To us, it doesn't matter if you're using Universal Analytics (GA3) or Google Analytics 4 property, or if you're in the place where you're considering migrating to Google Analytics 4, we can check all that to boost your sales!
03
CONCLUSION & NEXT STEPS
After checking all bits and pieces in your analytics, you will receive a report with an overview of all the checked areas. For all our recommendations listed in the report, we will also describe why it is a good thing to implement or test them out.
We try to make our audit reports comprehensive and full of action-taking advice. But, sometimes, there are things that need to be additionally explained. That's why we'll be at your service for further suggestions and support.
In our Google Analytics & GTM Audit Report, you will get…
A detailed analysis of your current Google Analytics setup
Recommendations for additional tracking using Google Analytics features and Google Tag Manager
Recommendation on what to migrate to Google Analytics 4 from your Universal Analytics
Analysis of goals configuration in your Google Analytics account
Events tracking setup (analysis and recommendations for advanced event tracking with Google Tag Manager)
eCommerce tracking configuration analysis of tags & triggers
Check out our other Digital Marketing services!
EVEN GOOGLE ANALYTICS NEEDS ANALYSIS FROM TIME TO TIME
That's why you should hire experts to be sure you're not missing on any opportunity to grow your business! Fill out the contact form below and let us take care of the rest.