Google Analytics and GTM Audit
Let's be honest. Like most of your fellow e-Commerce managers, you also rarely review what tags you have in your GTM Container. You are not sure if you really need all of them that were piled up over time. You suspect that some of them just stand there without purpose. You would like to make a cleanup, but don't know where to start.
Besides this, in today's digital landscape, understanding your website's user engagement and performance is crucial for success. You need to have meaningful data to be able to make right business decisions. You struggle to make sense of the data you see in Google Analytics.
That's where our expert team comes in. We specialize in providing top-notch audits for Google Tag Manager (GTM) and Google Analytics 4 (GA4), ensuring that your data is tailored for your needs.
Google Analytics and Google Tag Manager Audit
Signs Your GTM and GA4 Need some Care
Your GTM container was shared with different agencies for a long period of time.
You are facing issues while implementing new tags through GTM, leading to incomplete or inaccurate data.
You're experiencing issues with e-commerce tracking, such as mismatches between reported revenue and actual revenue, inaccurate tracking of transactions, or incorrect product reporting data.
You suspect that your conversions are attributed to the wrong traffic source such as referral or direct.
Some of your events/conversions are no longer displayed in Google Analytics 4 or, on the contrary, are overused.
You have a hard times understanding your Google Analytics 4 data or can't find necessary information in reports.
You see spikes or drops in traffic that don't correlate with your marketing activities.
You're using UTM parameters to track marketing campaigns, but you think some of them are lost or don't work as expected.
Google Analytics 4 reports are full of (not set) values and Uncategorised traffic.
You want to maximize the effectiveness of marketing tags, such as Meta pixel tracking or Google Ads but don't know how.
You're having difficulty tracking users across multiple domains or subdomains.
You are unsure if your tracking is compliant with GDPR, CCPA, or other data privacy regulations.
What does our Google Analytics Audit service include?
01
Google Tag Manager Checkup
Our mission is to ensure the accuracy and effectiveness of your digital tracking and analytics. Through our comprehensive audit, we identify potential discrepancies, misconfigurations, or underutilized opportunities within your GTM setup, aligning the collected data precisely with your business goals.
This precision fosters informed decision-making, enhances user experiences, and ultimately boosts ROI. Throughout this process, we often encounter and remove numerous tags that your business no longer uses. Such cleanup has very positive effect on performance.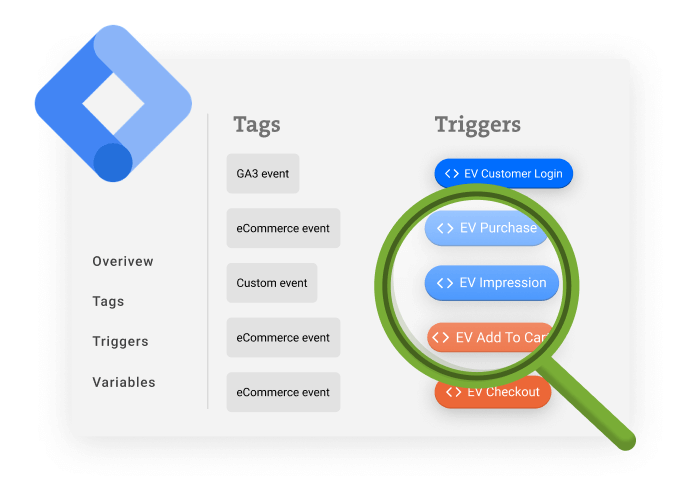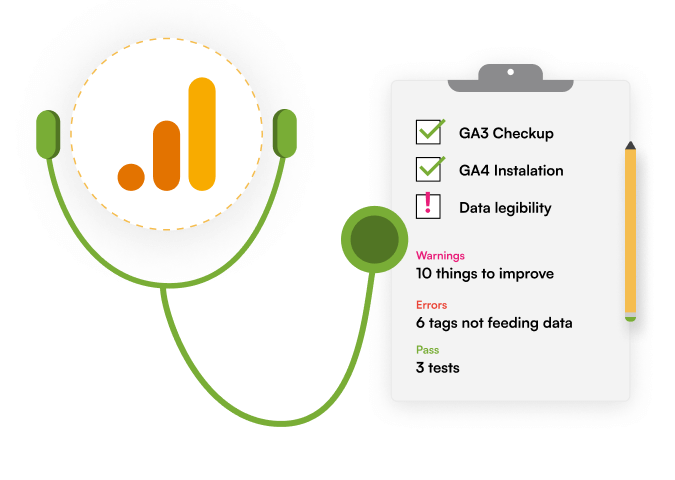 02
Google Analytics Health Check
As a store owner, you probably gaze upon Google Analytics stats every day. But what if you're making your decisions based on completely inaccurate data? Google Analytics audit enables you to gain valuable insights into user behavior, website performance, and conversion patterns that truly matter.
We will ensure you get accurate and meaningful reports that can drive informed decisions. Elevate your strategies, improve user experiences, and understand how your marketing investments are returning value. Embark on your journey towards optimization with our comprehensive Google Analytics 4 Audit for a brighter digital future.
03
Conclusion & Next Steps
After checking all bits and pieces in your analytics, you will receive a report with an overview of all the checked areas. For all our recommendations listed in the report, we will also describe why it is a good thing to implement or test them out.
We try to make our audit reports comprehensive and full of action-taking advice. But, sometimes, there are things that need to be additionally explained. That's why we'll be at your service for further suggestions and support.
Certified Google Analytics and Data Analytics Experts
Our digital marketing specialists are certified experts in both Google Analytics and Google Data Analytics! We also have experience and knowledge from other platforms and technologies that help us generate fresh ideas for growing your business.
You can be rest assured you'll get a custom set of recommendations based specifically on your business needs that will push your business in the right direction. We know what's important and how to track it in your analytics account.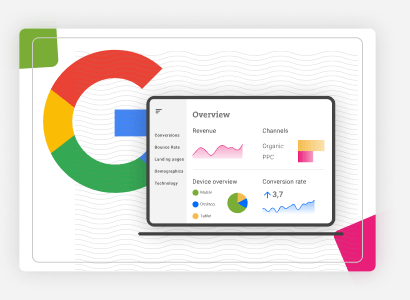 MAKE YOUR DATA MEANINFUL
Ensure that the data being collected through GTM and GA4 is accurate, consistent, and aligned with your business objectives. Fill out the contact form below and let us take care of the rest.