Implement Google Analytics 4 on Magento 2 with GTM

If you're a Magento 2 merchant looking to add Google Analytics 4 to your store – you are in the right place and there is no better time than now.
How long does it take?
It takes about 2-3 days for us to analyze your current Universal Analytics goals and conversions and migrate them to Google Analytics 4.
---
What will you get?
A fresh Google Analytics 4 property with migrated goals, conversions and Enhanced eCommerce events that makes your ready for UA sunset.
Universal Analytics (GA3) will stop processing new hits on July 1, 2023.
Be prepared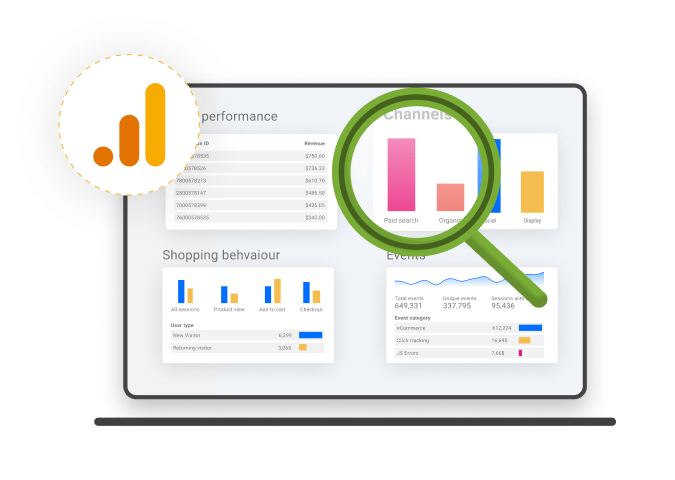 01
Universal Analytics (GA3) Audit
Your tags, triggers, variables, Enhanced eCommerce tracking, and every other event tracking needs to be analyzed and prepared for the migration to Google Analytics 4. You wouldn't want to miss any important data before switching, right?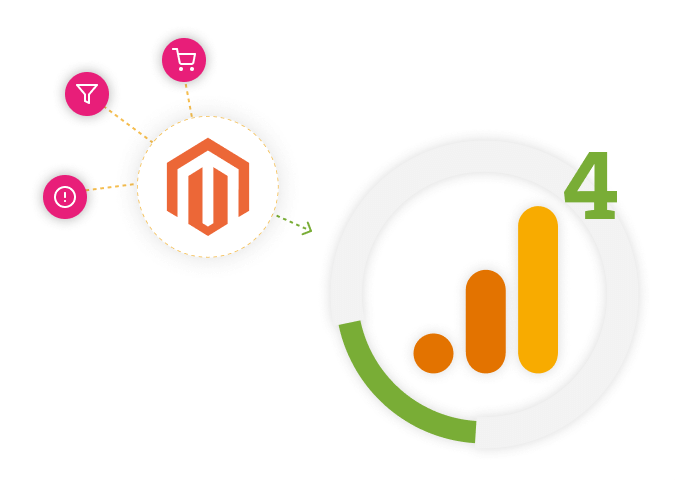 02
Google Analytics 4 implementation
You'll get Google Analytics 4 property opened in the same Google Analytics account through the existing GTM container on your Magento 2 store. We won't leave you without your Enhanced eCommerce setup, or as it will be called from now on, recommended events for eCommerce.
03
Google Analytics 4 onboarding & training
New tool requires new skills! The internet is full of education regarding Google Analytics 4, and you are welcome to go through any that you like. But we would hate to leave you with freshly set GA4 and no idea on how to move forward. That's why you can count on personalized 1-on-1 education of the main differences between UA and GA4 as well as the onboarding on the new tool and its features.
Certified Google Analytics experts who work exclusively with Magento 2
Our Google Analytics experts are working exclusively with Magento platform. They've prepared our existing clients for GA4 a couple of months ago, and now we are ready to help you out as well!
You can rest assured none of your goals, conversions nor events will be lost because we know how valuable that data is for your Magento store. It's time you get the feel for fresh GA4 features!
GET YOUR GOOGLE ANALYTICS 4 READY, SET AND TRACK
Experienced Google Tag Manger and Google Analytics experts working exclusively with Magento