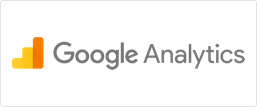 Having Google Universal Analytics tracking on eCommerce websites is a standard nowadays. And while default Google Analytics setup, with or without Enhanced eCommerce, provides many tracking opportunities, adding Google Tag Manager to the mix opens up an entire new universe to merchants – a universe full of efficiency, simplicity, automation and data frontiers never seen before.
Why Advanced Analytics with Google Tag Manager?
We use Google Tag Manager as a data broker – from reading each pageview, session, user data and interaction data (events) to pouring that data to any number of channels – from Universal Analytics (Enhanced Ecommerce) with custom dimensions and custom metrics to data rich tracking pixels for social networks and (dynamic) remarketing services.
These are some of the tags and variables provided by Inchoo's Advanced Analytics for one of our clients. As you can see, there is a large number of tags and variables we can track to collect various information that can be used for understanding your customers better to improve your marketing and sales strategy.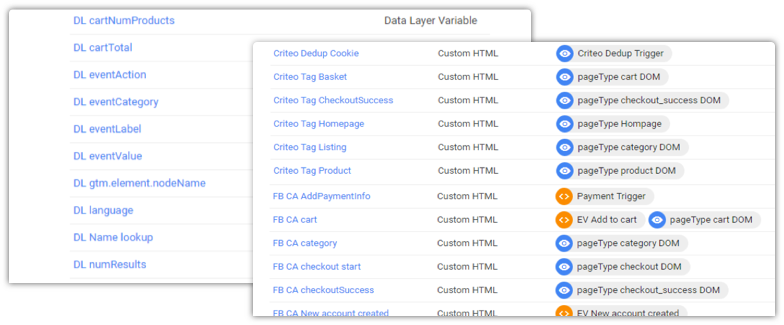 Years worth of experience in analytics and Magento help us to create and constantly improve our Google Tag Manager Magento extension, crafted to match contemporary tracking requirements with unmatched security and performance – both for Magento Open Source and Magento Commerce editions.
What are some of the common custom reports and features requested by eCommerce clients (available with Inchoo's Advanced Analytics with GTM)?
Where do new customers or newsletter subscribers come from?
Which Magento user group generates most revenue?
What users generate the most revenue?
View all sessions, pageviews and events paths for any particular visitor, and match it with Magento user (User Explorer report in Google Analytics)
Coupon code usage report: what coupon codes, how many times used, total revenue per coupon code, who used them, etc…
Shipping Method usage reports: number of transactions, total shipping costs, total revenue, etc. per shipping method
Payment Method usage reports: number of transactions, total revenue, etc. per payment method
Category pages: what category pages are most popular? How deep do users go browsing categories?
Product pages (reports based on product page views): most popular product pages by brand, categories, or any other product attribute
Segmentation: create remarketing segments in GA based on Magento user group (LVL), any visitor attribute and visitor behaviour or any page, category or product attribute available i.e. create segments of people who visited product pages of specific brand or product type more than 3 times, who added to cart but abandoned, etc….
What do you get with our Advanced Analytics with GTM:
Installation, support, consultations and Magento best practices gained from dozen implementations and scenarios
Universal Analytics tracking
With Enhanced Ecommerce support – Opens up a plethora of new reports in Google Analytics
Optional server-side transaction tracking – No more missing transactions in GA reports, can be configured to fire at any given order state; Track your off-site transactions and connect to visitors using loyalty card information to create an overall user profile
Many custom dimensions and custom metrics – Many visitor, page, category, product, cart and checkout/transaction related variables available in GTM dataLayer
User interaction (events) – User interaction events (logins, registration, subscription, cart and wishlist management, …) available for all tracking purposes
Cross-device tracking and reports – Cross device tracking helps identify a user behavior across several devices and join their experience into one journey
Custom segments – Create custom segments (used for both reporting and remarketing) based on all available visitors or page dimensions (i.e. create specific remarketing segments)
A/B testing – Implement A/B tests with variations stored in custom dimension in Google Analytics and and efficiently track their performance
Google Ads (AdWords) dynamic remarketing tracking – Support for all Google Ads dynamic remarketing requirements (don't miss our Google Shopping and PPC Management support)
Facebook Custom Audience advanced pixel – Support for Facebook's Custom audience pixel – not just the basic tags, but support to the max; Push many additional information to FB pixel, which at the end gives you endless segmentation opportunities; Full support for Facebook dynamic remarketing tracking
Implement any available tracking and enrich it effortlessly
Interested in some (or all) of these custom analytics and reporting options?
The good news is – with us you've come to a one-stop shop for GTM. We have our own Magento extension that we built using the knowledge and experience gained with using other 3rd party solutions, and now we use it on our client projects.
Our implementation of Advanced Analytics with GTM is straightforward. And even if you are currently using GTM and have an existing solution in place, but would like to change vendors who support you, we can help. In such cases we can do the audit of your setup, move you to using our extension and provide further configuration and ongoing support and consulting for using Advanced Analytics and GTM to your advantage.
Contact us using the form below!