Digumz
Fast and entertaining game rental service for gamers of Middle East

Release date: July 16, 2013
|
Market: Middle East
|
Industry: Rental, Gaming
Visit the website
Profile
Digumz is the first online video game rental service in Kuwait where you can buy or rent games and accessories. It delivers the widest variety of games for the Playstation 3, PSP, Xbox 360, Wii, WiiU without the hassle of due dates or late fees. Digumz also offers three different monthly subscription plans to suit every gaming need.
Challenge
This is one of the projects we did for Tawseel eCommerce Group. Our client acquired specialised video-game rental website Digumz.com in order to expand the rental concept in the Midle East eCommerce market to other categories. To ensure reliability and solve the issue of delivery, Digumz hand delivers and picks up every rented game across the country.
That kind of business model demanded robust and stable architecture. Renting management was the hardest part to develop because every DVD and accessories has it's own renting history that needed tracking. From introducing it into the system, renting and current status (sold, damaged, rented) till its write-off.
At all times, more than 1000 newest games are available for purchasing or renting through quality and secure checkout process on a site that has multi-lingual and multi-currency options.
Solution
Client wanted Digumz to be the biggest and best gaming rental service in Middle East. To achieve that status, one of the things we needed to make is a GameQ that is far more developed than those from their competition and maybe one of the best in the world. Now, their buyers can see where in line are they to receive a game or console, together with the exact time of delivery.
Some of the default Magento features were switched off to make the platform as light as possible, but we left Admin in it's full sturdiness and it truly shines in this project!
Visitors can read deeply integrated Forum and News through new exciting gaming-theme design and a fully responsive theme implementation.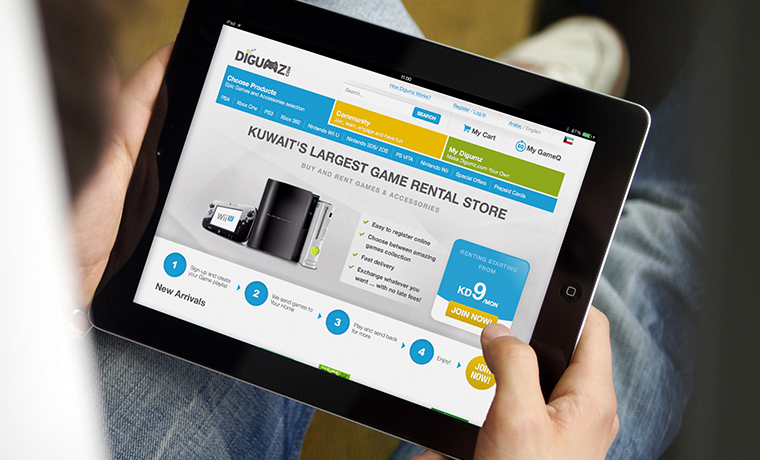 Results
Fast, light and stable store with exciting gaming-theme design and a fully responsive theme implementation.
Now, gaming community in Middle East can meet on Digumz Forum, learn on Digumz News and buy and rent on Digumz shop.