mCommerce – Consumers are ready, industry is not

mCommerce (mobile commerce) is here to stay and due to the recently published researches, we have data to back it up and predict the growth. The only problem is, consumers seem to be accepting the change much faster than the industry is. Since both mCommerce and eCommerce are growing sectors, we know they will continue to coexist, however, eCommerce industry seems to be not very agile when it comes to upgrading their solutions to fit the small screens.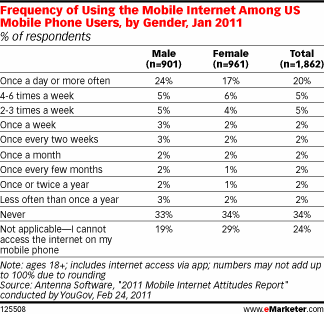 A recent article at eMarketer points out a very interesting study performed by YouGov for Antenna Software on a sample of ~1.8k US mobile phone users. This study indicates that only 24% of mobile phone users in US can't (or think they can't) access internet via their phone. Even though they can, 34% choose not to use internet through their mobile phones.
When asked why don't they use the mobile internet, 44% of men and 38% of women said they don't like the small size of mobile screen. I think they don't have so much problems with mobile screen size but rather the design and layout of web pages that were never designed to be used on such screens, but we'll need to dig deeper into the research to explain why.
The same groups tends to complain about the mobile internet speed – which we know will continue to grow – so we can expect that those that are reluctant to use the mobile internet due to the speed issues might change their mind in the near future. 50% of the mobile phone users aged 18 – 24 were annoyed that some website designs did not work at all on their phones. This is the group of users that "gets" where the problem is. It's not the screen size thats broken, it's the design and layout of the webpage.
Expanding eCommerce business to mCommerce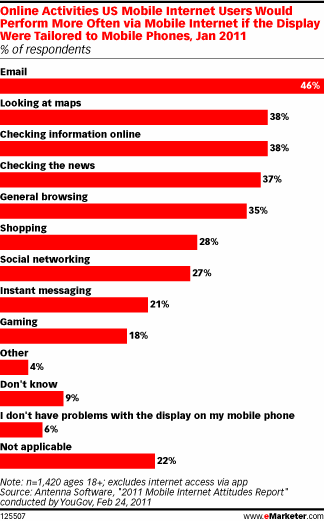 According to the same study, 28% of the mobile users in USA would be more likely to perform shopping via mobile internet if online stores were tailored for their screen size. Unfortunately, this study doesn't cover the use and likelihood of using native mobile applications for online shopping.
So if you build a mobile version of your online store today, you can expect ~28% lift in mobile visitors' conversion rate! This piece of data could help you calculate the short term ROI of building a mobile version of your online store and I hope it will persuade many of undecided online store owners to do it.
Also note that only 6% of mobile phone users said they don't have problems with the display on their mobile phones. Since 46% said they would be much more likely to use e-mail on their mobile phone if the display problem was eliminated, we can expect more of your newsletter subscribers to read it on their phones as the e-mail and web-mail mobile clients continue to evolve.
Another study gives us one more very persuasive argument to build a mobile friendly eCommerce solution – the mobile only internet users. According to the study, ~25% of mobile internet users in the USA are using the internet only via their mobile phones. This means that if you don't have a mobile friendly website, you are leaving these people without options, they are likely to use your competitor that has one. In some other countries the number of mobile only internet users is ridiculous, in Egypt it's astonishing 70%!
These studies are well correlated with Jakob Nielsen's study entitled "Mobile Content Is Twice as Difficult" in which he said:
When reading from an iPhone-sized screen, comprehension scores for complex Web content were 48% of desktop monitor scores.
Last year, Nielsen also performed a study on iPad native apps usability which concluded that there are some serious issues with user interface inconsistencies. I quote:
iPad apps are inconsistent and have low feature discoverability, with frequent user errors due to accidental gestures. An overly strong print metaphor and weird interaction styles cause further usability problems.
From these studies we can conclude that users are adopting the mobile internet usage much faster than the industry. If we are going to make significant progress, we'll need to develop usability standards for mobile browsing and evangelize the importance of serving a mobile version of the website or a native app to the mobile internet users.