Magento PPC Management Service

We're a full-service eCommerce agency with years of doing eCommerce PPC exclusively. With our eyes set on the most important KPIs, we can get the best ROI on your PPC campaigns!
Magento PPC Agency
You have a Magento store, and you need someone who knows how to run PPC campaigns for you. We have Magento-certified PPC experts ready to make your PPC campaigns as profitable as possible.
---
Digital Marketing Experts
Creating custom audiences in Google Analytics and tracking script setups is done by our Google Analytics Experts, and Data Analysts. So you don't have to be afraid if your ads will be aimed directly at your perfect customer.
As a 2022 Google Premier Partner, we are proud to be recognized as a top-performing company with latest Google Ads expertise. We strive ever to be better, and plan on keeping that badge for years to come!
Every day we are building on our knowledge on the latest techniques and industry standards in the world of eCommerce PPC. And we use it to optimize your campaigns,
and increase your revenue.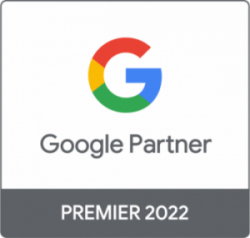 Our PPC management service includes…
Auditing your current PPC efforts and reviewing historical data
A thorough analysis of your site's architecture, product performance, search terms, and competitors
Making sure that your Google Analytics is set up properly along with GTM and tracking implementation
Developing a PPC strategy for different campaign types and across multiple channels
Creating custom audiences in Google Analytics
Discovering the best performing keywords, terms, and phrases your customers are searching for
Quick fixes on your current campaigns (location, network, attribution)
Daily optimization of audiences, budgets, bidding strategies, ads, and placements
Ads on Google Search
Do you want to show up on top of your customers' SERP? And do you want to do that by placing ads with tempting headlines? The first thing we need to do is uncover which keywords will perform the best and which terms and phrases your customers are searching for. We do that because we want to prevent overspending on duplicate and irrelevant keywords. Then we can start tailoring a PPC strategy for Search Campaigns by following Google's best practices.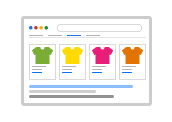 Google Shopping Ads
For an eCommerce business, Google Shopping Ads are a must! However, things do get tricky with setting up Shopping Feed. Suppose the product information like current price and product availability aren't up to date. In that case, your ads can be misinterpreted by your audience and possibly hurt your business. We need to review your current shopping feed and fix found issues to avoid that. From that on, we can create new shopping campaigns, create promotions, and daily monitor GMC.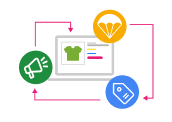 Remarketing Google Ads
If you're wondering what campaigns go hand in hand with the Shopping ones, let us introduce you to Dynamic Remarketing Campaigns. We want to target specific customers that already lurked around your online store with them. We create more personalized ads to make them want to come back for that particular product or service you're offering. Here we focus on creating additional segmentation, new audiences, and picking the right placements.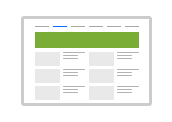 Google Display Advertising
If you want to draw your audiences' attention by placing eye-catching banners while they're browsing, then Display Ads are the right pick. Based on their previous searches and interests, we can prepare the structure for those campaigns depending on the niche and target custom audiences. The main goal is to improve the brand awareness of your company and make a positive interruption of your customers that can lead to a sale and a happy customer!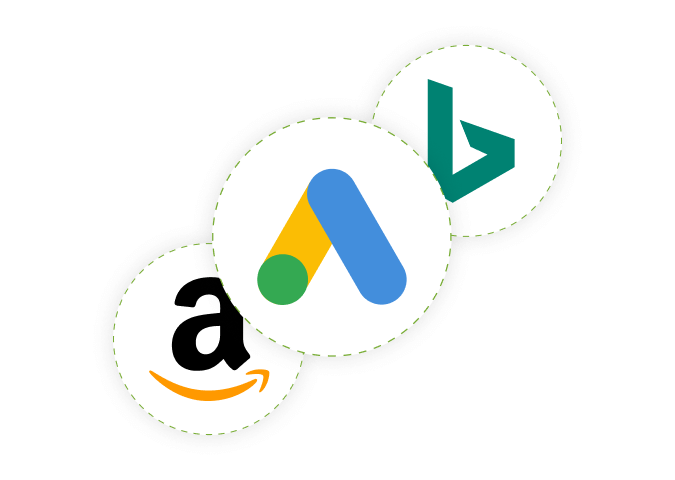 Bing & Amazon PPC Management
If you want to be present on other channels apart from Google, we'll gladly introduce you to your new audience. Our expertise with Shopping Feeds and Product Listing Ads across different platforms can surely help your eCommerce business get the best ROI. It's time you start deciding which channel you want to conquer first: Google, Bing, or Amazon? We don't mind helping you conquer them all at the same time.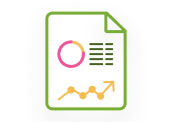 Tracking, monitoring & reporting
Our PPC support goes a long way toward generating new conversions, from lurkers to paying customers. We make sure to daily monitor Google Analytics and Google Ads data to make sure we're staying on track with our goals and identified KPIs. Our monthly reports include valuable campaign metrics and results, as well as a summary of optimizations and insights we gained from the previous month.
References
We have much-needed experience in running PPC campaigns. Check out our case studies to see for yourself.
Do you need help with managing your PPC campaigns?
We're good at that. Just fill out the form below.