State of Magento Solution Specialist Certification – January 2016

The latest figures on the Magento Certified Solution Specialist program and the updated wall of fame with 31 people holding all 4 available Magento certificates.
This report features some interesting stats and trends around Magento certification program and the data comes from the official Magento's certification directory (end of January 2016).
As Magento 2 rolled out since my last report, I thought we might get into a much slower mode as many people would wait until the M2 certification.
But, it was clear that new certifications are quite some time away and many people want to prove their Magento proficiency, so we've seen pretty similar growth in absolute numbers compared to previous reports. We now have the total of 540 people worldwide making the proud group of Magento Certified Solution Specialists.
Overall growth continues to slow down with 35% new certificates obtained globally since August 2015 as opposed to almost 50% growth in a previously observed period (March to August 2015).
Magento 2 is certainly a factor, and some trends from previous reports have continued – Europe is still the strongest continent way ahead of all others. Asia is again among the highest growing continents with the only one surpassing a 50% growth mark (55%), and North America's growth has declined.
Great news for Magento as an international ecosystem is that top 5 countries combined make up for just about half of all certificates – and there are 46 countries on the MCSS map at the moment.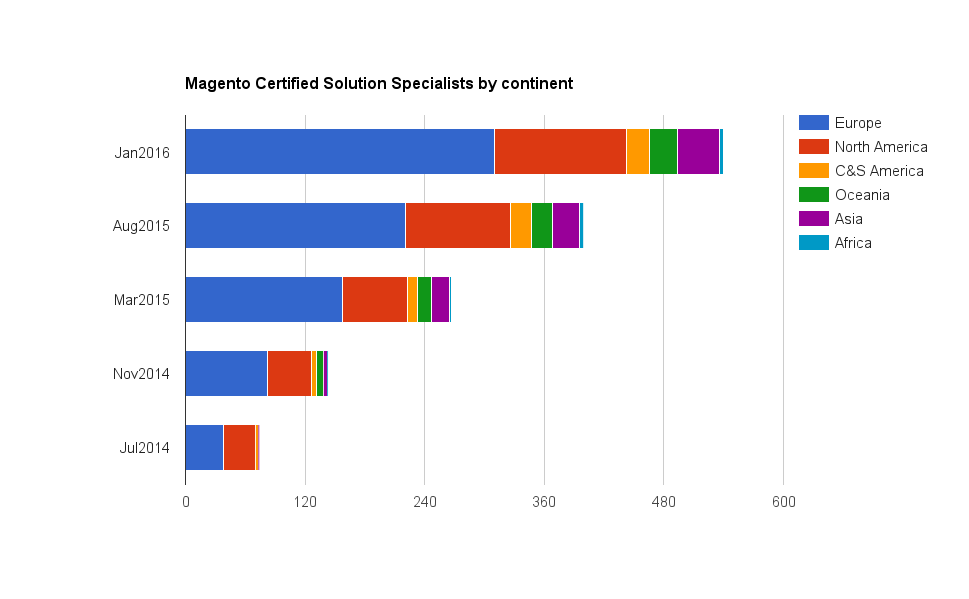 Top fives – countries, cities and solution partners
There are no significant changes in the countries' list – USA still holds reign with 122 MCSS badges which gives them a comfortable lead in front of its European counterparts.
United Kingdom continues its growth and will probably stay second for quite some time. Netherlands, Germany and Sweden are all there as well, but India is fast approaching with the total of 21.
TOP 5 COUNTRIES
USA – 122
UK – 64
Netherlands – 36
Germany – 33
Sweden – 29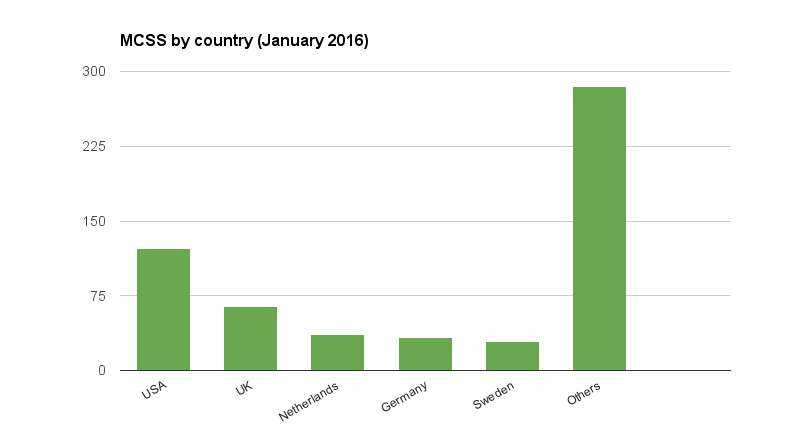 TOP CITIES
Now, this is exciting – even with Vaimo's huge growth, we're thrilled we were able to put Osijek right there to the top, where we used to be for quite some time. And with Stockholm and London just behind us, it continues to be a fun race. Let's see what happens in a couple of months 🙂
And finally, Kiev makes the list – with Ukraine being the backbone of Magento, it only makes sense – good to have you on board, guys. And just like that, there are no US cities in Top 5 any more.
TOP 5 SOLUTION PARTNERS / COMPANIES
Scandiweb is making their way higher on the list so we'll need to be careful if we want to hold on to our 2nd place 🙂
Vaimo, Sweden – 34
Inchoo, Croatia – 16
Scandiweb, Latvia – 10
Classy Llama, USA – 10
Smile, France – 9
Now, one question need to be raised here – how come almost none of the top US Gold Solution Partner companies have significant numbers of certified solution specialists? I checked out some of their official partner profiles and it seems like even the biggest ones have only a handful of solution specialists on board.
They may not perceive this certificate as something valuable. This may be the case if they're already established and have different marketing and sales channels where this may not be perceived as something contributing to their value proposition. Or it can be something else – we can ask them before the next report 🙂
Magento certification wall of fame – 34 and counting
It was great to see how people responded positively to shout-outs to those #RealMagento individuals who have collected all four Magento certificates (MCD, MCD+, MCFD and MCSS). Hey, we even had two guys take the MCD exam just to make the cut, so a special shout-out this time goes to Michael Türk and Nicolai Essig.
@tomislavbilic @aronstanic Haha. I told him already. And we have two persons that did that feat. @fbthakilla and myself. 🙂

— Michael Türk (@drlrdsen) October 28, 2015
We now have 34 people in the wall of fame, and counting. If you know of anyone who should also be included but isn't (this would most likely be due to their profiles not being searchable in the directory), let me know and I'll make sure to include them to the full list available here.
Here they are, listed alphabetically:
Adriano Aguiar (Brazil)
James Anelay (UK)
Jitze Bakker (Netherlands)
Fabrizio Balliano (Italy)
Jacques Bodin-Hullin (France)
Kris Brown (USA)
Ashoka de Wit (Netherlands)
Nicolai Essig (Germany)
Bartosz Gorski (Poland)
Gabriel Guarino (Argentina)
Phillip Jackson (USA)
Vladimir Kerkhoff (Netherlands)
Francis Kim (Australia)
Filip Krejči (Czech Republic)
Dave Macaulay (UK)
Chris Manger (USA)
Ben Marks (USA)
Paul Masson (France)
Pierre Masson (France)
Daniel Navarro (Spain)
Derrick Nyomo (USA)
Vladislav Osmianskij (Lithuania)
Rutger Rademaker (Netherlands)
Martijn Riemersma (Netherlands)
Bas Rozema (Netherlands)
Sergii Shymko (USA)
Henry Tran (Australia)
Nhu Tran (Vietnam)
Michael Türk (Germany)
Toon Van Dooren (Belgium)
Anthony Van Zandycke (Belgium)
Danny Verkade (Netherlands)
Jakub Winkler (Poland)
Tobias Zander (Germany)
All hail the certification kings! 🙂
Magento 2 is out – what does it mean for you?
If your organization is combining developer and solution specialist certificates with a Magento 2 Trained Partner badge (like we did), chances are you are in a better position for new potential clients. Even with so many differences between M1 and M2, merchants still need to have top quality support and people they can rely on to help them grow, not merely develop an eCommerce website.
This is why we're still investing in getting our people certified and we're now at 22 developer and 16 solution specialist badges (several more pending in February), and we won't be stopping any time soon.
What are your plans for MCSS certification in light of Magento 2?
---
Disclaimer:
The data for this article is taken from the official public Magento certification directory as well as some of the partners listings and the "heavy crunching" required for this article was completed on January 31st 2016 – if you got certified and had your profile published in the meantime, you may want to wait for this post to be updated

There's also a possibility that not all people who got certified made their profiles publicly available and searchable (I know of several such cases), so the actual number of certified solution specialists is probably a bit higher.
Related Inchoo Services