State of Magento Solution Specialist Certification – November 2014

How many Magento Certified Solution Specialists are there? Which country, city, solution partner hold the most badges and what are some of the trends that can be seen throughout the first 6 months of Magento's latest official certification program? Check it out in the second State of Magento Solution Specialist Certification report by Inchoo.
Many things have changed in the three and a half months after I published the first report of this type. Back then Europe was in a slim lead over North America while USA accounted for almost half of all solution specialists worldwide.
Well, some things have clearly changed since July, and here are some of the stats and trends to keep an eye on.
Europe leads the way in growth, USA – not so much
Since the last report Europe has more than doubled the number of MCSS badges with the total of 82 (compared to 38 back in July) while only 11 new certificates came from USA (the total of 42 – a 35.5% increase compared to July's 31).
We've also welcomed first certified solution specialists from Africa (one in South Africa) and Oceania (4 in Australia an 3 in New Zealand). At the moment of drafting this report there are 143 certified solution specialists out there (well, those that are publicly listed to be more accurate) coming from 32 countries worldwide.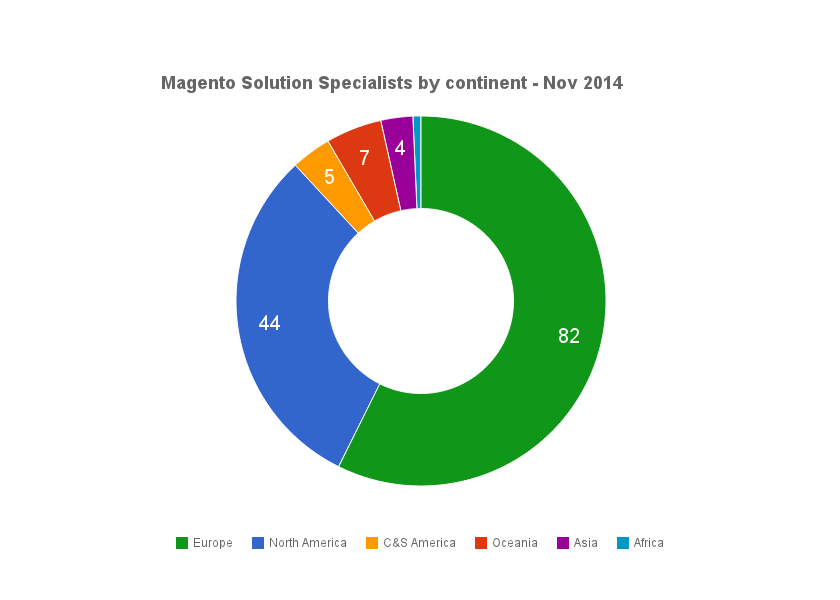 So, Europe grows stronger and a number of new countries are popping up on the MCSS map – which is understandable as Magento clearly is becoming more and more of a global eCommerce solution, and that's a great thing, right? Right.
Top 5 lists – countries, cities, solution partners
This is even more apparent if we take a look at the certificates by country chart – USA tops the charts with 42 but it now accounts for "only" 29% of the world total (143) – back in July USA held a whopping 43% of the global certificates (31 out of 74).
And what do you know? Check out who made the Top 5 – Croatia is among the likes of USA, UK, Germany and Netherlands – hey, if there only were an option to translate this to GDP figures 🙂
COUNTRIES
USA – 42
Germany – 15
UK – 14
Croatia – 13
Netherlands – 11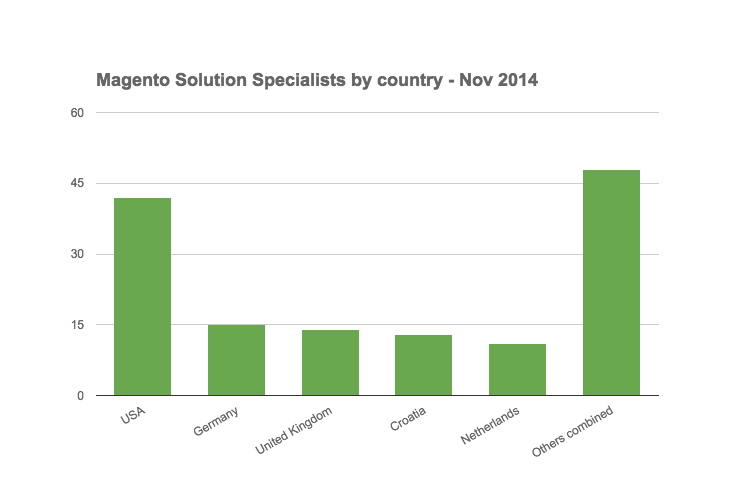 If you're thinking of relocating to a place where you can pick the brains of certified solution specialists over a cup of coffee, these are the places to consider (yes, there are in fact 6 on the list as Stockholm, London and NYC all have 5 badges to show):
CITIES
Now, it's only reasonable to assume that Magento Solution Partners would have most certificates, so this Top 5 list correlates nicely to an extent with the cities list (the tiebreaker here is the total number of certificates – devs included):
SOLUTION PARTNERS
Inchoo, Croatia – 11
Classy Llama, USA – 9
Vaimo, Sweden – 4
Gorilla, USA – 4
Corra, USA – 4
Gotta catch 'em all
There are 7 people on this list that deserve to be mentioned as they made a special effort to collect all four available Magento certification badges (MCD, MCD+, MCFD and MCSS), so here's a quick shout-out to these seven amazing individuals – congratulations, guys!
Adriano Aguiar (Brazil)
Jitze Bakker (Netherlands)
Jacques Bodin-Hullin (France)
Kris Brown (USA)
Phillip Jackson (USA)
Vladimir Kerkhoff (Netherlands)
Chris Manger (USA)
So, what do we know 6 months in?
It's been full six months since solution specialist certification rolled out and we were happy to work our way through the training materials right away.
Honestly, preparations for the exam were really useful for everyone involved as they brought us back (especially some of our senior developers) to the basics and allowed us to step back a bit and take a look at Magento as a whole – something that somehow gets lost in a bunch of custom projects you're involved at all times.
Is this a useful investment? In our book – certainly. However, it depends on what your starting position is – for most of us who have been around Magento for 5-6 years, the preparations and the actual exam are nothing to fear and most of us passed it more or less easily. So, it really doesn't require that much time to prepare. And let's be honest, we've all spent much more than $260 on some things of questionable usefulness.
Will it (or does it) lead to more, bigger, better clients for companies who get their people certified? Time will tell, but in our experience it is a good extra selling point as more and more clients will be in need of a real solution partner rather than "just" a development company, so positioning yourselves as someone who can not only deliver great code but be there as a true partner for a new or established eCommerce business is something that will be essential for companies like ours.
What do you think?
Have you already gotten your certificate? If not, what's stopping you? If yes, what benefits to your organization do you see?
Disclaimer:
The data for this article is taken from the official public Magento certification directory as well as some of the partners listings and the "heavy crunching" required for this article was completed on November 19, 2014 – if you got certified and had your profile published in the meantime, you may want to wait for this post to be updated

There's also a possibility that not all people who got certified made their profiles publicly searchable, so the actual number of certified developers is probably a bit higher.