Meet Magento New York 2014 – a review by Inchoo

Just one week after the event in Romania it was time for another big community gathering. This time Meet Magento went New York. This was the first Meet Magento event in the American market, organized by @Interactiv4. How was it? In one word, amazing!
Summary
Before the main event actually started there were two warm up events that we unfortunately missed. Sunday Mage running in Central Park sounded like a great idea but things got complicated for us as we approached the Central Park. More than 400,000 people turned out for the People's Climate March and we were unable to reach our destination easily.
We also missed Magento Hackathon in Bitcoin center but successfully arrived to the pre party event that took place at Yotel's terrace bar. We met a lot of nice people around including guys from @sweettooth and @dotMailer. It was great. 🙂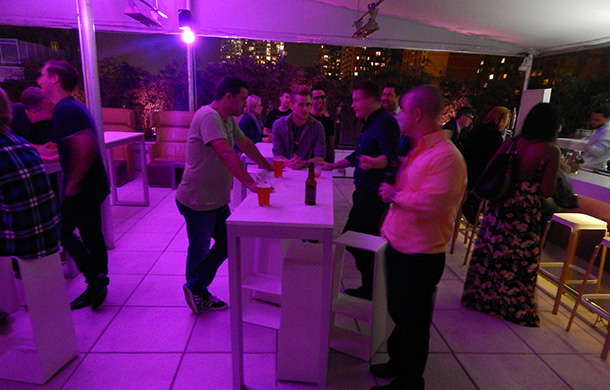 Main event took place at 55 Broad street Digital Conference Center in the downtown Manhattan, convenient business location for such an event. The First day started with the program on two separate tracks — business and technical. Since my colleague Hrvoje Jurišić and I are developers, we stayed pretty much attached to the tech one. Yoav Kutner, Ivan Chepurnyi, Philip Jackson, Brendan Falkowski are some of the names that marked the first day program.
Shortly after the scheduled program was completed, the whole community relocated to a Ballroom next door. Program started with an introduction (welcome) speech by the organizer Ignacio Riesco quickly followed by Ben Marks reflecting on his role and setting up goals to contribute to the community. Afterwards it was all Guido Jansen time presenting his Online Persuasion speech.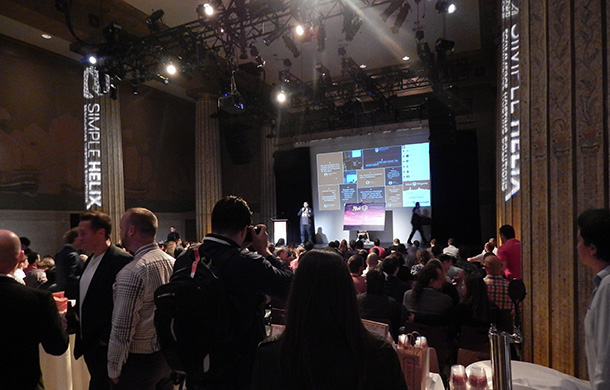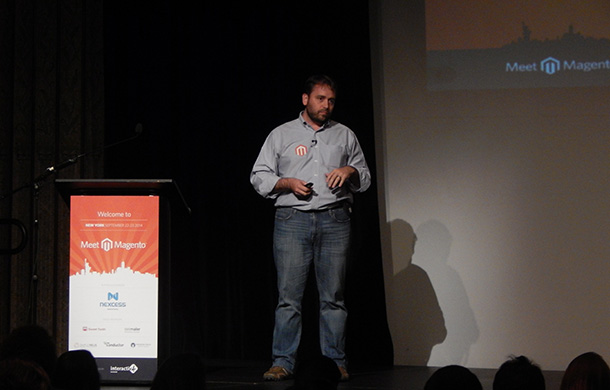 Chief technical architect at Magento Alan Kent made sure to explain how Magento takes care of its community while clearly presenting Magento 2 platform goals and strict release date schedule.
Finally it was time for a great party that lasted for several hours introducing DJ Red Alert and his compatriots, talented break dancers. It was really an awesome night. Hats off to the organizers @ignacioriesco @magentogirl @sherrierohde @MaiteSfazio. You really did the great job!
Second day was a big day for Inchoo since my colleague Hrvoje Jurišić was one of the speakers scheduled to speak about how to build better responsive websites. Presentation was great and it was very well accepted.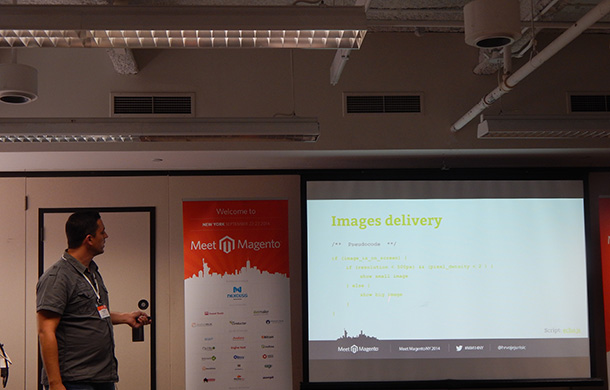 Hrvoje Jurišić ,Kurt Theobald, Kuba Zwolinski, Luis E. Tineo are some of the names that marked the second day program.
Every beginning has its end, so did this great event. To make sure everything ended up in a great manner @engineyard took us to a beautiful Ulysses Folk House located at 95 Pearl St. It was a very pleasant evening spent in a relaxing atmosphere. We enjoyed every moment of it.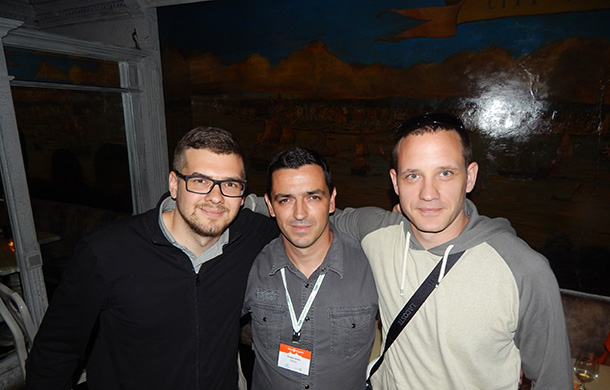 New York City
Since New York City represents a big passion for both of us, we were literally exhausted by the miles that we passed on foot. From lower to upper town Manhattan to the Brooklyn Heights, we went through everything we possibly could. Besides usual sightseeing locations like Rockefeller Top Of The Rock, Empire State Building, Time Square, Union Square, Fifth Avenue, Park Avenue, Central Station, Central Park etc. Yotel's terrace bar and 230 Fifth Rooftop Lounge were some of the most attracting places to attend. Hopefully we'll be back at some point in the future. 🙂
Conclusion
It's great to see that community is going strong with plenty of events to spice up the remaining 2014 schedule. Inchoo's next stop is Meet Magento Poland with our 2 speakers attending. There is no much else to say except that everything was great and very well organized. Once again big thanks to the organizers @interactiv4 and to all nice people that we met. See you around. 🙂