One of the first Magento Certified Front End Developers in the World

We received a news few days ago that Vanja Devcic and Hrvoje Jurisic achieved the passing score and therefore have achieved the status of Magento Certified Front End Developers. It was a great news for us since they are one of the first in the world.
We were invited late January to participate in a certification beta testing session for Magento Front End Developers. We couldn't just take the voucher to some testing centre as we normally do. Instead, we needed to go to a place called Fast Lane Institute for Knowledge Transfer GmbH – Munich.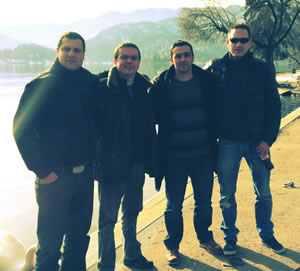 We formed a crew of three frontend developers: Vanja Devcic, Hrvoje Jurisic and Filip Svetlicic plus me as a car driver and hit the road to a small place called Hallbergmoos.
In Slovenia, we stopped at the most popular tourist destination – Bled. Known primarily for its beautiful lake, incredible castle, and position in the Julian Alps, the town of Bled itself is slightly underwhelming. We fed a few swans there on the lake, but we didn't have much time to climb all the way to castle.
We arrived to Hallbergmoos late that night and saw the most interesting item ever at reception desk. That night, we had a few beers hoping it will not be too much for the exam tomorrow.
The exam was exhausting. In this beta testing session, candidates needed to answer almost 200 questions in 4 hours. To make a comparison, final test now has 65 questions and lasts for 90 minutes.
Since I was only a driver there, I wandered around The Institute. I was very happy to meet Kuba Zwolinski from Snowdog. Thank you Kuba for sharing insights of Meet Magento Poland organisation. 😉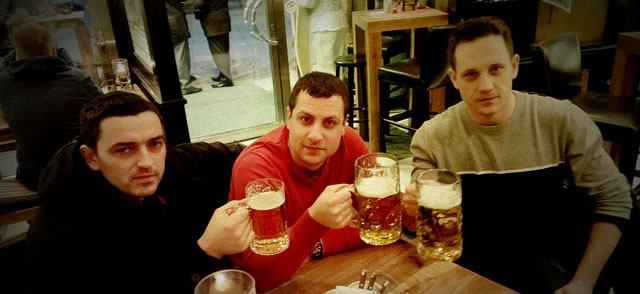 After the exam, we used that afternoon to visit Munich and drink some more beers there. Wind was blowing like crazy, so there was not a great sightseeing day. You get it, we had to drink some more. We also had a chance to see one of the weirdest looking church interiors.
Unfortunately, Filip from the three didn't get a passing score, but he was very close since he had very similar number of positive answers as Vanja. With the next voucher, we are sure he will get to the list. With writing this article, I asked Vanja and Hrvoje couple of questions.
Vanja, was the majority of questions from practice or theory? Do you feel a senior Magento frontend developer can pass the test without going through the study guide?
Majority was definitely from practice. Magento, in depth, can only be learned by practice and experience. I feel that senior Magento frontend developer could pass the test without going through the study guide, which covers theoretical questions the most, like Magentos fallback system, but it is practical very hard or even impossible to pass the test only with learning from study guide and not to have or to have little real experience with Magento code.
Hrvoje, did the test cover important Magento areas for frontend developer? Did something there surprise you? Do you need to know PHP or ZEND to pass it?
The exam covered the most important areas of Magento frontend development, concentrating mainly on xml layouts, which are, in fact, the main weapon in the Magento front-end developer's drawer. There were no surprises. The test was all about our everyday routine of a Magento Frontend developer: themes, fallbacks, layouts, blocks, templates, html, css and javascript…

If there was one thing I could point out as a weak spot of the exam, it would be lack (or a very small number) of specific, non-magento related HTML, CSS and Javascript questions where examinees would prove their Front End expertise. I have a feeling that every Magento Backend developer could pass the test even though their frontend skills may not be high level. But I might be wrong about that 🙂