The practical value of Design Thinking

Recently, we got inspired by the Magento team's Design Thinking presentation held at the Magento Imagine 2016 conference. Unfortunately, we weren't there but it feels like we might as well have been. Seeing how the Magento team worked on improving the Magento 2.0. interface in the presentation slides struck a chord with us. It affirmed a lot of the methods we were already using and got us thinking even more.
I think, therefore I empathize, define, ideate, prototype and test
There are many different definitions of Design Thinking but generally speaking it's defined as a repeatable process for solving problems and discovering new opportunities with the customer at the center. Understanding the end user is what this thinking perspective is all about. A far cry from mere visual creation of various design elements.

So, what's the difference between this method and some more conventional problem-solving techniques? The Design Thinking process is best thought of as an agile system of overlapping spaces rather than a sequence of orderly steps. The five phases of Design Thinking are empathizing, defining, ideating, prototyping and testing. With empathizing, the goal isn't to emotionally invest but to objectively uncover and understand as many viewpoints as you can. Finding target audiences is key because research conducted on people who aren't your end users might not be relevant to your project. The defining phase is all about identifying user needs and business requirements. Knowing that you're tackling the right problems while involving your customer early in the process is what's most valued here. Usually created are customer journey maps, concept models and user scenarios – basically answering what the problems are and how the users are solving them or might be able to solve them.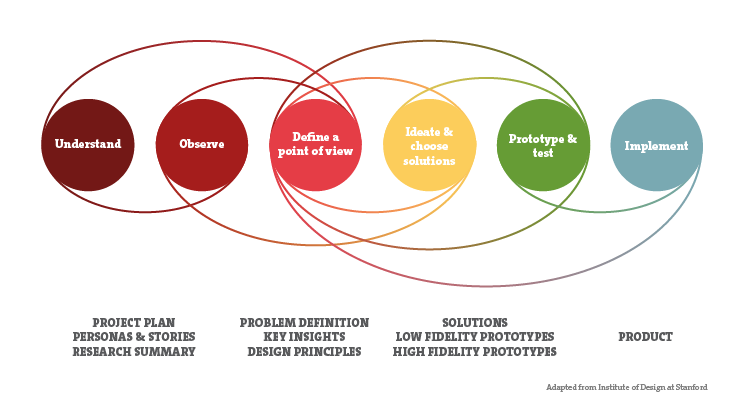 Getting your foundations right allows you to ideate and think lateral while trying to find as many ideas as possible. At Inchoo, we're big on rapid sketching and brainstorming sessions just to name a few methods that get our creative juices going. Prototyping and testing have to be one of the most valuable and powerful parts of the Design Thinking method. Whether they're paper, lo-fi or hi-fi prototypes, create them, put them into your user's hands, adapt and iterate. As is often mentioned in lean methodology – Think big, act small, fail fast. Learn from end users and refine. We'll let one of the slides from Magento's presentation do all the talking.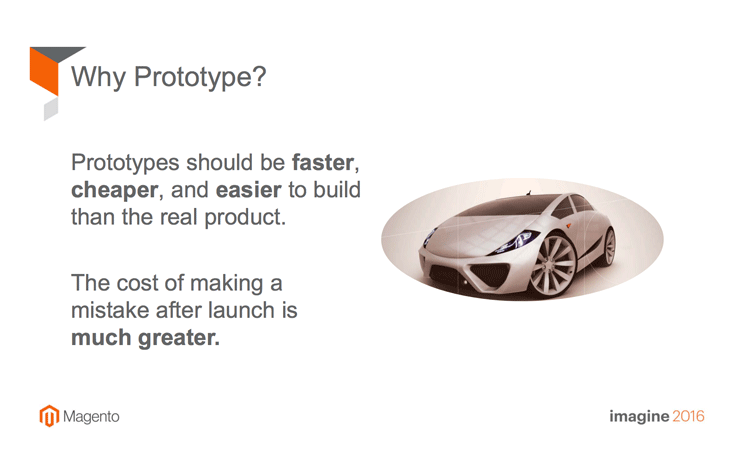 These research methods produce quantitative and qualitative data: through heuristic and expert reviews, cognitive walkthroughs, user interviews, usability testing, surveys, focus groups and even more tools that enable them, but we'll save that topic for another article. One of the main benefits of the Design Thinking perspective is avoiding expensive mistakes while easing use of product and allowing new ideas within the process itself. Apart from Magento, similar methods are taught at Stanford, IDEO, Google, IBM and eBay.
It wows but does it work?
A lot of the time it is recognized what should be done in theory, but in everyday work, when push comes to shove, it is often safer to turn to more conventional problem-solving practices. That's where abilities like intuition, pattern recognition, constructing ideas that are both emotional and functional and design beyond current trends, get overlooked. Designing with emphasis on emotion and inspiration can be equally failing as heavy reliance on analysis and reason – that's where Design Thinking comes in. Because every project is different and carries their own end users and specific questions, we as designers have to answer and understand them if we want to create something that not only wows but works. In reality, trying to create something innovative is far more difficult and complex than just striving to be more creative.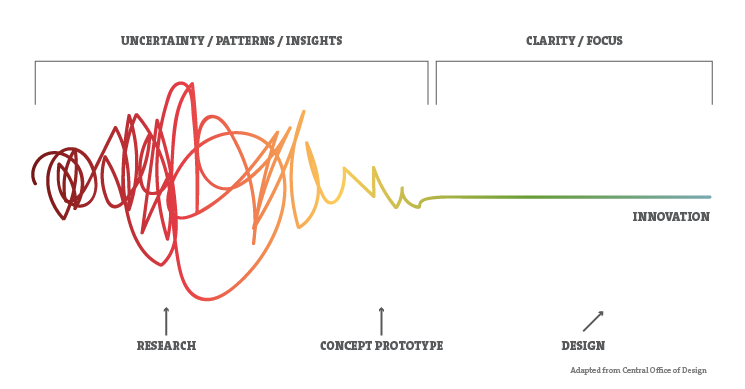 It involves previously mentioned methods (prototyping, data visualization, innovation strategy, organizational design, qualitative and quantitative research, and IP (intellectual property) liberation) that create solutions which can't derive only from our minds and experiences as individuals and designers.
Design Thinking isn't really here to tell you how your workflow should look like or what tools you should be using. As we've seen on Magento's improvements on Magento 2.0. it's here to show you there's a way to optimize the user experience if you're willing to recognize and understand the needs of your customer. Learning the tools and testing new software that enables this is easy. Taking ownership of that process is a little bit harder but if you have a strategy to your design you're halfway there. The takeaway here is to analyse, understand, ideate, prototype, test and test often to minimize the uncertainty and risk of innovation. Design thinkers rely on customer insights gained from real-world experiments, not just historical data or market research.
"The myth of innovation is that brilliant ideas leap fully formed from the minds of geniuses. The reality is that most innovations come from a process of rigorous examination through which great ideas are identified and developed before being realized as new offerings and capabilities."

—Tim Brown, CEO IDEO
Design Team Thinking
Designers shouldn't be perceived as professionals who make visual magic happen where meaningful user experience is expected. No amount of beautiful design can fix poor functionality and usability. As designers we create the one thing that is blatantly obvious – the hard shell, which is a lot of the times is all that users see. We have this power to influence them in such a short period of time – whether it's presenting our own abilities, or our clients business. Yet, design teams are often not expected work on the analytical, logistical and planning aspects of searching out meaning and reason behind all that will inevitably end up in need of design. With wider understanding of the design process and greater ownership in the decision making process, Design Thinking utilises the designer's toolkit to put the customer first, which in turn saves time and money on a larger scale.
Reducing risks in any way, shape or form is a real value of design teams that not many recognise. That's why we often switch gears and flex our creative muscles to use our right-brain imagination, artistry and intuition the same way we do our left-brain logic, analysis and planning – to try and create the best user experiences we can. If you're interested in how we can create the best user experience on your store, and design accordingly, feel free to get in touch.
Related Inchoo Services