BestLaminate
Our journey with one of the largest American flooring experts. Find out how we built a site with a much-improved shopping experience to their B2C customers.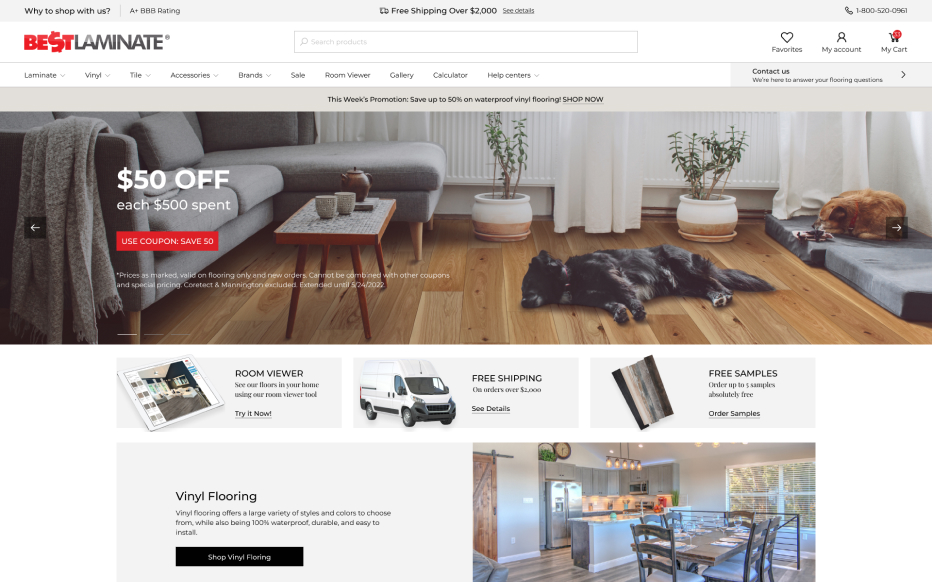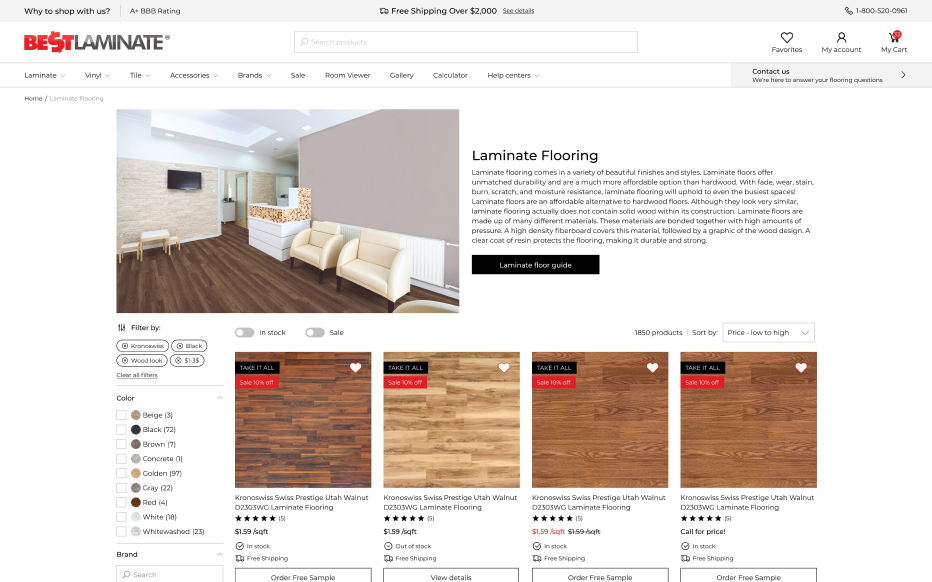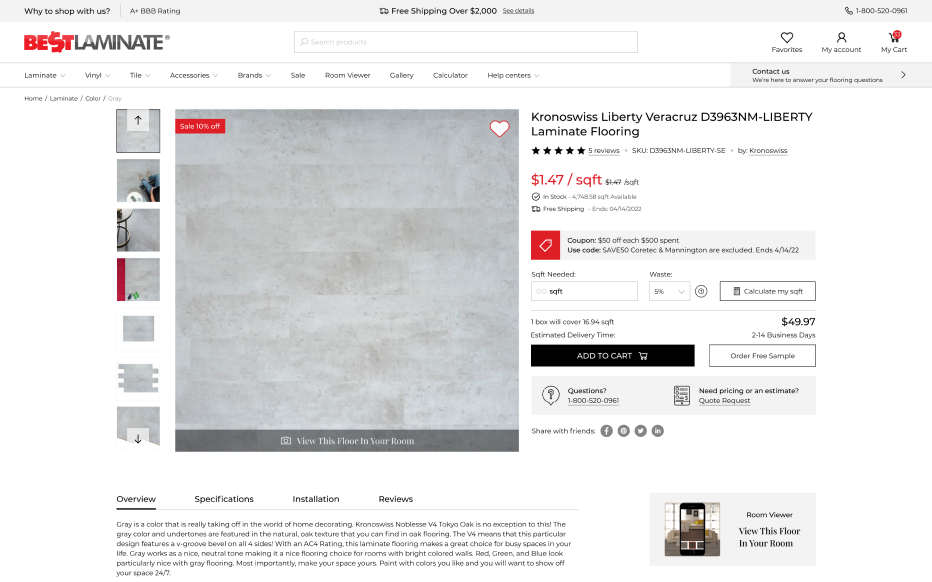 Release date: July 13, 2022
|
Market: USA
|
Industry: Wholesale Building Materials
Visit the website
Background story
Bestlaminate is a customer-focused retailer that provides high-quality laminate building solutions to improve and beautify their customer's homes and businesses. They have grown into one of the largest online flooring retailers and a noted authority on laminate products.
Our journey with American flooring experts started when their Marketing Director, Kasia Swierczek, contacted us in search of a technical and SEO Audit for their webshop in its pre-launch phase. Our client's business was experiencing troubles with speed and performance optimization of the webshop. After our team thoroughly reviewed their site and prepared an insightful audit report, it became clear that the best solution for our client was to start from scratch, as the needed improvements on the existing site were countless.
Pleased with our performed audit and the team's expertise, the client hired us to build a new and improved Magento 2 site for their business. We migrated their Magento 1 webshop to Magento 2 and improved/developed numerous functionalities to resolve security problems, refresh the outdated design, and enhance user experience.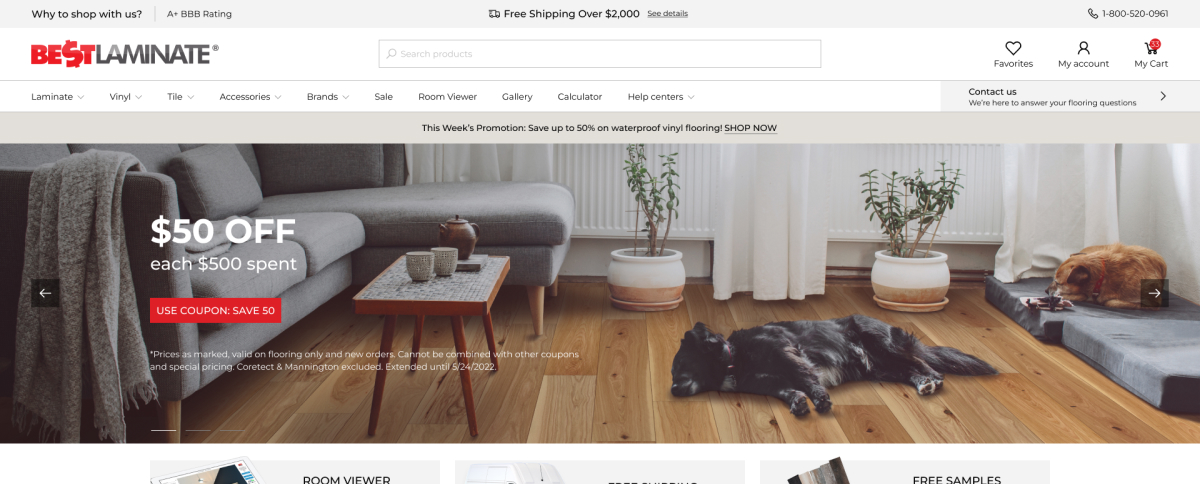 We checked customer experience, browser compatibility, site responsiveness and analyzed the main page for the general site overview. Overall, we aimed for Bestlaminate to appear as a functional and secure website as soon as a user lands and browses it.
Performance testing, part of frontend analysis, gave us not-so-great results. We found that the worst performance grades are on the product page, the catalog page, and the homepage. Desktop scores were, as usual, somewhat better than the mobile performance grades because mobile performance is tested with (on average) slower mobile speed (3G) and slower computer configurations.
As a part of the technical audit (exactly backend analysis), we reviewed general code hygiene, database integrity, third-party extensions, and the website infrastructure. With it, we already had an insight on what could be done to improve the website in the mentioned areas, which we did apply in developing the current solution.
The Project's Core Functionalities
For this project to excel, we created a team of 13 individuals, specialists in their field. They all worked together from the planning phase to design, development, and final release for four and a half months.
For the development of this project, we mainly used the internally developed solutions that we found worked the best over the years of our business practice. It will not shock you when you read the great results and our client's review at the end, but before that, check up on this project's core functionalities and how they benefit our client's business.
Order Free Sample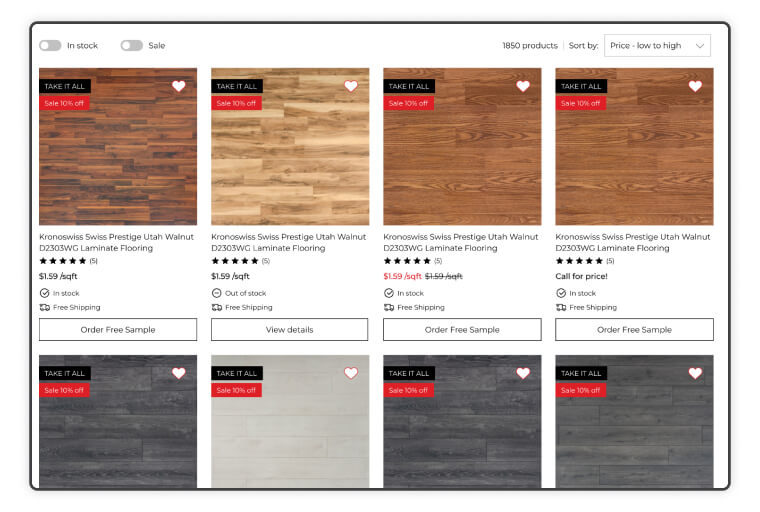 Although Bestlaminate uses only high-quality images, sometimes it is hard to represent the product's true color, texture, and look. For that reason, our client came up with the idea to offer their customer's product samples. They firmly believe that for the customer to commit to installing chosen flooring, they have to be able to see it in person. For that reason, they allow their customers to order a free sample product without providing billing information or even paying for shipping (that is why it is called free, duh…). This goes for all vinyl or laminate products and orders in the USA. Don't forget to check them out if you are searching for new flooring.
And as for our client's benefit, we developed this solution in such a way that it requires less maintenance time.
Custom Stock Status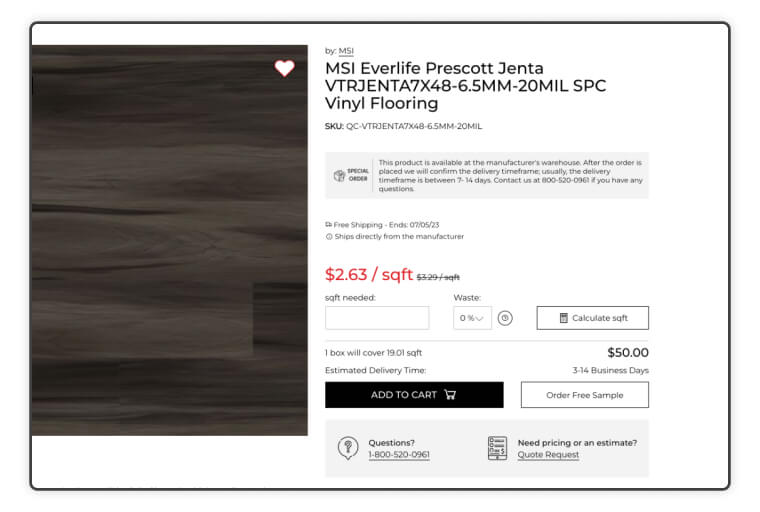 Custom Stock Status is a solution that effectively provides customers with more details about product availability. It gives a webshop more stock status options and also provides a way of increasing sales through attractive stock status labels. We developed solutions for different scenarios, each with its unique customer experience. That way, our clients can add stock statuses besides the default ones and change the product page's user experience.
Roomvo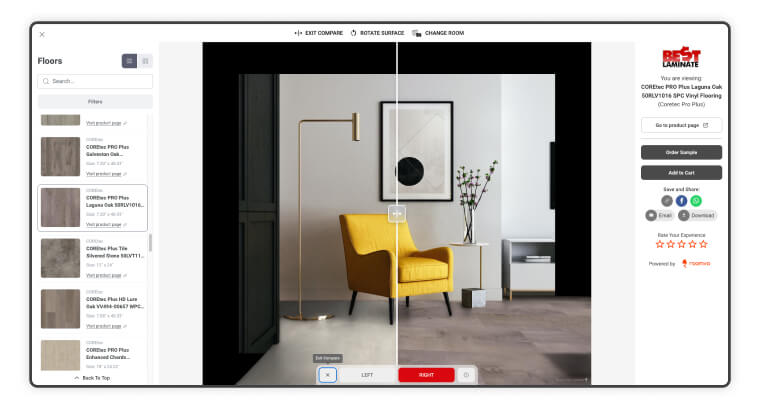 With the goal to provide the best personalization experience for the customers, we integrated Roomvo to enable Room Viewer. The Room Viewer offers fast and easy visualization for customers by snapping photos and providing a showcase of products in their room in seconds. This way, customers can visualize how the flooring (vinyl or laminate) they picked looks in the room for which they are buying it. Customers can find it on every product page, below the product image. 
Area Calculator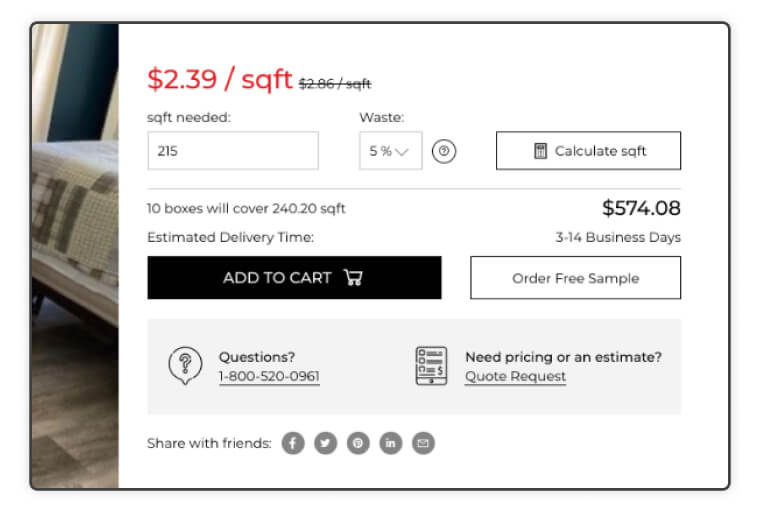 We built area calculator feature to help customers figure out the needed product amounts. That way, customers can enter the dimensions of the room they need laminate for on the Product Page or new CMS page. After calculating the measurements, the calculator provides customers with the exact number of boxes they need for their project.
Results
There were a lot of other functionalities for the project, but the ones we chose to write about are very specific to the client and their industry. Also, as shown, they work like a charm. Although the project launch was relatively recent, on July 13, 2022, three months later compared to three months before, user website engagement has increased impressively, positively affecting the client's business results. It may lead you to think we're the only ones talking about it, and that's not (completely) true! If you don't believe us, check out the testimonial from our client's LinkedIn profile.
And for the end, we'll let the numbers speak for themselves!
36%
Engaged Sessions Per User
72%
Average Engagement Time
After you let all of this sync in, be sure to contact us if you think we could help your business grow as well!