Medical Direct
Story on how we delivered migration from Magento 1 to Magento 2 and refreshed design to improve the shopping experience for our client's business.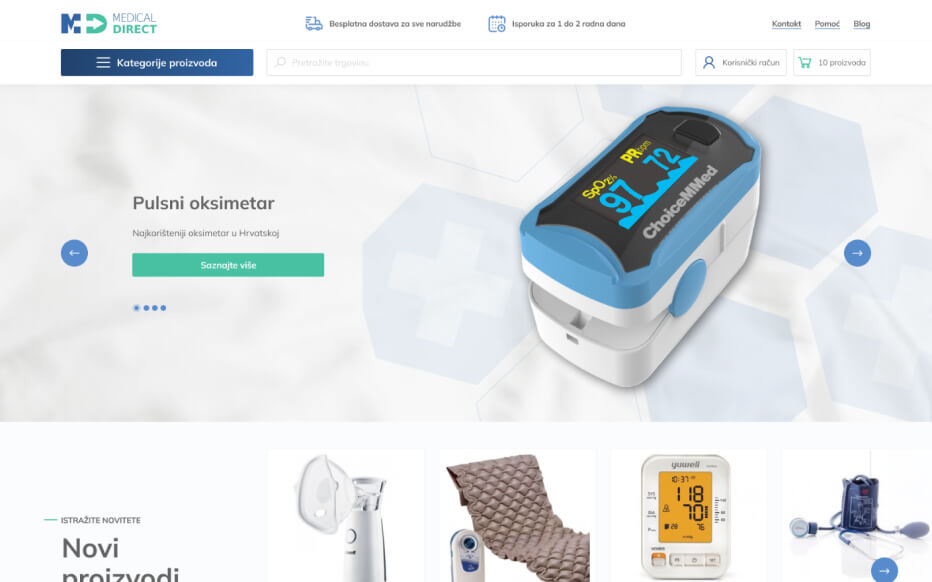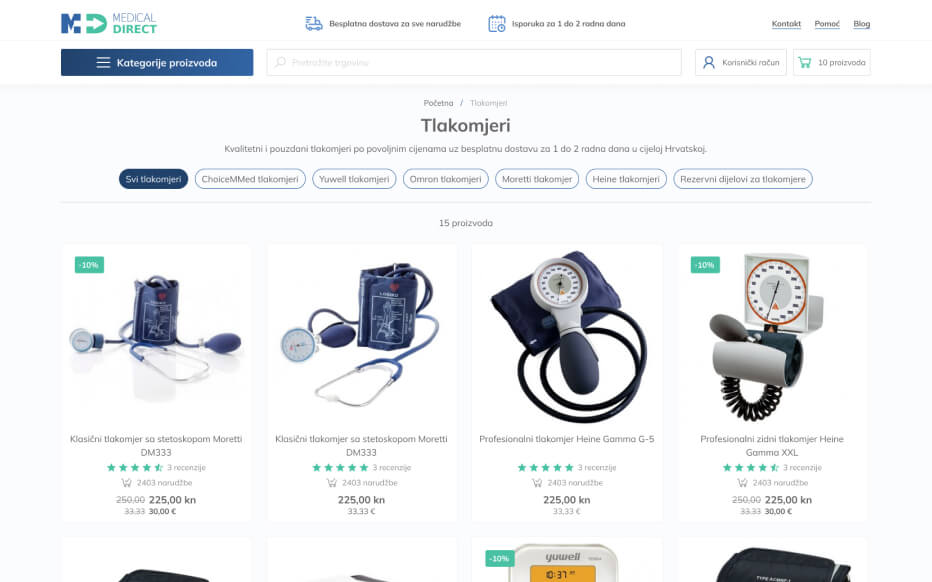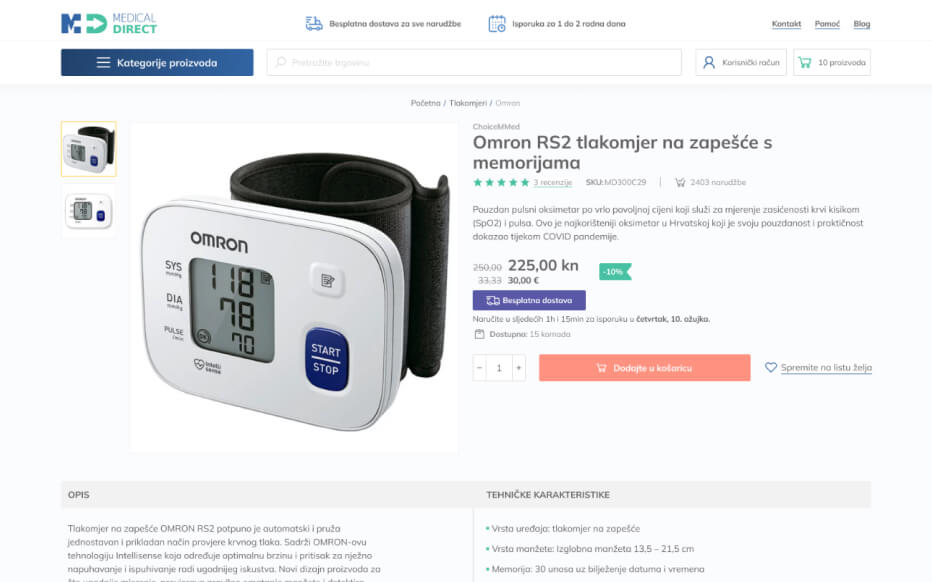 Release date: July 11, 2022
|
Market: Croatia
|
Industry: Health Care Supplies & Equipment
Visit the website
Background story
As a medical shop, Croatian company Medical Direct manages to recognize what problems their clients deal with when shopping. They specialize in the online sales of medical devices and equipment. And seriously take their job of providing the best, most reliable, and high-quality products at affordable prices and superfast delivery within Croatia.
Their owner, Tomislav, came to us in search of a quality solution to his Magento eCommerce, which caused them one too many troubles. The project contained migration from Magento 1 CE to the latest Magento 2.4.4. open source and PHP 8.1. which will be required for all Magento merchants till the end of this year. There goes one trouble away!
So, we got our chance to suggest needed improvements and determine the migration strategy. From day one, our team enjoyed collaborating with the client. They were completely open to our professional advice on further improvements. What they wanted was a simple yet functional webshop to help them continue serving only the best for their clients.
Challenge
Would it sound even better if there were no special challenges along the way? Well, probably, but that's not the case. And we had to find a solution for the dual display of prices as a project was conducted during the decision-making process for Croatia's entry into the euro area.
This is a unique situation where Magento doesn't offer an already built-in mechanism. For this reason, Croatian entrepreneurs are challenged to display prices in both kuna and euro to protect customers from undue price increases in this adjustment period.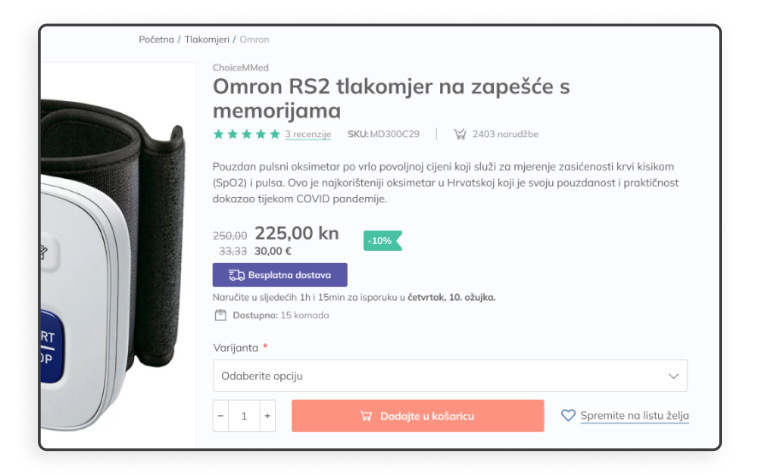 It encouraged us to develop our solution – The Inchoo dual prices module. Medical Direct is our first client that got the chance to use it – even before the official legal deadline. Inchoo dual prices display extension is free and available at Magento Marketplace to all Magento 2 webshops.
Solution
As with most of our projects, we used our solution for the theme. This gave us the benefit of having a partly developed solution that only needs to be adjusted to customer needs. And for the customer, it meant less development time.
The client wanted to simplify and smooth the checkout process, so our attention went mainly to checkout. We also prepared designs for category page, product page, homepage, CMS pages, blog and blog pages, 404 and maintenance page.
Considering product types, our client needed a solution for simple and configurable products. But we prepared all the others in case our client decides to expand their product catalog. We also added up-sell and cross-sell products to generate our client more profit by providing customers with similar products or products that are usually bought together.
We also used our custom solution – better search suggestions, which enables customers to search for their products easily. The search engine displays instant results to the customers as the results appear after the third letter is entered, leaving you with a complete search suggestion solution, excluding the need for complex and expensive third-party search modules.
This is one of the modules that initially doesn't exist in Magento, and in Inchoo it is part of our standard offer for the price of installation only.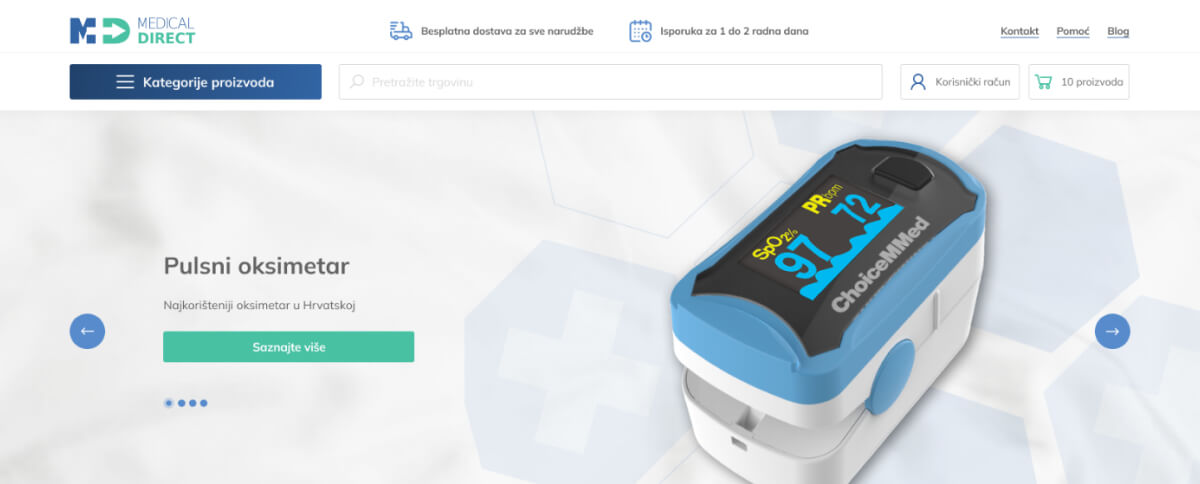 Main Integrations
E-računi (Electronic Invoices)
One of the main synchronizations (not full integrations) within this project was between the Magento store and the E-računi extension, which is a web invoicing, payroll and accounting service. Automatic synchronization means that Inchoo made a tailored way of connecting to e-računi using SOAP API for data exchange.
When a customer makes an order, Magento sends data to E-računi and receives feedback. For this method to be functional, we made a key required to connect E-računi and Magento. We as well made a possibility for full integration if the client made that decision someday. From a business perspective, we did not go with the full integrations since the synchronization covers all client needs at this moment and requires no change in the internal handling of invoices.
Payment
According to the statistics of the eCommerce Croatia association, customers choose to pay primarily with cards (46%), but also cash on delivery (32%), PayPal (17%), and transfer (5%). Except for PayPal, those were the methods we chose and developed for the webshop before the launch. PayPal does not accept payment in Croatian kuna, so it is on hold until Croatia enters the euro area.
The client chose Corvus Pay for the payment gateway, which we also integrated. As mentioned before, customers can also pay with transit and cash on delivery methods. In order to make the transit payment method easier, we added a QR code which is sent to customers with confirmation of order email.
Delivery Integration
The client decided to retain the previous delivery company, which was GLS, and their operating method but also decided to add something new. For this reason, we developed a system that calculates the needed days for the order to be delivered at customers' doors. The system even considers the non-working days in Croatia and then calculates the delivery date accordingly.
Internal Moduls
This project, as well as many others, is loaded with Inchoo's "in-house" developed solutions. It contains our GDPR/Cookie Policy, SEO Toolkit, Enhanced Ecommerce, Megapack, Dual prices module, JavaScript bundling and many more.
This gives us a partially prepared solution we found works best in years of our business practice, and what it means for our client is less development hours on the bill.
Results
The new Medical Direct webshop was launched on Jul 11th, 2022. We looked at the data from Jul 11th, 2022 – Aug 22nd, 2022, and compared it to the same time length before the launch, May 29th, 2022 – Jul 10th, 2022. Although we will have to wait some time to see the results altogether, there were some immediate improvements.
You can guess we were pretty excited about them, and also, for you to check them out.
113%
eCommerce Conversion Rate
This is what Tomislav Bulat, Medical Direct's CEO had to say about the new website:
The website is faster (loads about 40% faster), much better looking, much more stable and with better conversion rates.
Here you can check our client's detailed review of our work on Clutch.
Like what you see? Drop us a line, and let us help your business grow as well!