Why should you take the leap?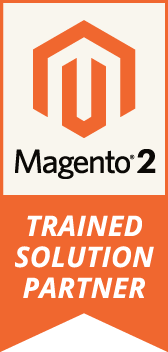 We've been in the eCommerce business since 2008. Ever since, we are passionately dedicated to building fast, stable and scalable eCommerce solutions. We made it our mission to build them in a way which ensures technical excellence but also makes sure online shopping is easy and enjoyable for the end user.
It would be our pleasure to build you a solution of that kind on the platform of the future!
If you're wondering why should you take the leap, we have your answer.
Here's why you should choose Magento 2
Magento 2 is a technology platform that scales and evolves when you want it to! Its modern and modular architecture ensures faster page load time, faster add-to-cart server response time and faster end-to-end checkout time.
It's faster – and faster site speed encourages more sales and increases websites SEO. That also means it can better handle more catalog pages (10 million catalog page views per hour vs 500 000 on Magento 1.x!) which makes it a perfect fit for large stores and anyone interested in evolving to one!
Upgrades between Magento 2 versions are designed to work a lot quicker, making it easy to take advantage of the new features as they roll out. This is sure to reduce the costs of maintaining your store!
On top of that, new admin panel will enhance business agility and productivity. You can now customize the admin panel to be able to access important business information quickly and enjoy managing your store on the go with a touch-screen friendly interface.
User-friendly checkout will make it easier for your customers to complete their orders. This new checkout also requires less steps and enables creating new account in one click – which is sure to encourage repeat customers.
All of this is possible because Magento 2 is built on top of a responsive web design approach and as such provides optimal viewing and interaction experience across a wide range of devices. Your new Magento 2 store will be loved by Google since it's also SEO friendly due to the mobile first approach (and we know how much Google appreciates it!)
Magento 2 comes out of the box with PHP 7, Varnish, Redis, Modern JS Stack, RabbitMQ, Solr, PHPUnit, Composer and many more. This means it uses the cutting edge technology to make your customers experience as smooth as possible.
Apart from all of these, what else do you need? A team of dedicated Magento 2 developers trained to handle your every Magento 2 request. Get in touch now to start your Magento 2 adventure.