Are you ready for Gen Z eCommerce?

The next wave of consumers is here. And they are on their way to becoming the biggest group of all. Maybe it's enough to say that this group has never known a world without the internet or mobile phones.
Given only that, they will certainly make the world of eCommerce change its "old ways." It is becoming crucial to reveal the habits and attitudes of your future customers – without understanding them, you are losing potential future revenue.
Who is exactly Generation Z?
They are also referred to as Gen Z, iGen, Centennials, and possibly several other names. Oldest members of this generation were born in 1997.
According to research by red.dk and pewresearch.org , by the year 2030 this generation will become the most prominent in the working-age population (read: with most money available to spend on eCommerce).
But, let's not look that far in the future. Let's look at today. It's only a matter of time of the month/year when they will take the number one position as the largest group in the working population. And this generation is prioritizing financial success (money) more than previous generations.
For instance, almost one-quarter of this generation thinks they will make $60,000 or more in their first jobs out of school.  Also, generation Z is more motivated by financial incentives and career advancement than previous generations.
And when we talk about the largest group of consumers in the world, then Gen Zs is already taking that number one spot.
How to use characteristics of Gen Z for eCommerce
This is the question for which everybody wants an answer. And the answer is simple. First, we must remember that this generation is born in times when smartphones are common. They have been growing up with them and they are using them as a normal part of life.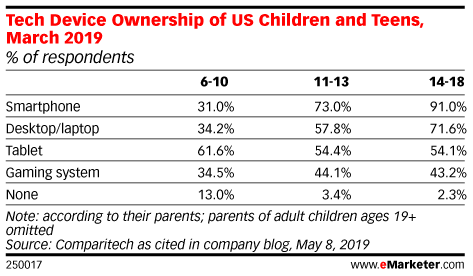 More than 90% of teens aged 14-18 in the USA are having some sort of smartphone. And although they live in an age of rapidly advancing technological innovations, Gen Z remains pragmatic when choosing brands or deciding where to shop.
Unfortunately for eCommerce-only businesses, recent studies of an IBM study on Gen Z show that while smartphones are keeping them up to date, they are not keeping Gen Z out of physical stores.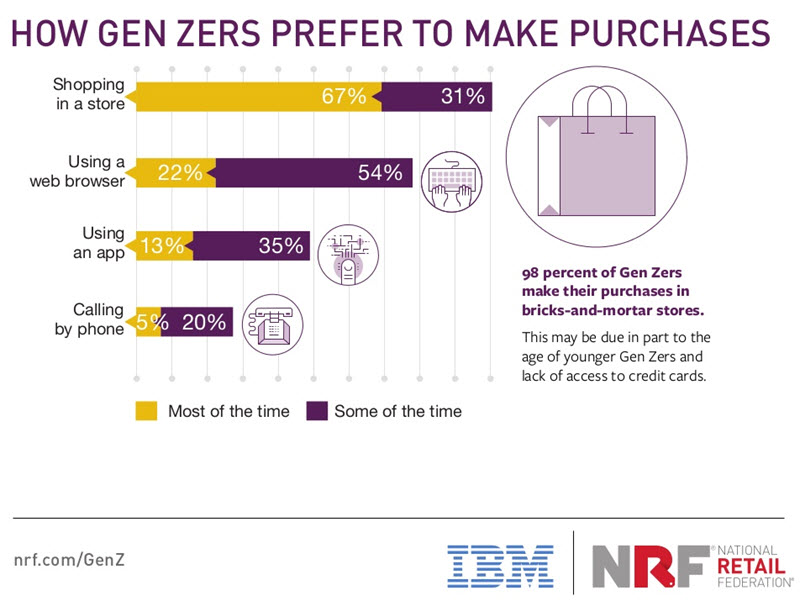 But, reasons for "Buy Online Pick Up In-Store" or BOPUS could surprise you. They are not for keeping "social connection" or, "face to face" interaction. It's actually for – saving the time.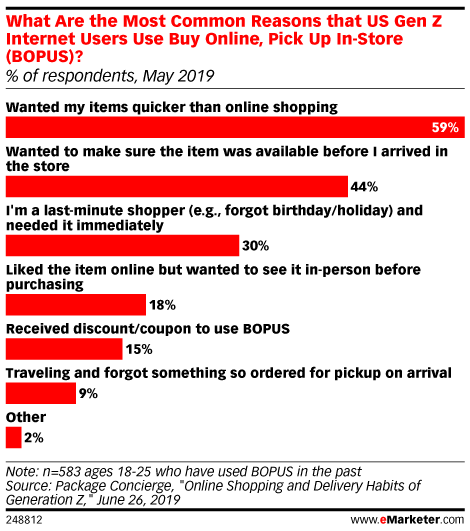 But bear in mind that this generation may lose some of their affinity for physical stores as they gain responsibilities & lose free time because of it. So, if you are having an eCommerce website and a physical store – one way to attract more Gen Z customers is to offer them discounts for BOPUS.
And according to Nublue, the customer journey of a modern user (especially the Gen Z and Millenials) switches seamlessly between touchpoints: embracing in-store, online and offline.
Personalize the buying experience
For Gen Z, dependence on mobile is a way of life. The only way to truly get on the radars of this age group is to deliver a smooth buying experience that offers information relevant to them, one-to-one recommendations, and an intuitive checkout process at all times. If your eCommerce site falls short in any of these areas, the younger generation will swiftly move on to the next competitor.
So how will you serve all the "right" information to this customers? Data. Use the collected data to engage your customers, learn their buying behaviors, history of previous purchases, gather information from them, and use real-time data (such as location and time) to create offerings tailored to their needs. Chatbots and virtual assistants are already being used to enable brands to communicate with customers in powerful and direct ways at a reduced cost.
For now, real-time customer service is just about enough to keep Gen Z from feeling frustrated and make their customer journey fast and pleasurable. Connecting with them on individual levels will definitely lead to higher engagement and as a result, conversions.
You will find them on Social networks
Generation Z is maybe the first generation of our world that is in contact with modern technologies right from the start. The chances are that they will know how to handle the new & latest next-gen, top-of-the-line smartphone before you. Because they are surrounded by tech – they are also one of the first adopters of new social networks.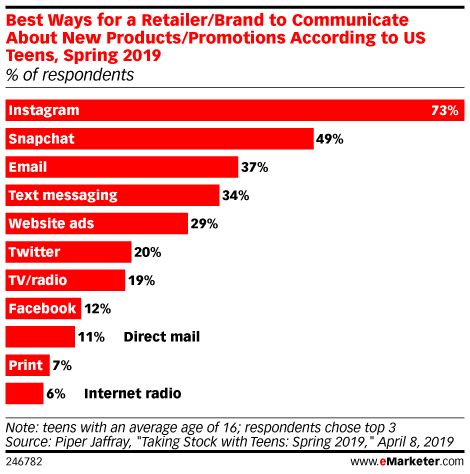 But not only "new" social networks. It's generally any social network where their parents are not present. Which makes sense in a (weird) logical way. Because they feel comfortable on such social networks, knowing that there is no person(s) who will possibly embarrass them in front of their "virtual" friends.
The conclusion is, if you want to reach Gen Z to offer them your eCommerce products/services – be sure to use the channel they feel most comfortable using. And according to the above graph – its Instagram and Snapchat (note: Youtube & TikTok was not part of this survey although Youtube is much bigger than Snapchat) .
Instead of viewing social media solely as a way to keep in touch with friends and/or family, Gen Z don't think twice about engaging with a brand online. The majority of them will follow their favorite brand on their preferred social network. But, they will not hesitate to engage in conversation over social networks.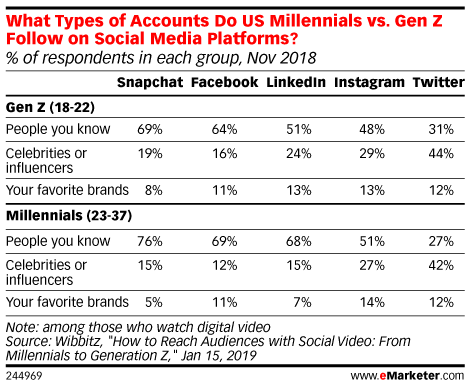 In the above picture we can see that (surprisingly) Gen Z is following their favorite brand more on LinkedIn than Millenials do. This is proof that we must understand where Generation Z is following their favorite Brands. And then – use those networks to convey intended messages to them.
Brand Loyalty?
There is one important thing to remember though. Although they are following your brand on social networks, that doesn't necessarily mean that they are loyal to you.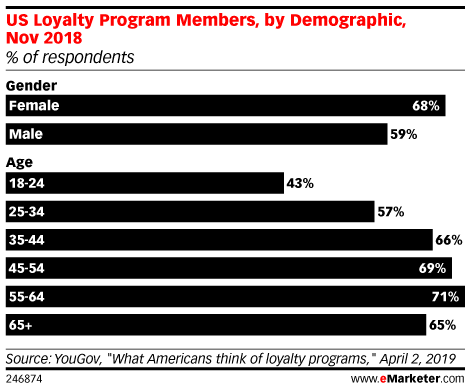 When looking at the graph above we can see that there are a small fraction of Gen Z members (they are between 8 and 23 years old) in the first age group which represents only 43% in loyalty programs.
But, we could see that trend is going downwards as the group is younger. We can conclude that all of Gen Z is at best at 30%.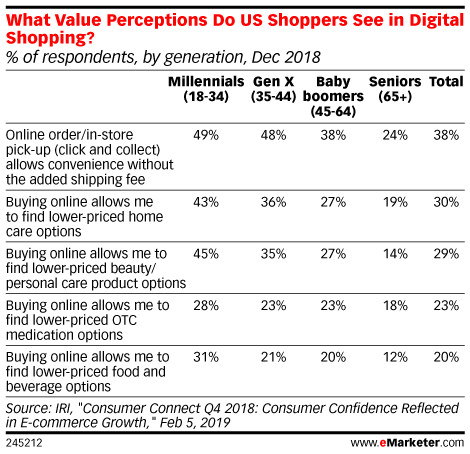 And this graph shows maybe the most valuable information to question why this generation is not that into loyalty. Again, we don't have the youngest generation on this graph but we are looking at the trend here.
And the trend is showing that the younger the demographic group is – they are looking more at the price of the product they are buying.
Generation Z certainly has its favorite Brands. But, if they find a similar quality product which costs less – they will buy it from a different Brand.
Gen Z are not known for their loyalty, so you need to constantly keep these youngsters "on the radar" across different platforms to remind them about your offerings (and why you are a "better" choice).
Gen Z can be influenced
Of course, "lack" of loyalty can be a good thing. You can try to convince them that your products/services are better. How?
You can try to influence them: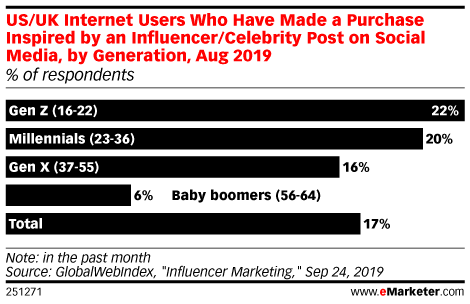 Again, the younger the group – the more likely they are to trust the influencers and celebrities and their recommendations. But, are influencers and celebrities the only sources?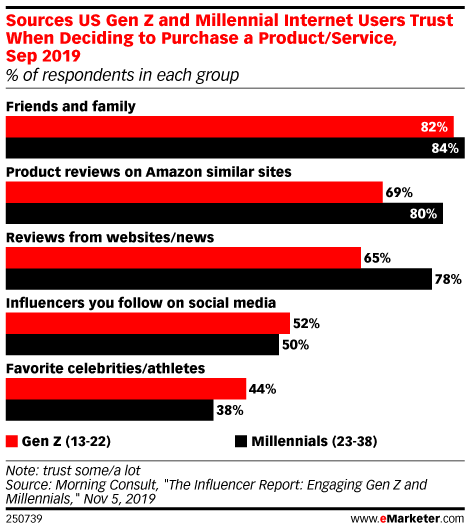 As we can see, the younger generation(s) still believe in some more traditional resources when deciding to purchase a product or service. Influencers & celebrities are the least important of all those sources. Still, we can not deny the impact they have over this generation.
As for social networks on which the young generation is following celebrities and influencers – YouTube and Instagram are first choices.
Gen Z and Youtube
The fact that Gen Zers can't live without YouTube shows that YouTube is a clear winner for social media on which you must be present. Using videos to capture the attention of your younger audience is a must for any eCommerce business. But, remember that their attention span is estimated at only 8 seconds!
While they are watching your video, they are probably texting someone. Because of that your videos must be engaging, dynamic and under 2 minutes.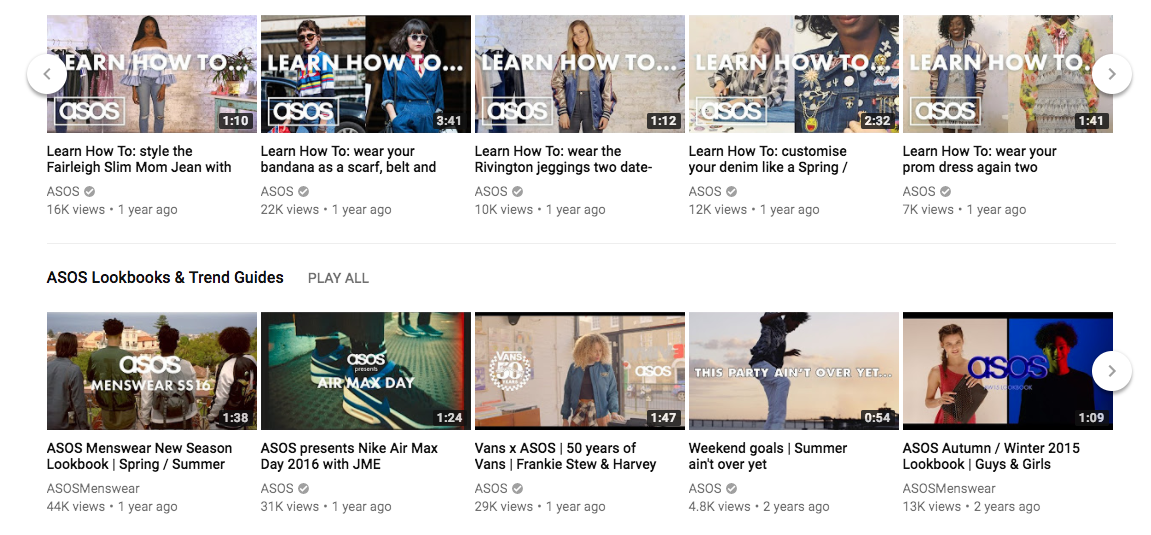 This is how a retail giant as Asos uses its YouTube channel. By offering short and fun "Learn how to…" and similar videos, Asos helps its audience understand their products and their brand.
Not only that Asos nourishes its YouTube channel, they are successfully closing the gap in customers omnichannel experience by offering the same caliber of experience on the rest of their social media platforms. The whole thing is about truly connecting your channels in order to create a single, unified brand that will allow your customers to feel valued and create an engaging environment for them.
Gen Z is not impressed with all new technology
This generation was born when all of the technologies were easily accessible. They are and will be in contact with technology during their entire life. Because of that they are not easily impressed with new technologies.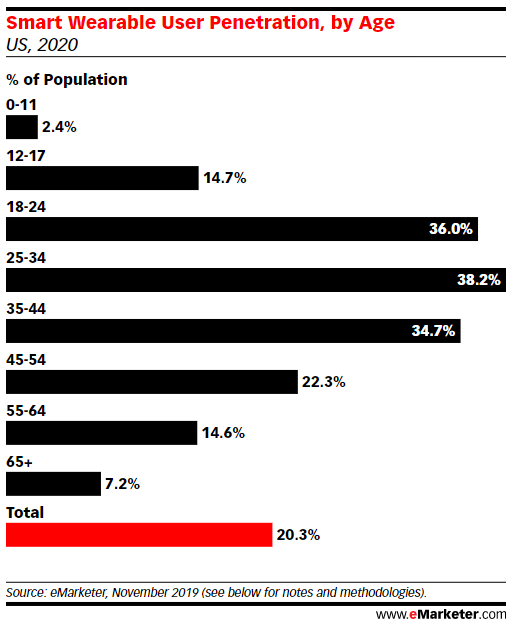 This is also the case with voice assistants. Less than 20% of the youngest generation will use smart speakers, and less than 40% will use voice assistants technologies. This is closely related to their "way of life" at that age.
They simply do not see any use case for that technology and promise on making their life much easier. But that doesn't mean that they are not your targeted group if you are in that technology.
Remember to remind them that your tech will make their life easier when they come to an age in which they will not have so much free time.
Prepare yourself for Generation Z eCommerce
According to data from the United Nations, this generation is now the largest group of potential consumers in the world. Also, according to a 2018 report from Barkley, Gen Z has spent over $143 billion in the USA only. There is one question arising from this:
Can you afford not to communicate with this group?
Generation Z is sharp, engaged, socially connected and confident. Fundamentally, they are just like the teens of previous generations, but with new tools to express emotions, discover information and be influenced.
The most exciting thing about this generation is that we will be able to understand them more than any other generation thanks to advances in technology, research and online data collection. Understanding their behaviour means being prepared to meet their needs, today and in the decades to come as with them – the old rules of retail no longer apply.
Need help in getting their attention? We're here to guide you along the way, so let's start the conversation.