Meet Magento Association introduces exciting changes – Meet Magento 2.0

Have you heard of Meet Magento Association – an amazing group of individuals who have done incredible things for the community around Magento, being an integral part of making it into what it's become?
They recently made some significant changes to the organization. Here's the latest scoop on what's new and how it affects the ecosystem!
Who/what is Meet Magento Association?
Now, you can't tell me you haven't visited any of the Meet Magento conferences that are happening around the world. If you have, like myself, had the privilege of attending, organizing or even speaking at some of those, you're probably hooked and can't wait to get the opportunity to visit new countries while meeting a lot of old friends.
I've been to two Imagine conferences in Vegas (and those were a blast) but Meet Magentos certainly have that special feeling – they're usually smaller, cosier and you don't have to spend days and weeks before the conference carefully planning your own schedule (and still, inevitably, missing on some good stuff).
Meet Magento events have been organized in more than 20 countries so far (there are quite a few coming up in the second half of 2016 so better start preparing). And while there are local event partners who actually put everything together, it all started with a small group of enthusiasts from Netresearch company based in Leipzig who organized the first Meet Magento Germany. Hats off to Thomas Fleck and Rico Neitzel for that, and I'm sure you're also familiar with the tale of two Thomases that started once Mr. Fleck was joined by another Thomas – Goletz.
They were soon joined by Guido Jansen and Dutchento who pulled off Meet Magento Netherlands – and these two are now the longest-running events of the Magento ecosystem. So, they are the ones behind all of the Meet Magento events, and let's not forget Developers Paradise, the event that has been talked about a lot this year 🙂
So, what's new? Global organization
Officially announced at Meet Magento Germany in Leipzig this week – they've changed some of the roles and responsibilities, now have Magento as the official partner (details are yet to be revealed) and introduced a global organization with 3 regional VPs and an Innovation Officer.
This'll be fun with @meetmagento, @snowdog, Thai Son Nguyen from @smartosc and @skyriazakos! 🙂 #MM16DE #VP pic.twitter.com/Kl9tNRHowq

— gui.do (@guido) July 4, 2016
Ok, why is that important?
This move should allow other members of the ecosystem to have more direct access to "their" VPs who can provide more immediate assistance, advice and guidance around the plans to organize new events or improve on the existing ones.
Here we have a lineup of Meet Magento veterans – Kuba and Guido have organized a lot of MM events in Poland and Netherlands and SmartOSC is a stronghold in South East Asia.
Historically, Meet Magento hasn't done many events in USA (Interactiv4 organized several MMNY events there) so with this way of expanding we may soon see some new MM events popping up from the East coast to the West.
What's that about Magento and official support again?
So far, Magento has kept somewhat of a distance from official organization of these types of events and everyone organizing needed to make a distinction that those were "community-driven" events.
However, at this year's Magento Live UK something new was announced:
THRILLED to announce that we are partnering with the @meetmagento Association. More info at #mm16de! #MLUK16 pic.twitter.com/VMVcCeKSJt

— Ben Marks (@BenMarks) June 21, 2016
Apparently, there was more news about it at this year's Meet Magento Germany and I'm looking forward to next week's meeting with all Meet Magento event organizers when I'm guessing we'll be officially introduced to a lot of these changes.
Meet Magento World – coming to your home!
There is one addition to the family of Meet Magento events – Meet Magento World – an online Magento conference scheduled for December 6-8 this year. This event plays perfectly into the new concept behind the association – it's global, interconnected, and we're all contributing to one common goal.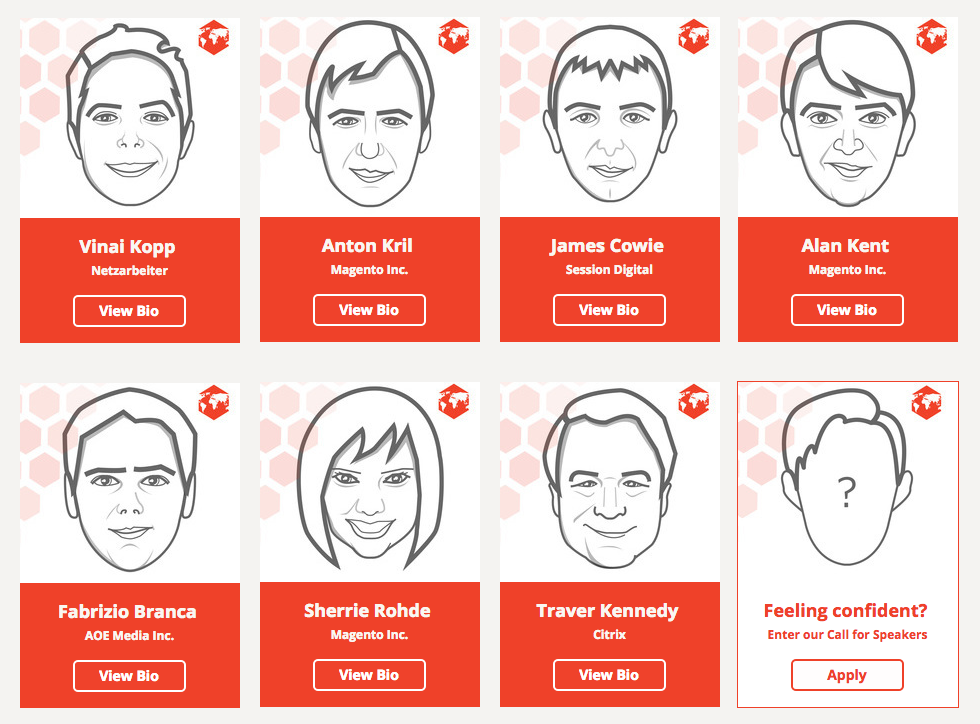 And the speaker avatars look great – not just because our Katarina prepared them :).
Of course, this event will be joined (my expectations) by mostly developers and other community members (I don't see this as something that has the potential of drawing in many merchants, at least not in its inaugural year), but even so, it will serve its purpose. Have you signed up already?
What's next?
Magento is proving to be much more community-orientated since the eBay breakup, and there is still some way to go with improving Magento 2 so it can truly be the safest bet for many merchants and agencies alike.
Having Meet Magento Association grow stronger and be recognized by Magento as a true helping hand should help us all write new, successful stories for developers, agencies and, most importantly, those who put bread on our table – the merchants.
So, where can we see you in person to share some stories? What's the next Meet Magento event you are attending?