The time has come to… make some plans if you're on Magento 1

Being a "Magento merchant" has resonated with the eCommerce industry throughout this decade. Many businesses were proud to be a part of this vibrant and innovative ecosystem that took the global open source eCommerce platforms market by storm.
Magento has been, and still is, almost a household name for anyone in the eCommerce business. Hey, it even tipped the scales in the Magneto vs Magento fight.
And with hundreds of thousands of stores out there still running on Magento, vast majority is still using its inaugural version, Magento 1. Now the time has come to make some decisions. Read on to see how you can make the right choice for your business!
IMPORTANT NOTE:
This blog post is not for you if you're already using Magento 2. Read on if you are running your eCommerce business on Magento 1. This will hopefully help you make a decision on the future of your online business.
Magento 1 End of Life, End of Support, End of Everything?
Magento has announced and confirmed on multiple occasions the end of support for Magento 1 for June 2020. What does this mean? Will websites suddenly stop working? Is there a magic switch someone in Magento can turn off, shutting down all these websites?
Of course not.
To use the words inscribed on the cover of The Hitchhiker's Guide to the Galaxy – DON'T PANIC! There is a lot of chatter out there with platforms, agencies, even individuals, deploying scare tactics to get the merchants onto their desired path. And that doesn't help anyone in the ecosystem, especially not the merchants.
So, I wanted to make sure I share some of the most common options Magento 1 merchants have at disposal, and hopefully make it easier for some to make a decision.
The majority of the "end of support" topic revolves around these three things:
security patches
code fixes
feature improvements
So far, with each new release of the software, Magento is introducing a number of fixes, and there are, especially for major releases, handy new features being introduced constantly. This all goes out after June 2020.
With Magento 2 becoming increasingly stable in the latest releases, this is a normal decision for a software company to plan for sunsetting their old product line.
So, what's the deal?
The challenge for many merchants
Magento 2 is a really good solution, and with 2.3.x releases it got rid of many issues that plagued previous versions and didn't make it easy for merchants or agencies. The contribution of the community and the entire ecosystem to the product is something that's a truly amazing accomplishment. And with Adobe acquisition, there are new opportunities coming up.
However, Magento 2 was not (and still isn't) an easy platform to master, even for developers who are already familiar with Magento. The costs are, on average, higher than what they were for similar Magento 1 builds back in the day. This is why many merchants are reluctant to migrate to Magento 2.
Some are looking for a change, as they were running their stores on Magento for the past several years.
At this point, many are weighing options, so we'll present several roads you can take if you are running your store on Magento 1.
I deliberately left out the Open Source vs Commerce debate, as that's a topic for an entirely separate post, the rest of this post applies to both Magento products.
What options are there?
There are several viable choices, and I'll try to lay out the basics, as well as the pros and cons of each one.
(1) Do nothing, hope for the best
Let's face it – a large number of Magento 1 stores out there have not made significant changes over the past several years. That is, other than (hopefully) patching their stores or upgrading to the more recent version. And they will continue business as usual, in hopes that nothing will go wrong. Until it does.
And you can't really argue much with that approach, putting out fires is probably the most common way of dealing with these types of problems for many small business owners.
(2) Remain on Magento 1, but with a twist
The huge gap that's out there has been recognized by several initiatives. The two most commonly known in the Magento ecosystem are Mage One and Open Mage Project.
Mage One is a service that is promising to offer Magento 1 merchants regular release of security patches, pretty much in the way that Magento has been providing those so far.
Open Mage Project is a bit broader in scope, they are looking to continue innovating and fixing Magento 1 even after the official end of support by Magento in June 2020.
Check them out to find out more about these options.
(3) Migrate to Magento 2
This should be the most logical route to take if you look at it from the outside, right? Move to Magento 2 and continue using the world's most popular open-source platform and grow your business further. Take advantage of the most vibrant ecosystem of developers and partners, and the marketplace of innovations. Now I sound like a Magento salesperson 🙂
And this really is a valid approach, one that we're looking to communicate to a lot of our clients and leads, but only if it makes sense for them. We have a lot of clients who have already moved or are now working on the migration. The process is sometimes straightforward, sometimes it requires more planning and customizations, but it is a well-oiled machine at this point.
I have to say, though, that the costs of building and running a store on M2 are in general higher than what they were on M1. This is due to M2 being a more complex platform altogether, with an unmatched set of features, and this comes with a cost. So this should be taken into consideration as well.
With all of that, Magento is still the most robust eCommerce platform, and there is very little you can't accomplish with it. For many merchants, it remains the best choice out there.
(4) Move away from Magento
This is also a very viable option, especially for those merchants that have used Magento 1 in a way that they got a free or cheap theme from a marketplace, installed a couple of extensions and just went with it (yes, that was actually possible on Magento 1). For those merchants, Magento was probably an overkill from the start, they just didn't know it yet. And frankly, there were not that many alternatives out there.
There are several SaaS platforms out there that can do the trick (Shopify, Bigcommerce to name the most common ones). You just need to make sure to take into account all the associated costs. These platforms usually come with a little (or a lot) fewer features, and they have ongoing fees associated with using the software.
These ongoing costs are something you didn't have with Magento Community (Open Source). But the reality of the market is that SaaS solutions are becoming increasingly popular. Their appeal is clear – fewer things to worry about, focus on your business instead of the tech stack.
These solutions won't satisfy more complex businesses, but they are here for a lot of merchants that will see the migration to Magento 2 as something overly complex. And sometimes it's a matter of changing the scenery and testing out new things.
Compare your options
In the image below you can see the pros and cons (the way I see them) for all these choices.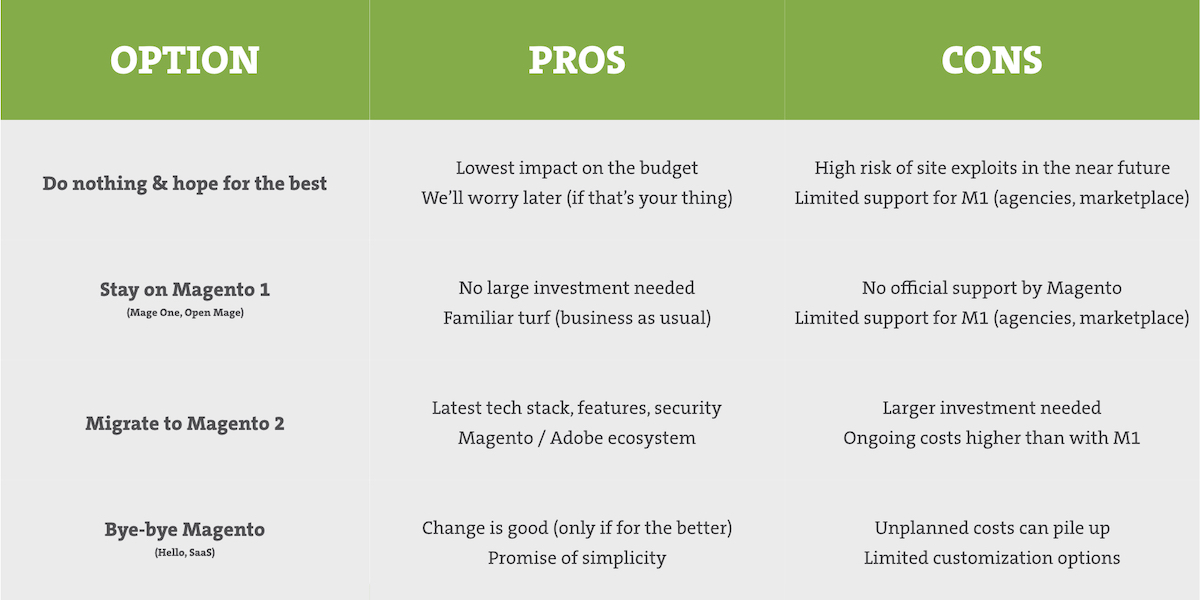 What now? How to make the right choice?
If you are still on the fence about how to plan your next step – let's get in touch! We are always happy to provide unbiased advice. Yes, we are a Magento Solutions Partner, but more than that, we are an eCommerce agency.
And we strive to be a merchant's best friend. So, if Magento is not the right match for you and your business – we'll let you know. Hey, we'll even help you find another solution that will work for you.
And for those of you who Magento 2 would be the best choice, we can help with the entire process. From architectural and feature planning, data migration, through UX design and development, to making sure you continue to grow with our digital marketing services.
So, let's talk!
Related Inchoo Services