eCommerce Returns Management – a simple solution from the Fashion industry
Returns can be a major headache for eCommerce retailers. While in-store purchases don't get returned so often, there are estimates that customers return up to 40% of goods bought online.
This is especially the case in the Fashion & Apparel industry. Online store customers can't touch the product, hold it nor feel it during online shopping.
Some customers deliberately resort to the practice of over-ordering. This increases the quantity of returns and their negative environmental footprint.
Since the Covid-19 pandemic turned the online store into the only sales channel for many retailers, the problem with returns is more critical than ever.
In this blog post, we'll demonstrate how one of our clients improved their returns management by developing a custom Returns Portal on the Magento platform.
Table of contents:
Custom developed Returns Portal
First let's review the options Magento has by default, without customizations.
Returns management in Magento
The Magento feature called Returned Merchandise Authorization (RMA) is a strategy for managing product returns through online stores. It is only available for Magento Commerce stores.
From the customer's side, after they make a purchase and realize that the product is not what they expect or maybe the size is wrong, then they need to request a return.
RMA request is over when the customer enters the order information, chooses the item to return, sets resolution, item condition, and reason to return.
If the merchant approves the request, a unique RMA number is assigned to identify the returned product. The Admin can allow RMA only for some product types, as this is unavailable for virtual products, downloadable products and gift cards.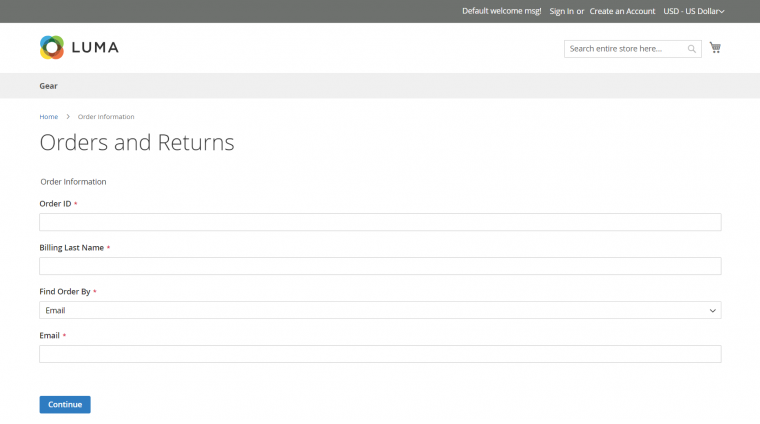 Magento RMA basic functionality
The functionalities Magento offers are pretty basic, but every store has its own needs. Returns management shouldn't have to simply adapt to the platform. Returns management process needs to be customized to suit the needs and customers of each specific business.
Take for example our client Shop4runners. They needed their Magento store connected with the warehouse and the delivery service in a solution that would be a win-win for both the business and the customers. In this case, custom development was necessary.
Custom developed Returns Portal
Shop4runners.com is a long-running partner of ours, a Germany-based store run by a team of running specialists.
They focus on offering fashionable running products, professional advice, performance diagnostics and everything else you might need to become a better and injury-proof runner.

This team truly lives for running. The whole team runs a few times a week; some even run every day and test the products they offer in the store.
Returns challenge
One of the biggest challenges in their business was the return of goods. Customers would order 3-4 pairs of the same sneakers because they were unsure which exact size suits them.
Once the products would arrive at their home address, they would keep their size and return the other products.
Dealing with returns had a negative impact on their business's day-to-day running. They would spend days and nights dealing with this logistical challenge because they prioritise excellent customer service.
A rise in sales makes our client extremely happy, but increased product return neutralizes that happiness.
And we don't want our clients to be unhappy.
Returns Portal
The suggestion was to develop a returns management portal for the Shop4runners online store, custom-made on the Magento platform. Returns Management module is included in our starting point with every project. Read more about it here.
First step was to set the workflow by defining technical specifications and gathering all the necessary 3rd-party documentation. There were two relevant 3rd parties in this process: one is the warehouse and the other is the delivery service.
Shop4runners has these services outsourced in Germany, and our quality communication with them was essential to integrate the warehouse and the delivery service with Magento.
Once the workflow was set up well, we were able to start with the design and the development phases. Our designers looked to create a streamlined UX in which customers could easily manage.
Returns Management Portal from the customer's perspective
Now let's take a look at the Shop4runners Returns Portal functionalities.
When the customer has decided to return a product, he/she goes to the Returns Portal to enter their email address and order number.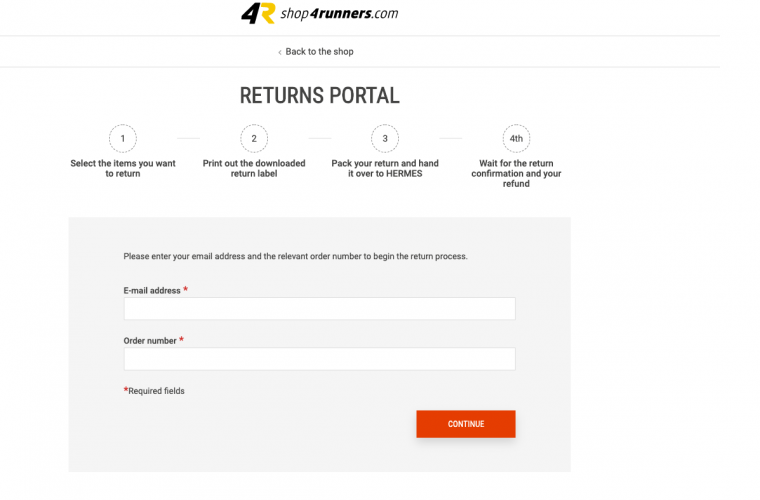 After the customer logs in, all the ordered products are displayed and the customer selects which ones he/she wants to return.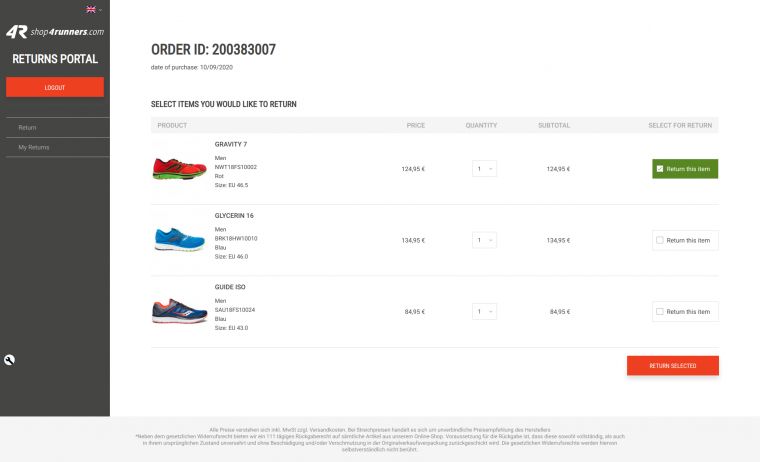 In the third step, it is necessary to state the reasons why the product is returned. This step is very important because there are 2 possible outcomes: simple return or a product quality complaint.
In the last step of this process, two PDF documents with barcodes are created. The first document is the label that needs to be glued to the box. It contains a refund address that varies depending on whether a refund or complaint has occurred.
If a return has occurred, the product is returned to the warehouse. In case the user has a complaint about the product, the product goes to the merchant's address, where they check the product's quality based on the complaint.

The second PDF document consists of instructions for packaging the product upon return and must be included in the box with the product being returned.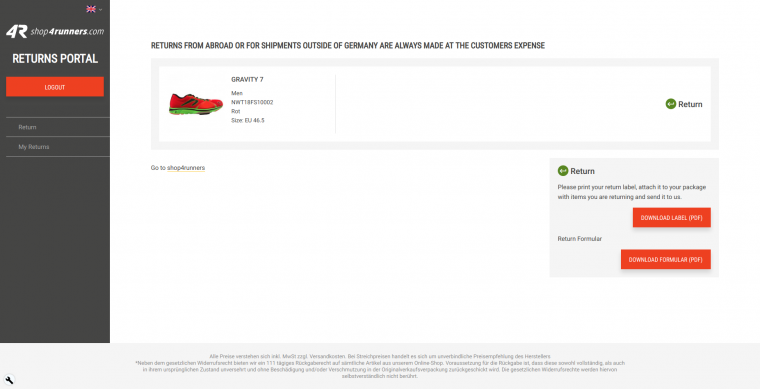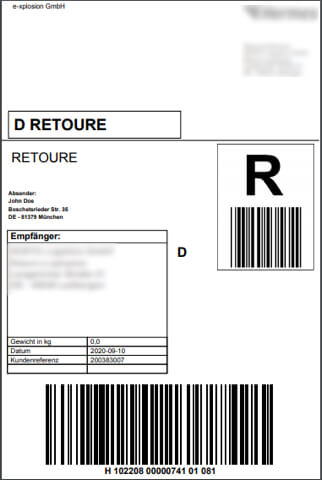 .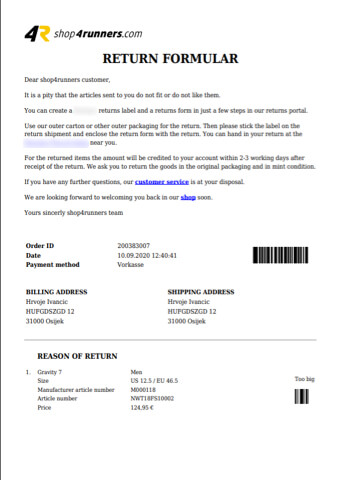 In addition to development, we are proud of the design work of our team. A lot of effort has been invested in creating a quality interface, and after months of being active, we can say with certainty that the effort has paid off.
The client no longer spends as much time in the warehouse and can dedicate more time to business development. Most importantly, customers have a convenient way of returning unwanted products.
Increase customer retention with proper management of return items
Returning an item is the customer's legal right.
If a customer is unsure about a purchase but knows they can return products without the hassle or extra costs, they'll buy more confidently.
Returns can help customer retention, too, and we all know that customer satisfaction is the highest priority for every eCommerce merchant.
Let's not forget the importance of reducing returns! The beauty of eCommerce is that there are many ways to customize an online store, and there are many ways to keep returns on track and minimize their number.
Detailed product descriptions, size guides, customer ratings and reviews, and high-resolution photos are some of the most common ways to reduce product returns. If you're not sure that your online store has all of those covered, we can offer an UX & Usability Audit of your store.
What are your ways of handling and minimizing returns? Feel free to comment below the article.
And if you'd like to discuss your eCommerce store with our team of experts, drop us a line at web@inchoo.net or via this contact form and we will reply with a free consult as soon as possible.
Related Inchoo Services