We were at Shopware Partner Day 2020 in Ahaus, Germany

January 2020 was very eventful for Inchoo. A team of four went on a road trip to Germany with a few goals in mind. It was a healthy mix of business topics, plans for the future, and some exploration of the things to come in eCommerce in the next several years. Read on to see what we did and what we learned along the way.
The first one was to visit our client Shop4runners in Pforzheim and discuss our plans for 2020. We are proud to be a part of their success since 2014, and we are even happier to have an opportunity to tailor the plans for future growth of their business together.
After several days in Stuttgart and Pforzheim (and a side visit to Strasbourg, France), we continued north to a cozy town called Ahaus near the Dutch border to attend Shopware Partner Day. We arrived early, so we had a good opportunity to have a nice lunch at a good restaurant called Gasthof Haarmühle.
That night, Shopware organised a Pre-event dinner for international partners and we had a chance to meet many international companies who are exploring Shopware. Many guests were familiar and recognizable faces from the world of Magento. This dinner was organized at a restaurant symbolically named  The Unbrexit.
What is Shopware and why are they interesting?
For those of you who don't know, Shopware is a relatively new name on the international eCommerce scene. However, the company has been in business for 20 years. It was founded in 2000 as an owner-operated family business. And during all this time, it was mostly focused on the German market. According to Google Trends, it is more popular search term than Magento in the country.
Last year, Shopware decided to build a new version, Shopware 6 with plans for international expansion. Their goal is to penetrate the market and win some industries, mainly in Europe, in the next few years.
Inchoo didn't work with Shopware in the past. We made some Shopware 5 research two years ago, but we concluded that it made little sense that we enter this community at that time.
Today, with modern Shopware 6 architecture, clean code, new technologies in use, and a growing international community, we see the opportunity in the market where Shopware 6 could fill some gaps that were created with Magento 2 release and announced Mid-market Sales Motion.
We don't see Shopware as a replacement for Magento. In essence, these are quite different platforms that serve different needs. We plan to write more about the differences later. But, for this moment, we'll focus on the Shopware Partner Day event.
Shopware Partner Day
The Partner Day took place on January 23rd, 2020 in Ahaus, Germany. Selected agencies, evangelists, technology partners and hosting providers met here to exchange ideas about Shopware, especially about the new version – Shopware 6.
Shopware 6 is still in the making. It is not ready yet for real production, and there are not that many live websites on the new platform. Only a handful of early adopters are using the new version. The roadmap is very transparent and nicely filled and it looks that everything is on track. Things look promising.
The community is still primarily German in nature. The German language is the default, but everyone is open, willing to talk and share their perspective with those who don't know it.
International expansion plans are presented as something we could describe as the "Europe first" approach. Shopware presented several focus countries for the next several years. USA is not on the target list at the moment. We'll see how will this evolve.
Shopware Store (plugin marketplace) is much smaller than we are used to in the Magento ecosystem, but there are obviously many more checkpoints plugin providers need to pass through before their plugins are approved. We see this as a good thing because the merchants will have more confidence in the solution as a whole.
Party was fantastic and it made us all feel like we have been a part of this community for a long time.
As I mentioned before, this event was a great opportunity to meet again some Magento Solution and Technology Partners who are also actively exploring Shopware. One of them were our good friends at Klevu. Thank you Claudia, Kristina and Ian for a great time.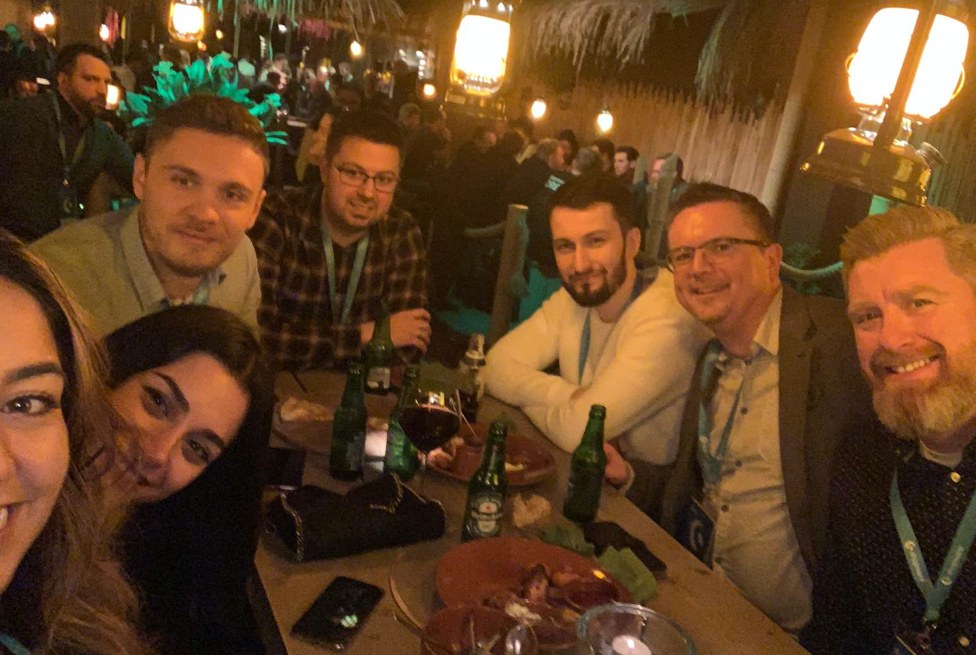 The next day we went for a short visit to Shopware HQ in a small place called Schöppingen. Although it was a very busy after-conference day for the Shopware team, they welcomed us warmly and gave us the full office tour.
Thank you so much, Herbie, Nicole, Wouter, and Sebastian. We fully enjoyed these three days with you, and we are looking forward to working with Shopware in the future.