3 best open-source eCommerce platforms in 2021

If you are a business owner who has decided to start an online business, one of the most important things you need to decide on which platform you will begin your eCommerce store.
Every business is a story for itself, and the beauty of eCommerce is that almost everybody can find the best solution and platform for themselves. Every merchant has their preferences regarding the choice of software to set up their store.
Before choosing the right platform, you need to take a step back and understand the fundamental differences between the SaaS and Open-source models. While this is an important decision, the choice comes down to your preferences, like pizza and hamburger or vanilla and chocolate. You will eventually get a webshop, but its capabilities will vary.
To save your time and help you make the right choice, we prepared this blog post. You can read below the basic differences between Saas and Open-Source and the top three Open-Source platforms that Inchoo recommends.
SaaS vs Open-Source
SaaS
Software as a Service is a software licensing and delivery model in which third-party providers host key functionality such as eCommerce systems, CRM, or Content Management and make them available to website owners for an ongoing fee. Figuratively speaking, it is like renting a house; merchants pay a fee for as long as they want to use the platform.
SaaS platform providers are securing, maintaining, and hosting the platform on their own service. This means that users are limited in their ability to edit or change the software's code.
SaaS has its own promise and appeal, and let's face it – in our everyday lives, we prefer those types of products and services, right? And suppose you're running an eCommerce business. In that case, you have quite a lot on your plate, even without having to endure the blame game between the developers and a hosting company or worrying about how and when to apply the latest security update (will it break something or not?).
This promise of simplicity and focusing on growing your business above all else makes SaaS solutions very interesting to many folks. One of the most popular SaaS eCommerce solutions is Shopify.
Open-Source
Open-source means that software allows its users to view, change, and distribute its source code for its own purpose. This means that the website owner is responsible for installing the system on their own server, configuring the hosting, ongoing management of all the technology, security, updates, and general running of the site.
The main advantage of an open-source eCommerce platform is that online retailers have full access to the software's source code. If there's functionality that you're missing, you or your agency can build it specifically for your needs. There are also large development communities built around the platform that you can leverage. Open-source software is known for its customizability and flexibility.
Open-source platforms are powerful and customizable but also very complex, and certified developers best handle changes. Open-source software is often developed collaboratively, and there are often communities built around development related to individual platforms.
Open source solutions sound like something that solves the challenges and restrictions of SaaS, right? Well, yes and no. You can certainly accomplish a lot more with an open-source platform; however, sometimes, it can be hit and miss when selecting a good platform and, more importantly, good partners to work with.
Top 3 open-source eCommerce platforms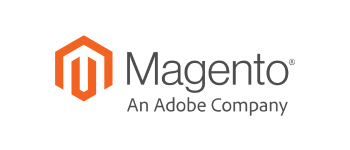 1. Magento Open Source (Community Edition): King of an open-source platform
Magento is an Adobe-owned open-source eCommerce platform, and many merchants think it is the best open source eСommerce platform. It holds a large share of the e-commerce market and has been an industry leader for years. Magento and open source are still at the very core of our beings, and it's clear that Magento is the best solution with the most feature set and robustness for B2B and B2C merchants. We have worked with clients from almost all continents who needed Magento development services of the highest quality. All of them decided to trust us in delivering great business results from their eCommerce projects.
The most notable features are using different currencies and supporting languages, managing multiple stores, and customs modules.
Another benefit of using Magento is a wide range of plugins and add-ons. It's strong extension provider community already solved most of the merchant's needs with different extensions available on the Marketplace. Magento is also a multi-store eCommerce platform. That way, this platform provides users with flexibility and infinite scalability.
And this comes with a price, though, especially around making sure merchants can manage their solution on an ongoing basis and ensure it is kept upgraded and secure. With Magento 2, the days of operating a relatively inexpensive website on this platform are long gone. Magento 2 has been live since December 2015, and many merchants are still considering whether or not they should take the leap. Many still hesitate and, even though we were previously also very cautious about recommending the move (mainly because of the early issues Magento 2 versions had), now is the time to plan it!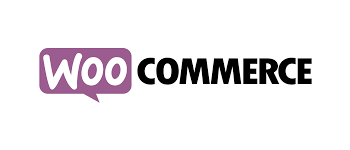 2. WooCommerce – Widely popular eCommerce platform
WooCommerce is a beginner-friendly open-source eCommerce solution for businesses. To be more accurate, it's a plugin for WordPress rather than a full-fledged platform.
It's free to install, making it ideal for cost-conscious users, but you'll need to pay for things like hosting and security nevertheless. WooCommerce doesn't offer a cloud version of its product, which means you will have to have an on-premise installation (by securing the services of a hosting company).
With WooCommerce, you can create a truly bespoke, enormous online store with the developer's support. Another great thing is that WoCommerce has a very large community of developers.
It's wildly popular and runs on almost 400,000 sites. It comes with practically all of the functionality you'll need to open an online store, and it also has several advanced capabilities through its extension system.
Running a store on WooCommerce means you're in the game, but you have a lot of room for improvement.
3. Upcomers – Shopware, and Sylius are the next big thing
Aside from Magento and WooCommerce, many players are vying for the throne, and it's hard to separate one. We listen to the market and gladly accept platforms that bring freshness to the eCommerce system. As the best upcomers, we choose Shopware and Sylius.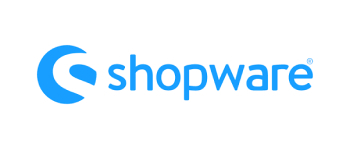 Shopware
Shopware is an open-source eCommerce platform that comes as a modern, simple, and quality solution for the growth and development of retailers in an eCommerce business.
It is owned by the German company Shopware AG, founded in 2000 with its headquarters in Schöppingen. For the past 20 years, the company has been continuously investing in the platform's development, which, thanks to its quality, has become the fastest-growing in the DACH region. With the Shopware 6 version, it is ready to take its share in the world market.
The big community around Shopware provides users with over 4,000 extensions and certified professional support. Today, more than 100,000 companies are running their stores on the Shopware solution and its popularity in the DACH region.
Shopware 6 uses modern technologies, Symfony (backend) and Vue.js (frontend), which are more attractive for developers to use compared to more traditional technologies used by competitors.
We have recently explored this platform in the local market, and we can say that both developers and retailers have seen its potential and are accepting it as the next big thing.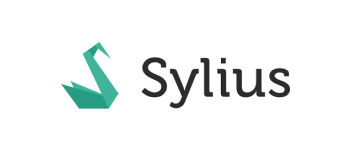 Sylius
Sylius is an Open Source eCommerce platform based on Symfony – one of the best PHP frameworks. This solution is also part of the BDD (Behavior-Driven Development: Behavioral Development) through Behat – a reliable PHP framework that makes it easy to automate reading your wishes. It is relatively suited for all types of business. Sylius 1.0 – the first version of this platform – was released on September 13, 2017. Sylius has also released its latest version – Sylius 1.9 – on September 14, 2020. In addition, besides the free version called Standard, Sylius only has the Plus one. And, of course, you get what you pay for.
To add to the list of all things good, the 100% Symfony codebase lets Sylius' core team follow the best coding practices and a stable release cycle for its popular PHP framework. It is developed with great attention to code quality and BDD methodology. That being said, every line of code is fully tested and ready to be tested at any time in the future.
Compared to other platforms, Sylius does not have many merchants, which is only 1.960 live websites, according to BuiltWith.
However, Sylius comes into play as a framework, making it easier for developers to create more organized eCommerce solutions. Therefore, it is a potential name to take the lead in the future, and many brands successfully run their web stores with the help of Sylius.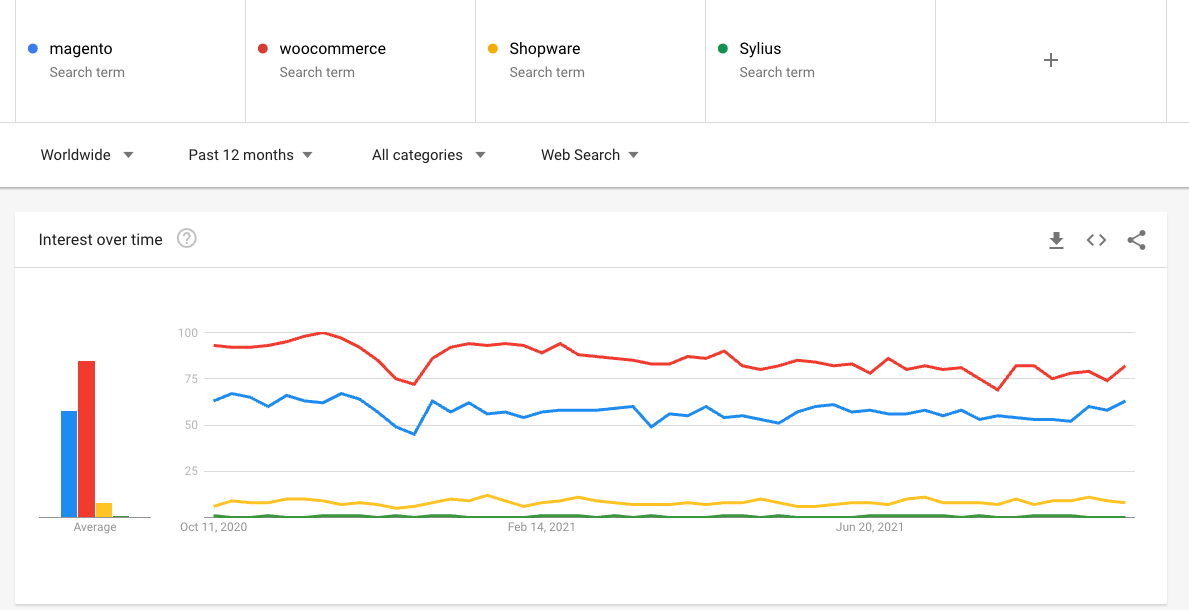 And what is the best platform for me?
Magento
Since it was first developed, Magento has powered around 740.000 websites; of which there are more than 200.000 live websites at present. This figure is still at the top in terms of the number of eCommerce platform users.
Magento is the best eCommerce platform for large businesses handling much traffic and looking for great technical, installation, and troubleshooting support. Magento can be called the industry standard regarding eCommerce CMS. The number of Magento 2 features and configurations seems nearly endless.
With Magento, you can have easy and clear website navigation, and your site will be SEO-ready, and your customers will find you easily on Google.
Speaking of sports jargon, running a store on the Magento platform is the same as running a marathon. It takes a lot of preparation and effort, it is more time-consuming, and support from the partner (eCommerce agency) is essential. But in the end, it all pays off because the feeling is priceless, and you are in the company of industry leaders.
However, it does not suit all companies. There are different plans on this platform. After being taken over by Adobe, Magento began profiling itself for large enterprise retailers that require the platform to carry a heavy burden on its back. Using different currencies and supporting multiple languages, managing multiple stores, complex B2B workflows, and multi-tier integrations is something that Magento can handle the best.
WooCommerce
And while Magento offers more features, and in general, is geared towards more complex businesses, WooCommerce can be a great option for those just starting out, as it is much simpler to set up and start using.
Merchants can also achieve many custom things that could also accomplish with Magento or Shopware; however, they still need the same professional support to achieve the necessary workflows and for the store to perform well. We'd even say that with WooCommerce, it can be a little more challenging to find high-quality partners who can cover all areas and support you beyond website development.
Upcomers – Shopware and Sylius
In the last few years, Shopware and Sylius have become a good alternative for smaller businesses that want to grow in the future.
Considering today's technologies' rapid growth and development, Shopware provides its customers with a sustainable solution. With a good foundation and a new technical base that offers less complexity and more flexibility, Shopware is well prepared for the future technical challenges of the eCommerce world. Due to the culture of transparency and openness, the company provides a comprehensive overview of its product development, specifically what is currently being worked on and what will be worked on in the future.
Sylius is tailor-made for e-commerce solutions, which means that no matter what you need, you can shape it the way you want, with no technical debt. And thanks to its fully decoupled architecture, you can only use the bundles you actually need in your project.
Compared with Magento, Shopware and Sylius are better for small and medium businesses. But they come with fewer functionalities, and merchants are limited to the basic ones.
Choosing something well-known like Magento may be obvious, especially if you've already worked with Magento 1, and you want to use a familiar CMS. Still, popularity is variable, and new platforms have plenty of attractive benefits that give it a solid chance to become as popular as Magento.
These platforms show great potential, but the future will show how the market will accept them.
In conclusion…
In the table shown, see what the main advantages of each open-source platform are.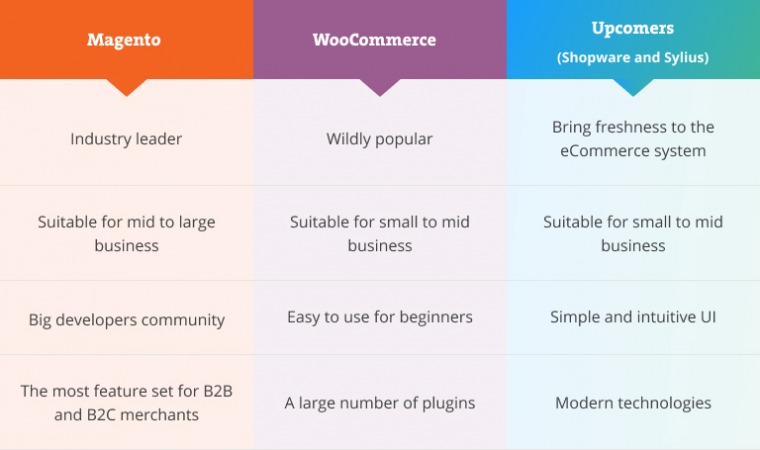 If you still don't know what is the best platform for you…
​​We live in exciting times – so many options to choose from, and most of these platforms will do the trick. Some may require more time and money to make it work just for you, so it's important to know the differences.
And the most important thing – to find a good partner to work with.
In 13 years of working, we have tested many technologies, invested resources and energy. Guided by the vision, To be a merchant's best friend, we have recognized Magento as the best platform for the growth of our clients.
So, as the next step – let us know about your current challenges and plans, and we'll start the conversation to help you add a unique flavor to your online business!
Related Inchoo Services