Inchoo recognized as Top Magento Developers by Clutch

We have been named Top Magento Developers in 2019 by Clutch, an independent review and ratings company. While this is a great honour, it is also a recognition of the hard work all of our teams have been putting in.
And it feels great to be acknowledged, especially since the biggest weight in Clutch rankings comes from unbiased interviews with our clients, conducted by Clutch team.
Take a look at how Clutch works and what our clients shared about working with us.
Reviews and ratings impact on purchase decisions
Product reviews have a huge impact on purchase decision for online buyers. And the same goes for choosing your business partner, be that a design, development or digital marketing agency. If you're looking, you will likely go beyond what's available on any agency website, because over there you'll only see what they want you to see.
This is where independent reviews and rating companies come into play. Other than word of mouth and direct recommendation, learning more about potential partners from your peers is becoming increasingly important factor in helping merchants make the right call.
What is Clutch and are they relevant?
Clutch is an independent ratings and reviews company based in Washington, DC, currently holding the profiles of over 42,000 agencies across various categories, industries and verticals. It allows for fast and easy selection of potential B2B partners for new projects.
Their ranking system is based on a research methodology that evaluates companies based on their expertise, their portfolio of work, and their ability to deliver top-notch products for their clients.
And this is exactly what we like about Clutch rankings. They are not pay to play, the rankings are being calculated by taking into account the client reviews and ratings, market/niche focus, portfolio and services offered.
In several talks I've had with Clutch team members, I was surprised at how much they actually knew about Inchoo. They are really doing their homework in working with agencies, taking the time to understand our service offering and getting to know our client base.
Full disclosure – we didn't see the value in Clutch several years back when they were only starting, as they seemed to be just one of many similar rating companies popping up everywhere.
But, they have developed their own research methodology behind the ranking system, and have introduced some very distinct features that make them stand out from other similar services. We also saw them gaining traction within our niche, so we jumped on the bandwagon, and we never looked back.
Clutch research methodology
In their own words, they "rank service providers and map them on a Leaders Matrix based on our research in a specific market. A Clutch Leaders Matrix provides a broad view of the top-performing companies in a particular industry or location."
One of the main advantages of Clutch is the fact that they conduct phone interviews directly with clients. We are not involved, and we don't know what the client will say or what will they ask them. The only thing we are allowed to share with Clutch about a client project are some basic information, and even those will be verified directly with the client.
Of course, the main notion here is that you have established decent relationships with your clients and that you can ask them to go through an interview with pretty much total strangers.
Clutch team has come up with a lot of useful content and examples of how to engage your clients, how to present the interview, and, most importantly, the interview itself is also very nicely laid out – the topics and the duration. A huge bonus is the fact that clients can choose between publishing their company details within the interview, or staying anonymous to website visitors.
You can check out the entire methodology with FAQ section nicely presented on their website (this is also not something you will see with many other competing services).
So, how do these reviews look like?
The questions merchants (if we're talking about eCommerce clients) are answering are grouped into standardized categories:
Background
Challenge
Solution
Results & Feedback
Ratings
And after the interview is over, you get something like this: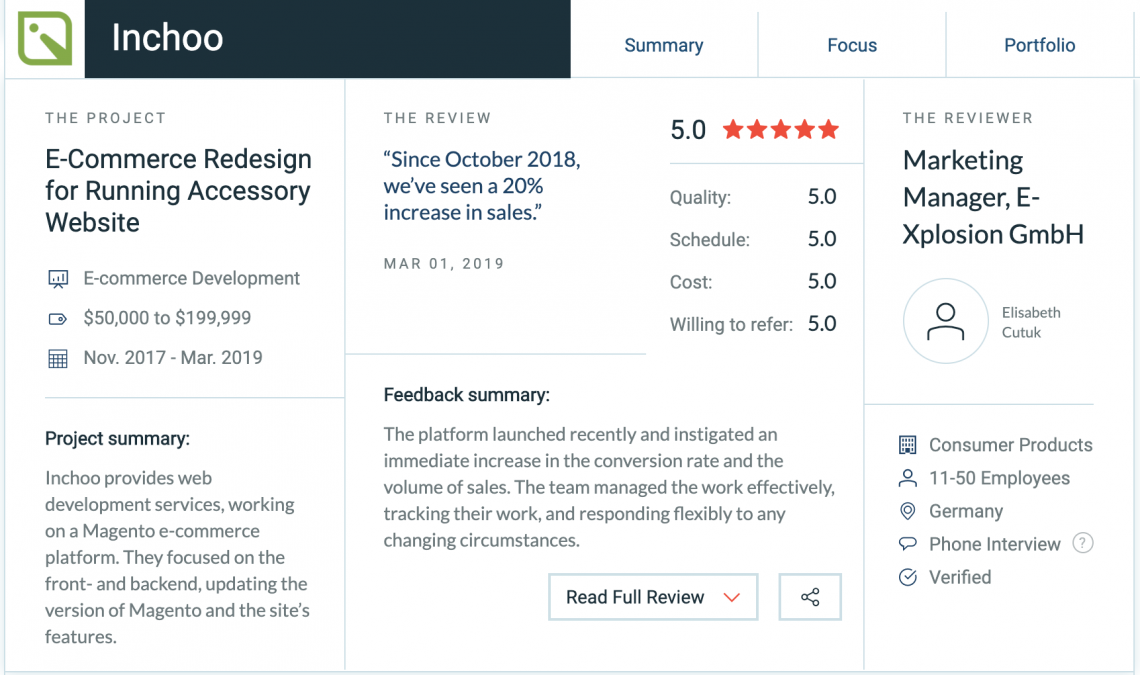 We currently have 7 detailed reviews listed on our Clutch profile, with a lot of very useful insights and comments by our clients – check them out!
Want to work with recognized eCommerce experts?
While we've been recognized in the Magento development category, as this is where our focus has been as we were growing the company, our digital marketing and UX design teams are the ones adding further value to our clients.
Get in touch to see how we can help you with your upcoming projects and chances are you'll be the next in line to conduct an interview with Clutch team about how it is working with us!
Related Inchoo Services