15 Tips For Choosing An eCommerce Development Agency

"If you build it, they will come." In the case of an eCommerce website that's not exactly true? Or is it?
I know that some of you are afraid of this answer but – it all depends. If your store is slow (loading times), difficult to navigate, or if it makes you think how to make the next (or any) step – I have bad news for you.
But, if your eCommerce website follows all of the UX (user experience) or UI (user interface) best practices, as well as development best practices – I have good news for you.
Now, the question is – is it really that difficult to choose the right eCommerce development agency?
To help you answer that question we have collected some of the most important points to discuss and to check with the potential agency for your future eCommerce business.
1.Does the eCommerce development agency understand your business goals?
2.Is the development agency promising you everything?
3.What is the Total Cost of Ownership (TCO)?
4.Proactive or Reactive eCommerce development agency?
5.How experienced is the agency?
6.Check agency portfolio
7.Check blog section
8.What is their development process?
9.Does the development agency have large enough team?
10.Is agency behaving like a partner?
11.What makes them different?
12.Do they have core values?
13.Is location of an eCommerce agency important?
14.Your perception of agency's ability to execute your goals
15What about time frame?
1. Does the eCommerce development agency understand your business goals?
Is the development agency trying to familiarise itself with your products? Are they trying to understand your business? One of the first steps for any eCommerce agency must include learning about the store products and your business goals.
Sometimes (at first) it is very difficult to understand every specific detail about online store products/shipping/delivery/price/etc. Because of that, there could be some questions from agency directed to online store owners.
A good agency should also try to learn as much as possible about your goals. As the agency learns more and more about the needs and expectations from their eCommerce project – they will come up with even more questions. Don't be surprised if they start to give you additional information which they consider you must know.

Let's face it. Some of the clients, in the beginning, have unrealistic goals. Best agencies will try to do two things:
They will try to draw your attention that something is not possible (given available time, budget…)
They will inform you of possible alternative solutions and help you set realistic goals.
A good agency is doing this because they want to establish a long-term relationship. And best relationships are the ones where the foundations are set on sincerity.
2. Is the development agency promising you everything?
In search for the right agency you will probably contact many of them. What you will probably notice is that some of them will promise to deliver anything you ask of them. No matter what your request is, they will instantly say that it is possible and they can do it.
The smart eCommerce web development agency will first listen to your requests and expectations, and then they will say what is possible and what is not. Let's be frank here – everything is possible – with enough time and money.
But, some agencies will initially accept everything, only to tell you later that they can't deliver on what they promised. They will also give you an unrealistically small fee because their main goal was just to get you as a client. Because, later, they will try to charge you more for post-production problem solving, etc.
Look for an agency that is not afraid to say "no" to you. Or, that is not afraid to say realistic production costs. Some of them can be "expensive" – but they are delivering on what they promise (and with no additional costs).
3. What is the Total Cost of Ownership (TCO)?
Sometimes it is best if store owners have a set budget in advance. From point of simplicity (and saved time), having set budget can mean better starting point for negotiation with agency.
What can be of great help is taking into account the Total Cost of Ownership. This total cost of ownership refers to all the costs that can arise from the project. This includes any cost that can arise from post-production, like the cost of upgrades and maintenance. Be sure to check these points with the eCommerce web development agency.
Of course, some of the best agencies will have higher costs, but they are worth it. Because every extra cent invested in them is every minute (money) saved on post-production problem-solving.

In the end, you need to carefully balance your expectations and available budget.
Sometimes it can help to thoroughly think about exactly what digital services do you need? Even if you do not know, or understand, about different services offered by the agency – ask them to explain that to you.
Also, keep in mind that technology is advancing daily. It would cost nothing to ask the agency about already-solved-problem because there can be a new, more efficient, solution to an old problem. A new solution that can help you increase your revenue.
Remember, you are paying for the knowledge of professionals employed by that agency.
4. Proactive or Reactive eCommerce development agency?
There are numerous sources that are stating that proactivity is one of the most important drivers of client satisfaction. In other words, if you want to be satisfied, you have to pay attention to agency proactivity.
That can range from various agency initiatives and offers. It can be to conduct an analysis of your "position" in the eCommerce market, or ideas on how to overcome different challenges. Challenges that may not have been brought up by you at all – they have identified opportunities for improvements without anyone telling them to do it.
In simple words: eCommerce agency is proactive if it's giving you solutions even before something becomes a serious issue. The reactive agency is the one working on solutions after something has become a serious issue.

Proactivity can also be looked at after the eCommerce project is finished. One way is that the agency is giving you their support on any post-production questions or requirements. Even if you have an in-house team that will take over the finished project, you must always cover all your bases in case of unexpected issues.
This is also a good reminder to ask them how do they charge for post-launch support.
5. How experienced is the agency?
Some things can be said with clarity. Your eCommerce online store must have all the UX/UI/Development best practices implemented. To be sure that all this will indeed be implemented, you can check the people who are going to work on your project.
The easiest way to do that is to check their experience on LinkedIn. Sometimes, there are many people who find their resumes "too thin" so they start "expanding them". That's the reason why you shouldn't only look at the resumes of people involved. Another good source of information is a portfolio of that agency.

Also, you can check that agency's blog section (if they have one) on their website. They should have a lot of expert blog posts about technologies and platform they are using.
Besides, you can always ask for an agency to introduce you to the people who will work on your eCommerce project. What is their experience, what certifications they have and so on. What's important is that the skills of the people working on your project must be unquestionable. Well, only if you want to profit from your project, that is.
6. Check agency portfolio
Examples of past work is one of the best evidence that shows you how good is that eCommerce web development agency. But, there is one important thing to remember here. Do not look only at the UX designs, especially if the projects are several years old.
In other words, they can be outdated. What's important here is to look at hard proof/facts. Like, "we have increased revenue by XX%", or, "we have increased conversion rate by XX%". All those past clients have contacted that agency because they wanted to achieve better results.

A portfolio section on agency website can help you in determining three things:
Does agency have enough technical skills?
Does agency have enough creative skills for your ideas?
Are result shown there something with which you will be satisfied?
In some way, we can say that the credibility of an eCommerce agency is largely evaluated by their past projects.
If you are searching for proof that an agency is following all the latest new things in technology, eCommerce platforms, or development – check their blog section.
7. Check blog section
Agency blog can show you several things. First, it is the answer to the question if they are following all the latest trends in their niche. But, not only that. What can also be shown from a blog is whether that agency is testing all these new trends and technologies.
And that is maybe even more important than blindly following what everybody else is doing. In that way, the agency is showing that they want to improve themselves or to improve the tools and platforms on which they are working.

If you find that kind of blog posts, you can be assured that the agency is one of a few in the world that is not blindly following everybody else but is trying to make their own path where they are perceived as the leaders in their field. That is saying a lot about that agency philosophy.
8. What is their development process?
You can always ask the agency to describe you the process of working on an eCommerce project. Yes, even if you do not understand every single step. That's because you can always compare development processes between two or more agencies.
But, there is one area where you can find out right away if that agency is professional or amateur. You can ask them how they ensure quality and how they go about testing features they have developed.
If they don't have a straight answer but you feel they are trying to match your expectations there, chances are they really don't have anything set up. What you should look for is agencies who have a habit of using some type of version control system in their development processes (no need to go into details, but "git" would be a good answer here :)) and have at least some testing or quality assurance (QA) procedures in place.
Without proper testing and code control processes, there is a higher risk of issues coming up all over the place throughout the project.
9. Does the development agency have large enough team?
One of the biggest advantages of hiring an eCommerce Magento development agency is that you are, effectively, hiring all of its professionals. And this is a good thing because you are actually hiring "knowledge" from the entire agency team.
The entire team can practically solve (almost) any complicated development problem that can arise from working on a complex eCommerce project. But, there is also a problem if an agency has majority of its team members assigned to a number of other projects besides yours.

One of the questions that must be asked is how many people are (or will be) working on your project? And the more important follow-up question is – How many other projects are they working on?
In the end, you must trust the agency's ability to properly implement all project management best practices to ensure a smooth development process.
10. Is agency behaving like a partner?
First, let me ask you this: How important is your online store for your business?
Chances are that you will say that it is very important. Maybe even crucial to your business. So, if you are looking for an eCommerce agency, wouldn't you rather look for someone with who you can say that you have a partner relationship?
And we agree. If you want the best results from any eCommerce agency you must have "the gut feeling" that they will do everything in their power to accomplish your goals. Because your goals must also be their goals.

Even when the project is finished, a true partner agency will provide user training. This can be especially important if the in-house team doesn't have sufficient knowledge for successful management of the website.
One of the reasons is also to properly teach the client to recognize any possible problems in platform or modules so that the agency can fix them at any later stage. Training and teaching the client on using the eCommerce solution is also a very good sign of professional agency. An agency that wants to build a partner relationship.
11. What makes them different?
By now, you have probably checked several agencies. Can you single one out? What's different about them?
Are they nurturing strictly professional touch with clients? Or, are they relatively easy-going when it comes to communication? Are they provoking a sense of assurance in you?
When looking for an eCommerce website development agency, sometimes it's good to choose the one that stands out. It can be whatever you find interesting, or important. That can be from their knowledge to experience, or personality of people you have spoken to, or are going to work with.

What's important is that you are finding that one thing where they truly excel. You probably don't want to work with an agency that feels as generic as they come. Because you should also consider that the "generic" agency will produce "generic" results.
12. Do they have core values?
Core values can say a lot about any agency. It can be a set of several "values" (even Google has its core values). Sometimes, it can be only one motto. It's probably smart to think a little about that agency value(s). Why?
Because the message behind that motto can describe an agency. I will use our own core value, or motto to explain this. Inchoos motto is that we are "a merchant's best friend".

Now, this explains a lot about us. One of the first things to think about is that we strive to achieve a higher level of relationship with our clients. We do not want the client to feel that they are just "one of" many other clients. Every client, every business goal is specific. And because of that, every eCommerce project is specific to us.
So, think about their vision/motto/core values. It can give you a perfect view of an agency inner workings.
13. Is location of an eCommerce agency important?
You'll find a number of merchants that would favour working with local agencies, and that may sound reasonable.
Well, guess what?
We have taken over many projects that were started by local agencies, but they were unable to deliver on what they promised. We are living in modern times where we can talk face to face even though we are separated by entire continents.
Local agencies are certainly not a "must-have" when we are talking about modern eCommerce development services.
Modern technology is bridging over any possible gap. The only important thing is to utilize that technology in a proper way.

In a way, we can say that utilizing these efficient technology processes is also contributing to reducing our global carbon footprint. Hey, every little help for our planet is – a great help!
Yes, it is easier to meet up and discuss in person, but it is more important that the agency understands your goals and your business.
14. Your perception of agency's ability to execute your goals
There is one important thing to know. If in early stages of collaboration there is a constant clash of personalities with agency representatives, it is probably the best to find a new agency. Although it may seem harsh, we all must know that relationship between agency and client is (probably) a long-term one And, nobody wants a series of constant clashes in a long-term relationship.
Because of that, it is a good idea to ask the agency if you can speak with a project manager that will be on your project. If you see that you are not "compatible", you must know that it will be difficult to work with that person/agency. It all comes to this – How can you expect good execution of your goals if you can not openly communicate with that agency?
Your perception of their ability can also be influenced by some other things. You can always ask yourself do you have a feeling that this agency is aware of the value of their work? An agency that is aware of its value is probably also producing valuable eCommerce projects.
Your sense of their ability will be influenced by your sense of agency knowledge in technical, design and management fields. But knowledge is nothing without proper execution.
15. What about time frame?
This is one of the all-time popular questions. Can something be done fast and good, but also cheap? Here's the thing. Every agency can do almost everything very fast. But it will cost a lot. Because the web development agency will have some outstanding costs.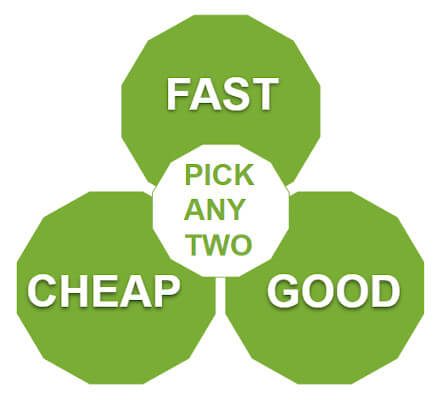 There is the cost of paying overtime work for developers, designers, and everybody involved in that project. Why overtime? Agency has every process in development organized as efficiently as possible. When they give you their estimation of time needed for that work, they probably have a very good reason for that time frame.
They have planned for all the time needed for all stages of development – from idea stage and design, through development and testing, to the release of the finished project. If you want to shorten that time, you will probably have to pay extra.
If the agency gives you a suspiciously short timeframe, there's probably something strange going on. Yes, they can have many free developers at that time. But, there are some things that can not be accelerated. For example – testing stages in the process of development.
In the end, it's always question of balance between cost, time, and quality.
Next steps in choosing eCommerce website development agency
Every eCommerce project has unique requirements. From projected implementation time to budgets and customization requirements. Every eCommerce project must have a well-laid-out plan for it to succeed.
This is also true when choosing an agency for such a project. But, even well-laid-out plans can easily backfire if you don't take time to check everything. The choices you make in choosing an eCommerce agency are the difference between finding yourself with good or bad end result. Between keeping your calm and wasting time on additional problem-solving.
Between making a profit and wasting money on half-baked products.
Steps in your search for the best-fit eCommerce development agency:
Ask yourself about what exactly are your goals. What do you expect from this project?
Search for potential agencies – check their: a) portfolio, b) blog section, c) proof of skills (certifications, LinkedIn)
Contact agencies and inform them about your needs/goals
Ask questions intended for agency
Assess all the answers and some questions you received from an agency
Follow up with questions/communication to clarify any possible misunderstandings
Decide on the balance between time, cost and quality
Make your choice
Choosing a development agency is not an easy task. We hope that we at least helped you a little with this text. Be sure to check the post about the exact questions to ask an agency.
Related Inchoo Services