We took the road less traveled – the aftermath of Inchoo Learning Day 4

Inchooers came back safe and sound from yet another action-packed adventure that is Inchoo Learning Day.
This time, it was a truly international experience as we had Inchooers from both our branch in Serbia and Lyssandro Reis, our Operations Manager for Australia/New Zealand, joining the Osijek crew. 
We went back to the roots, to where it all began – Zlatna Greda, a cozy little village in the middle of Baranja, and their Eco Centre where we had our very first Inchoo Learning Day.
If you're new to Inchoo and not familiar with the concept, Inchoo Learning Day is our educational/teambuilding activity when we take the whole team out of the office for a day to talk Magento and have fun.
A warm welcome back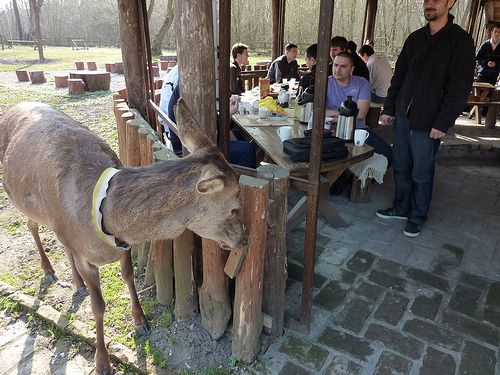 The crew of Zlatna Greda tourist agency really did their best to make us feel at home again. Our old friends, a doe called Malena and a mare Zenta looked happy to see us again. This time Zenta even introduced us to the latest member of their family – a little yearling called Zora.
After we had some nice breakfast and a quick coffee (or two – c'mon, it's a bunch of developers out there, after all), the stage was set for a relaxing day out in the nature.
Reward Points, Translations, APIs and all that jazz…
Of course, this event is not called Inchoo Learning Day out of sheer fun – we always kick the day off with some lectures prepared by our own developers. This time, the topics were:
Magento Enterprise Reward Points Inside Out – Sasa Brankovic
Magento Translations – Advanced Tips&Tricks – Ivan Galambos
UI Designer meets Frontend Developers (and everyone survived :)) – Lyssandro and the frontend crew
Magento SOAP API – Darko Goles
Introduction to Phing – Branko Ajzele
The lectures were very useful, but they sort of flew by as the lunch time drew near and we quickly dropped the Magento topics to fully enjoy one of the favorite meals for most of the people in this region – chobanac (shepherd's stew) – this one was prepared with deer and wild boar meat and it was amazing – hats off to the chef!
Old fishermen's route
Another part of the event, after the great lunch, was a bit of treasure-hunt-like trekking combined with a boat ride which took us on the route of old fishermen who used to make a living in this area.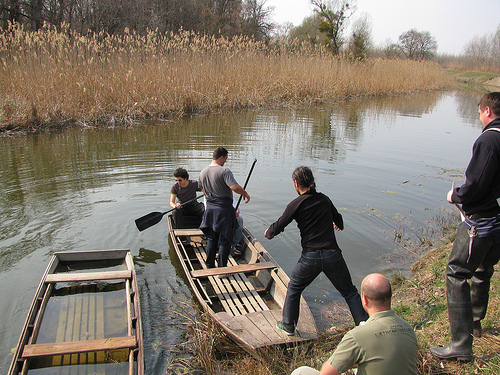 We had to find hidden clues to advance to the next stop before getting to the boats that led us to the treasure – a genuine elixir of life.
The boat ride ended up being the funniest part of the whole ILD as the second group's leader lost his footing and splashed into the water. Fortunately, no fish were harmed, but some Inchooers might have suffered serious injuries laughing their faces off 🙂
The entire event was a success and everyone went home for the weekend relaxed and with new stories to tell…
Special thanks go to the crew of Zlatna Greda and, of course, Nandino Loncar who organized the whole event.
You can catch a glimpse of the atmosphere by taking a look at some photos below… or check out #ILD4 on Twitter…