Auto Applying Ad Suggestions in Microsoft Ads

Well, it did happen. After Google implemented auto applying ad suggestions, the time now has come for Microsoft to do the same. Of course, this is something that Microsoft is telling us is a good thing for your campaigns.
Now, you may ask yourself why is this a good thing?
Creating new ads is time-consuming and sometimes a very difficult thing to do (Hey, inserting targeted keywords & phrases to the text of the ad is sometimes very… creative work 😉 ).
What the Microsoft Advertising system is trying to do is to save our time. And by saving the time needed to create new ads – we have more time to optimize campaign results.
Main facts about Microsoft Ad suggestions
Microsoft will start auto-applying & suggesting new ads copy during March of 2021.
It will create no more than 50 new ad suggestions at any given time.
Ad suggestions will be created for those ad groups in which the Microsoft system has seen a possibility for better results (CTR? CPC? ROAS? – we do not know that…).
There is one very important thing to remember – if you do not decline or accept those ad copy suggestions, after 14 days they will be auto-applied.
Microsoft Advertising is creating those new ads by looking at your existing ads in your ad groups and campaigns, and also by looking at the landing pages of your existing ads.
How to find Microsoft Ad suggestions
This is actually very simple to find. All you have to do is go to recommendation tabs.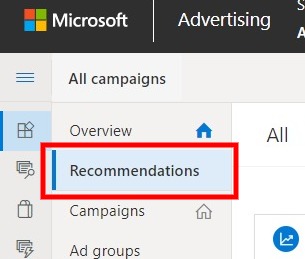 After that, you have to select "Ad & extensions".

Now you will see the information that the system has created new ads for you. I'm strongly recommending that you manually review all those 50 new ads before you apply them.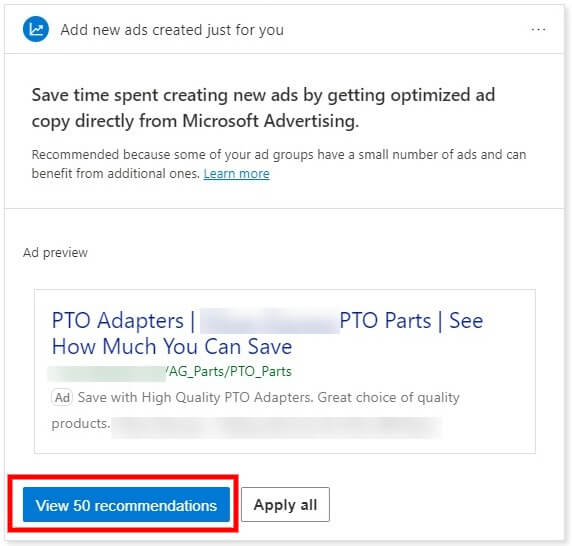 After you click on that tab to see all 50 recommendations, you will see a table with all those new ads for your campaigns. You can see in which ad group and campaign they will be inserted.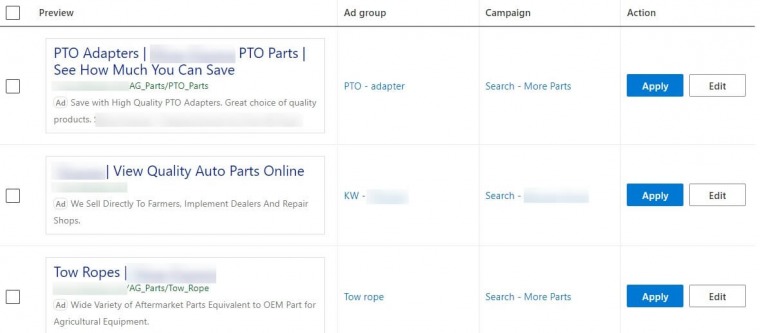 Remember – if you do nothing – they will be auto-applied.
Don't like those recommendations? Simply dismiss them.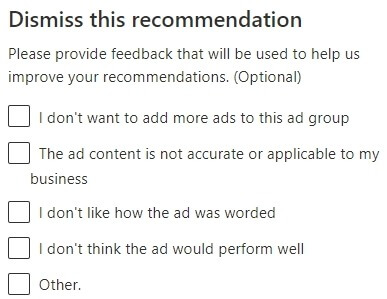 Are Microsoft Ads suggestions any good?
After reviewing all accounts and all ads that the system has recommended, I have come to the conclusion that around 20-25% of all those ads are actually not so good.
And that is a lot in my book.
For instance, let's take a look at this ad:

As you can see the system has created an ad title in which we have "auto parts" text. But the thing is that this client isn't selling any auto parts…
What's more troubling is that this ad is suggested for ad group/campaign which is one of the most ROI effective.
Adding that ad would without a doubt lower our results.
This is why I'm recommending that you check all system-created ads before applying them.
Do not forget this – if you do not want the system to auto-apply those new ads after 14 days – you have to switch off that option!
Simply go to your settings tab, and on account settings switch off "Auto-apply ad suggestions".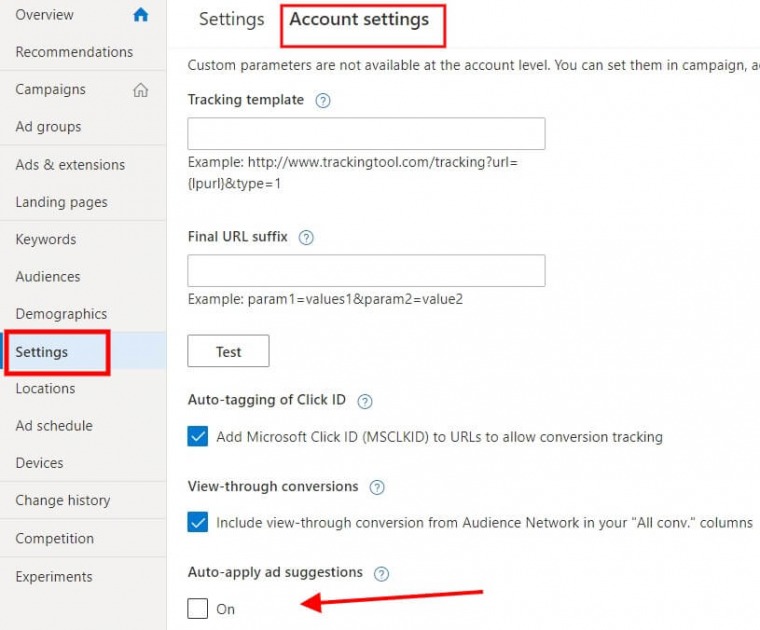 Once again, Microsoft has made this option because they want to save your time in managing campaigns. Auto applying ad suggestions in Microsoft Ads should save you time (and money).
The somewhat shocking fact is that around 50 to 60% of all SMB advertisers do not post a single change to their campaigns in a 90 days time-frame.
When thinking about this fact it is suddenly very clear why Microsoft brings this option.
But, ask yourself this – can you trust an agency that doesn't do any change in 90 days?
Or even 60 days?
For the sake of conversation – I have extracted all changes from the account from which all those screenshots were taken. And for the last 30 days, there were almost 190 changes.

In other words – we have made around 6 changes per day on only that account.
Results from those changes?
238% more revenue & 18% better ROAS YoY.

If you want an agency that doesn't "activate & forget" but genuinely cares and tests your campaigns – contact us & we shall see what we can do for you.